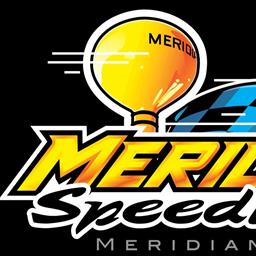 10/3/2021
Meridian Speedway
---
Richardson Races to Second-Straight Speed Tour Victory
Three divisions settled their 2021 title fights at Meridian Speedway last Saturday, October 2, as the asphalt quarter-mile oval hosted the Boat Races and Fireworks event. The Speed Tour Modifieds powered by Pit Stop USA, Domino's Legends, and Firehouse Pub and Grill Bombers crowned champions Saturday night, while the Pauly's Bar Room Street Stocks and Coors Pro-Late Models went wheel-to-wheel for crucial late-season victories.
Jason Quale and Dylan Caldwell led the Speed Tour Modifieds powered by Pit Stop USA to green on their final 65-lap feature of 2021. Caldwell's Hot Box Farms, Impact Motorz machine hooked up on the outside and he roared to the early lead while Quale slid backward through the field.
On the march early were Wyatt King and Andrew Richardson, who raced their way to second and third respectively by lap ten. King searched high and low for a way around Caldwell for the lead, while Richardson focused on defending the third spot from a hard-charging Donovan Barr.
Barr pounded on Richardson's Renegade Race Fuel, Pit Stop USA modified for a handful of laps before his attention turned to point leader Shelby Stroebel on lap twenty. This freed Richardson to work his way beneath King for second on the Pepsi-Cola scoreboard.
While Richardson stalked Caldwell for the lead, Stroebel wheeled his Gibson Diesel Performance, Luxury Lawn Care machine hard to catch third place Barr. With 25 laps to go Richardson snuck below Caldwell for the lead while Barr spun out of third place and backed into the turn three wall.
On the restart Richardson lined up inside Caldwell, and after a three lap fight Richardson took over the top spot. Stroebel followed Richardson around the inside to put his racer in second place, one full second behind Richardson. Stroebel chopped the deficit in half by the white flag lap, but Richardson was too strong and he charged across the Caleb's Chop Shop Victory Stripe first.
With his runner up finish, Stroebel claimed the 2021 Speed Tour Modifieds powered by Pit Stop USA title.
Domino's Legends competitor Jerry Davis, at the controls of his GCAT Towing, Interstate Batteries entry, overcame a spin with five laps left to escape with his second-straight division title Saturday night.
While Dale Bolinger scored Saturday's YMC Mechanical Feature Flag, Jeff Matuska claimed the Firehouse Pub and Grill Bomber season championship in his Neil Alan Fine Jewelry machine.
Daytona Wurtz outdueled Pat Tully to continue her Coors Pro-Late Model dominance with yet another feature victory Saturday in her All Makes Auto Salvage, United Metals racer.
Pat Tully muscled his way around Pauly's Bar Room Street Stock foe Kendra Occhipinti to park his Bruce and Rod's Point S Tire and Auto Service, Certified Services machine in the Caleb's Chop Shop Winner's Circle.
Meridian Speedway falls silent until Saturday, October 23, when the Trunk or Treat and Haunted Haulers event closes out the 2021 season. The Pauly's Bar Room Street Stocks run triple 33-lap features to settle their season campaign, alongside the Coors Pro-Late Models, Project Filter Pro-4s, Boise Bath and Kitchen Company Mini Stocks, Big Daddy's Barbecue Hornets, and Zamp Race Products Junior Stingers. Log on to www.meridianspeedway.com for details on all the Trunk or Treat and Haunted Hauler festivities. We'll see you Saturday, October 23, under the big yellow water tower at your NASCAR Home Track, Meridian Speedway.
---
Back to News