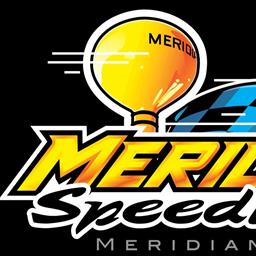 9/27/2021
Meridian Speedway
---
Nelson Banks 20K With Pink Lady Win
Colton Nelson avoided a near disaster to win Saturday nights 7th annual Pink Lady Classic at Meridian Speedway in Meridian, Idaho. Nelson's win was worth $20,000.
The Pink Lady Classic is a 100-lap event ran in three stages. The event is a co-sanctioned NSRA/Speed Tour event with a promotional partnership from Must See Racing. This years field featured one of the strongest winged pavement sprint car fields seen anywhere in recent seasons.
Nelson took the lead early in stage one and appeared strong. Just after taking the checkered in stage one, Nelson's car made contact with another car, just after crossing the start/finish line. Nelson's car backed into the turn one wall damaging the fuel tank with no other damage.
Prior to stage #2, a 7 was drawn for the invert. The race resumed with stage #2 on lap 39 with Bryan Gossell and Troy DeCaire making up the front row.
DeCaire got the jump at the start and dominated the second stage. He set a torrid pace and built up a sizeable lead for the next 38 laps. He appeared to be the car to beat. With just a few laps remaining in stage #2, smoke began to billow from under the hood of DeCaire's Beast chassis.
While in the pits for the scheduled break, it was discovered DeCaire's car had a blown head gasket. Bars Leaks was added to try to seal the head gasket, and the team hoped the engine would hold up for 24 more laps. DeCaire's car would not fire prior to the start of stage #3. DeCaire would be forced to retire from the event.
The final stage would see only the top 10 cars running for the final stage. All cars were allowed to put on new tires for the final stage.
Nelson wrestled the lead from Bryan Gossell early in the final stage and withstood multiple double file restarts in the closing laps to win his second career Pink Lady Classic in front of a huge crowd.
"I'm real excited to be here" explained a jubilant Nelson in victory lane. I haven't won all year and I'm stoked the one I win is this one".
Nelson explained his accident to close out stage one that could have proved fateful." I was trying to get around a lapped car for about 10 laps. Ended up hopping his tire at the checkered flag. It spun me around and I backed into the wall. Luckily it just caved in the rear basket. It caved in the fuel cell quit a bit too. We just went with it".
The final stage saw Nelson continually choose the outside lane on restarts and he explained his thinking." The speedway coke syruped the outside lane all weekend. I knew that would be the lane to run" concluded Nelson.
---
Back to News