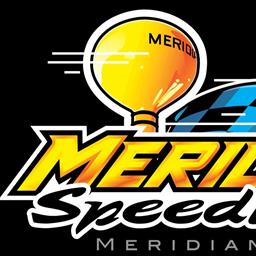 9/20/2021
Meridian Speedway
---
NASCAR Modified Title Comes Down to Tie Breaker
Tense title chases for the Bud Light NASCAR Modifieds and Pepsi Sprintcars took center stage Saturday, September 18, as Meridian Speedway hosted Academy Mortgage by Ryan Shelby NASCAR Championship night. Along with the two closest division on the quarter-mile asphalt oval, the Coors Pro-Late Models, Project Filter Pro-4s, and Big Daddy's Barbecue Hornets battled wheel-to-wheel for crucial late season points.
Just four points separated Bud Light NASCAR Modified competitors Josh Fanopoulos and Kyle Latham as they entered Saturday night's action. After qualifying and heat races, the two rolled into their first of two main events tied in the standings.
Fanopoulos piloted his Allan Marsh Travel Center, Certified Services machine to victory in the first 25-lap feature, with Latham in second place. The win allowed Fanopoulos to eek ahead of Latham, who now found himself in a must-win situation entering the night's 40-lap main event.
On the break Brendon Fries jumped to the lead in his ATS Inland Northwest, Ryan Shelby at Academy Mortgage racer, while Latham sprinted to a two position advantage over Fanopoulos in his Conrad and Bischoff, KJ's Super Store modified. Traffic was heavy and the going was slow for Latham and Fanopoulos in the early laps, but with ten circuits in the books the championship combatants broke free from the pack.
Fries encountered mechanical issues just two laps later, which allowed Latham and Fanopoulos to restart outside new leader Darrell Dolling. Once the green flag waved Latham rocketed to the lead with Fanopoulos in his tire tracks.
Lap after lap Fanopoulos stalked Latham, and lap after lap Latham held station up front. With the white flag in the air launched one last challenge, but again Latham held on to cross the Caleb's Chop Shop Victory Stripe first.
With his victory, Latham pulled even in the point standings with Fanopoulos at 1,389 season points. The tie breaker was main event victories, of which Latham had four. But Fanopoulos scored seven main event victories, enough to claim the 2021 Bud Light NASCAR Modified championship.
"Man, it's been fun," Fanopoulos said as he collected the Advance Auto Parts NASCAR Weekly Series Track Champion swag. "I can breathe again, my stomach's not in knots."
The Pepsi Sprintcars also settled their 2021 championship Saturday. Standings leader Johnny Giesler qualified third, one spot behind his championship foe Ryan Newman and his Lifecare Center of the Treasure Valley, Ashley Heating and Air machine. It was the last time Giesler would surrender a point to Newman all night.
In the feature, Giesler worked his way through the pack and dispatched James Pahl to take the lead just past the race's halfway point. Once out front Giesler put his Giesler's Auto Repair, Mulder's Auto Machine sprinter on cruise control and dashed across the Caleb's Chop Shop Victory Stripe to secure his division championship.
"We've got a lot of good guys around us," Giesler said. "That's what happens when you have good guys, you win lots of races."
Daytona Wurtz, at the controls of her All Makes Towing, United Metals entry, held off a furious charge from Danny Cristiani to score her tenth feature win of the 2021 season.
Brendon Fries fought his way through the Project Filter Pro-4 field to park his ATS Inland Northwest, Horizon Credit Union racer in the Caleb's Chop Shop Winner's Circle.
Craig Taylor won a thrilling Big Daddy's Barbecue Hornets third-over-the-line-wins race in his American Staffing, Carlon Heating and Air machine Saturday.
The fastest short track racers from across the United States and Canada converge on Meridian Speedway this Friday and Saturday, September 24 and 25, as the quarter-mile asphalt oval hosts the Pink Lady Classic. Alongside the best drivers from the Speed Tour Sprint Cars, Northwest Sprintcar Racing Association, Must See Racing, and beyond, the Salt Lake City and Focus Midgets, North West Tour Truck Series, Northwest Mini Stock Series, and West Coast Vintage Sprintcars speed wheel-to-wheel toward their season championships. General admission to Friday and Saturday night's action is just $20 for adults each night, $18 for seniors and military members, $7 for kids 7-11, and free for kids 6 and under. Gates open at 4:45 p.m. each night with qualifying Friday at 5 p.m. and Saturday at 5:30 p.m. and racing at 6:30 p.m. both nights. Seats are filling up fast! Purchase your advance tickets at www.meridianspeedway.com to secure yours now! We'll see you this Friday and Saturday, September 24 and 25, for the Pink Lady Classic under the big yellow water tower at your NASCAR Home Track, Meridian Speedway.
---
Back to News