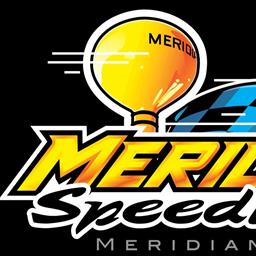 9/14/2021
Meridian Speedway
---
NASCAR Mod Title Up for Grabs Saturday
Championship season kicks into high gear this Saturday, September 18, as the Bud Light NASCAR Modifieds and the Pepsi Sprintcars settle their seasons at Meridian Speedway. The Project Filter Pro-4s, Coors Pro-Late Models, and Big Daddy's Barbecue Hornets round out a packed Saturday night slate of short track action, presented by Ryan Shelby at Academy Mortgage.
Just four points separate Bud Light NASCAR Modified competitors Josh Fanopoulos leads Kyle Latham as they roll into Saturday night's action. Latham has used some late season luck to run Fanopoulos down, outscoring the point leader by 50 markers over the last four races. Will Latham continue this late season push to steal the title, or will Fanopoulos hang on to collect his first Bud Light Modified title?
The season-long battle for the Pepsi Sprintcar championship also comes to a close on Academy Mortgage by Ryan Shelby NASCAR Championship Night. By way of his victory last Saturday night, Johnny Giesler leads title foe Ryan Newman by 35 points. But anything can happen when these hard-driving open-wheelers take to the Concrete Jungle.
The Coors Pro-Late Models rumble to green with just three events left on their 2021 schedule. With top three runners Daytona Wurtz, Melissa Weaver, and Sam Newcomer virtually locked into their positions, the focus shifts to the Rookie of the Year battle. Fourth through sixth place racers Riley Bradford, Neil Wassmuth, and Doug Woods stand just 34 points apart entering Saturday's action.
With just two races left in the 2021 Project Filter Pro-4 campaign, Ryan Bailey holds a commanding lead over the division. But there's a battle brewing for the runner up spot as just six markers separate Kenny Chandler and Jordan Harris entering Saturday night's action.
Jeff Matuska and Dale Bolinger have separated themselves from the Big Daddy's Barbecue Hornet pack, but no point lead is safe in this entertaining division.
General admission to Academy Mortgage by Ryan Shelby NASCAR Championship Night is just $13 for adults, $11 for seniors and military members, $7 for kids 7-11, and free for kids 6 and under. Gates open at 4:45 p.m. Saturday, with racing at 6:30 p.m. Pick up your advance tickets now at www.meridianspeedway.com. We'll see you this Saturday, September 18, for Academy Mortgage by Ryan Shelby NASCAR Championship Night under the big yellow water tower at your NASCAR Home Track, Meridian Speedway.
---
Back to News