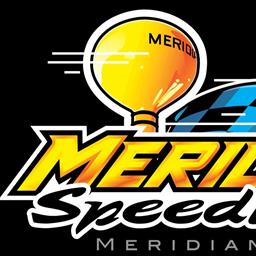 9/13/2021
Meridian Speedway
---
Giesler, Fanopoulos Take Control of Title Chases
Conditions were perfect for racing Saturday, September 11, as Meridian Speedway hosted Big Al's Lucky Rides for Kids Night. The Bud Light NASCAR Modifieds, Pepsi Sprintcars, Pauly's Bar Room Street Stocks, Boise Bath and Kitchen Company Mini Stocks, and Zamp Race Products Stingers packed the pit area as they battled for the night's Trammel Construction Feature Flags.
Kate Jackson and Preston Henderson led the Pepsi Sprintcar field to green Saturday. As Jackson got the early jump, title contenders Johnny Giesler and Ryan Newman knifed their way through the pack. Newman worked the high line in his Lifecare Center of the Treasure Valley, R Mac Precision CNC Machining sprinter while Giesler wheeled his Giesler's Auto Repair, Mulder's Auto Machine entry down low.
Lap after lap of side-by-side racing pushed Giesler and Newman to their limits, and on lap 13 Newman bounced off of the back stretch wall. After a wild slide through turns three and four Newman corralled his car and continued, but sat two spots behind Giesler. Newman's wild night continued a handful of laps later when contact with Middleton, Idaho's Sierra Jackson sent him spinning down the front straightaway.
The caution allowed Giesler to pull even with race leader Bryan Warf for the restart. The pair battled wheel-to-wheel for eight laps before Giesler took over the top spot for good. Newman rallied to a sixth-place finish to keep his title hopes alive, but faces an uphill battle in next week's championship race.
The Bud Light NASCAR Modifieds battled for a pair of Trammel Construction Feature Flags on Big Al's Lucky Rides for Kids Night. Traffic was heavy in the first feature as title contenders Josh Fanopoulos and Kyle Latham struggled to find a way forward in the early going. A pair of late caution flags allowed Latham and Fanopoulos to fight their way into the top three, but it was Brendon Fries who piloted his ATS Inland Northwest, Horizon Credit Union modified to the first feature win.
Carson Ackerland and Tommy Harrod led the Bud Light NASCAR Modifieds into their second feature. Ackerland used the inside line to lead lap one in his Ackerland Construction, YMC machine, but soon came under fire from Joe Daily in his Certified Services, Daily Fit Body mount.
Behind the lead battle, Fanopoulos and Latham once again found themselves mired in heavy traffic. Fanopoulos was the first to find a way to the front, and with fifteen laps left he arrived at Daily's rear bumper and challenged for the lead.
While Fanopoulos set sail out front in his Allan Marsh Travel Center, JesusChristInternational.com modified, Latham finally found clear track and burst into second place. As the laps wound down Latham and his Conrad and Bischoff, 2 Brothers Treasures machine caught up to Fanopoulos, but ran out of time to make a winning pass and had to settle for second behind the point leader.
For twenty laps Rich and Micky Lawson controlled the Pauly's Bar Room Street Stock feature. But lapped traffic broke up their side-by-side formation with five laps left and allowed Kendra Occhipinti to mount a late race challenge. Occhipinti raced around the outside of Lawson's Jarvis Technologies, G.R. Famrs racer, but charged across the Caleb's Chop Shop Victory Stripe half a car length short of the winner.
Boise Bath and Kitchen Company Mini Stock competitor Jason Sanders carried a full-sized American Flag in his passenger's side window as he piloted his Valley Property Management, Interstate Batteries machine to a main event victory.
The Zamp Race Products Junior Stinger feature wasn't decided until the final corner when leader Michael Bess was forced high by slower traffic. Niko Heinzel took advantage of the situation and sped by for the victory.
Meridian Speedway championship season begins in earnest this Saturday, September 18, with the Academy Mortgage by Ryan Shelby NASCAR Championship Night. The Bud Light NASCAR Modifieds and Pepsi Sprintcars settle their close title fights Saturday, while the Coors Pro-Late Models, Project Filter Pro-4s, and Big Daddy's Barbecue Hornets fight for vital late season victories. General admission to Academy Mortgage by Ryan Shelby NASCAR Championship Night is just $13 for adults, $11 for seniors and military members, $7 for kids 7-11, and free for kids 6 and under. Gates open at 4:45 p.m. Saturday, with racing at 6:30 p.m. Pick up your advance tickets now at www.meridianspeedway.com. We'll see you this Saturday, September 18, for Academy Mortgage by Ryan Shelby NASCAR Championship Night under the big yellow water tower at your NASCAR Home Track, Meridian Speedway.
---
Back to News