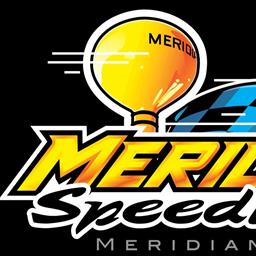 8/30/2021
Meridian Speedway
---
Peltier Speeds to NAPA Idaho 208 Victory
Speed Tour Super Late Models invaded Meridian Speedway Friday and Saturday, August 27 and 28, for the two-day NAPA Auto Parts Idaho 208. Alongside the fastest full-bodied stock cars on the asphalt quarter-mile oval, the Super Pro-Late Models competed for the YMC Mechanical 75, Meridian Speedway's own Coors Pro-Late Models ran twin 35-lap features, the Mulder Engineered Junior Late Models crowned a 2021 season champion, and the Boise Bath and Kitchen Company Mini Stocks and Big Daddy's Barbecue Hornets battled for crucial late-season points.
Eighteen Speed Tour Super Late Models thundered to the NAPA Auto Parts Idaho 208's green flag. Outside polesitter Colton Nelson of Meridian, Idaho roared past Larry Hull to take the early lead, with Garrett Evans' Leonard Evans Used Car Super Store entry in tow.
Zach Telford used the outside line to pilot his Project Filter, Precision Framing machine around Nelson's Bud Light, YMC Mechanical mount for the lead on lap eight. This move brought pre-race favorites Preston Peltier and Haeden Plybon forward, and soon both were on Telford's rear bumper. After a three-lap battle Peltier dispatched Telford to take over the top spot on the Pepsi-Cola scoreboard in his Generator Source, Weld County Classics entry.
First to challenge Peltier was Plybon, who searched high and low for a way past the Brighton, Colorado racer. Plybon got his chance on a lap 35 restart, and the Spokane, Washington youngster did not waste the opportunity as he muscled his way to the front. This dropped Peltier into the clutches of Trevor Cristiani.
As Peltier and Cristiani battled for the runner up spot, Plybon built a substantial lead. But as the leader dove into traffic, the engine in his Cascade Rain Gutters Inc, Muffler Marty of Spokane machine detonated. Peltier and Cristiani couldn't avoid the fluid from Plybon's engine, and both spun in turns one and two. While Peltier kept his machine off the wall, Cristiani was not so lucky and the Ukiah, California racer pounded the turn one concrete with his TCR, Steelhead Metal Corp car.
With the track cleared the green flag waved over Peltier and Jeremy Doss. Peltier got a strong jump and retook the lead, which he would not relinquish for the rest of the first 104-lap segment.
At the halfway break, top three runners Peltier, Telford, and Nelson made minimal adjustments, while Doss, who had fallen to sixth in the first segment's final thirty laps, pulled to the pit area to make significant changes to his S&S Sports Enterprise, Pit Stop USA racer.
The green flag waved and Peltier once again motored to the lead and set a torrid pace. Lapping two-tenths of a second faster than his fellow to five runners Telford, Nelson, Evans, and Doss, the career racer threatened to lap the entire field before the checkered flag fell. But a caution with 55 laps left allowed the top five runners to catch up and stay on the lead lap.
The respite was short-lived as Peltier once again blazed ahead of the field on the restart and never looked back on his way to the Caleb's Chop Shop Winner's Circle. Telford came in second with Nelson third, followed by Doss and Evans to round out the lead lap finishers.
After a pair of rough-and-tumble qualifying races, nineteen Super Pro-Late Models took the green flag on Friday night's YMC Mechanical 75. On the break East Wenatchee, Washington's Garrett Evans overpowered Ryen Tarr to take the early lead ahead of Zach Telford and Aubree Cristiani.
As the back of the pack scrapped for position, Telford worked his Project Filter, Builders First Source racer to the high side of Evans, and on lap nine the Middleton, Idaho driver took the lead. Just five short laps later Telford roared into a swarm of lapped traffic, where contact was made. Five cars were collected in the ensuing scrum, including Telford, Neveah Hull, Doyal Moen, Evans and Cristiani. Race officials relegated Telford to the back of the pack due to his involvement in the incident, and awarded Evans and Cristiani the top two spots for the restart.
The battle for the top spot on the Pepsi-Cola scoreboard heated up during the race's middle stages as Cristiani and Evans traded paint. A lap 24 restart would prove decisive as Cristiani hooked the inside line and put her RMK Apparel, Riverview Mini Storage machine out front.
As the laps wound down Cristiani built on her lead while Evans worked to keep his Leonard Evans Used Car Super Store entry ahead of Tarr's Cascade Rain Gutters, Custom Welding mount. Evans would have one last chance at Cristiani after a red flag for Jody Moen's hard crash and roll over in turn one. However, when the green flag flew Cristiani roared back to the top spot and cruised into the Caleb's Chop Shop Winner's Circle. Evans held station in second ahead of Tarr, with Daytona Wurtz and Dan Lowther rounding out the top five.
Daytona Wurtz' reign of Coors Pro-Late Model domination continued Saturday. The Boise, Idaho racer placed second in the Dennis Wurtz Memorial, a race honoring her grandfather, behind Chris Fenton. Then, Wurtz piloted her All Makes Towing, United Metals machine to victory in the night's second 35-lap feature race.
Delaney Grace capped off a championship season with a victory Friday and third place finish Saturday in the Mulder Engineered Junior Late Model division. At the controls of her CoreTec Floors, Splash and Dash Groomerie machine, Grace scored four feature wins on her way to the 2021 title.
Boise Bath and Kitchen Company Mini Stock racer Travis Pavlacky scored his fifth Trammel Construction feature flag of the year in Friday night's 40-lap feature. Big Daddy's Barbecue Hornets competitor Craig Taylor took home Saturday's Torch Towing Feature Flag in his machine.
Meridian Speedway returns to action Saturday, September 11, with Big Al's Lucky Rides for Kids Night. The Bud Light NASCAR Modifieds, Pepsi Sprintcars, Pauly's Bar Room Street Stocks, Boise Bath and Kitchen Company Mini Stocks and Zamp Stingers are on tap for a night full of short track thrills and spills. Plus, every souvenir program purchase includes a Lucky Ride ticket to be redeemed for a ride with your favorite driver during intermission. Gates open at 4:45p.m. Saturday, September 11, with the first green flag at 6:30 p.m. Log on to www.meridianspeedway.com to purchase your advance tickets, and be sure to text 'Speed2021' to 84483 to sign up for exclusive text club updates. We'll see you Saturday, September 11, for Big Al's Lucky Rides for Kids Night under the big yellow water tower at your NASCAR Home Track, Meridian Speedway.
---
Back to News