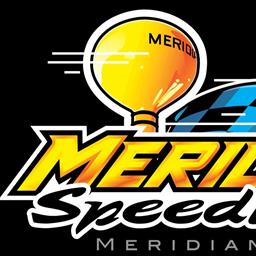 8/23/2021
Meridian Speedway
---
Harrod, Garrett Split Race 4 Hunger Honors
Competitors packed the Meridian Speedway pit area Saturday, August 14, for the Project Filter Twin 25's. The Coors Pro-Late Models, Pauly's Bar Room Street Stocks, Project Filter Pro-4s, Boise Bath and Kitchen Company Mini Stocks, and Firehouse Pub and Grill Bombers raced their way to a pair of Ferguson Waterworks Feature Flags.
Firehouse Pub and Grill competitor Kedrick Preston made the most of his tow from Hermiston, Oregon as he dominated both of the division's 25-lap features.
Project Filter Pro-4 action began early as pre-race favorite Jordan Harris received damage in a pre-race practice session. This didn't slow the Nampa, Idaho driver in the first feature, as he piloted his H&H Auto, Kim's Kars machine to his third feature win of the season. Harris would come up one spot short of a feature race sweep as Kenny Chandler drove his Project Filter, Fairly Reliable Bob's racer to its first Ferguson Waterworks Feature Flag of the season.
Lee Hackney and his lightning-fast YMC, Mulder's Auto Machine entry were the class of the Pauly's Bar Room Street Stock field Saturday. After working his way from the back of the pack to the victory in the night's first feature, Hackney failed to report to the tech area, and was disqualified. This handed Josh Fanopoulos his fourth victory of the year. The second feature went green with Hackney and Kendra Occhipinti, whose Marv's Tire Service machine was struck with a fuel cap issue early in the first feature, on the front row. With clear track in front of him, Hackney cruised to the night's second Ferguson Waterworks Feature Flag.
Daytona Wurtz' dream season in the Coors Pro-Late Model division continued Saturday as she first outdueled Chris Fenton to park her All Makes Towing, Certified Services machine in the Caleb's Chop Shop Winner's Circle first, then completely dominated the second race in route to a feature race sweep.
The Boise Bath and Kitchen Company Mini Stocks brought over twenty competitors to green for each of their Project Filter Twin 25's. After a hard-fought first feature, Travis Pavlacky used a late restart to pilot his Burnt River Farms, Modern Auto Service pickup past Riley Rogers for the victory.
Pavlacky used his time in the Caleb's Chop Shop Winner's Circle to address Rogers. "I gotta give it to Riley for being out here with everything [he's] going through." Earlier in the week, Rogers' long-time girlfriend was diagnosed with cancer. "To be able to battle like that and have all that on your shoulders, that's though."
Everett Meeks and Justin Wilkerson led the Boise Bath and Kitchen Company Mini Stocks to green for the night's final Project Filter Twin 25. Meeks moved his machine out front early as cars bumped and banged for position mid-pack. Something had to give, and with just four laps in the books Wilkerson's Fast Track Auto Sales, United Finance car pounded the front stretch wall and bounced into traffic. Cars scattered and spun through the infield, but miraculously no others suffered major damage in the scramble.
With the green flag back in the air Michael Capps navigated to the top spot on the Pepsi-Cola scoreboard with Cody Garrett and Josh Lucero in tow. Garrett unleashed his Scott Cage Works, Garrett Mobile Mechanics racer on Capps, and with six laps left the Boise, Idaho racer held the lead. But Jason Sanders was on the move, and the Nampa, Idaho racer dove to Garrett's inside to take the lead one lap later.
As Sanders struggled to clear Garrett, Rogers, Fred Vigil, and Pavlacky raced into the lead fight. But Sanders and Garrett held station to trap the rest of the field behind them. Out of turn four on the final lap Sanders pulled ahead of Garrett and zipped across the Caleb's Chop Shop Victory Stripe for his first feature win of the year.
General admission to the Hot August Race for Hunger 125 is just $13 for adults, $11 for seniors and military members, $7 for kids 7-11, and free for kids 6 and under. Or, bring three cans of food for the Boise Rescue Mission to receive one free individual ticket. Gates open at 4:45 p.m. with racing at 6:30 p.m. Log on to www.meridianspeedway.com for additional information and text 'Speed2021' to 84483 to join our text club and receive exclusive updates from around the Concrete Jungle. We'll see you this Saturday, August 21, for the Hot August Race for Hunger 125 under the big yellow water tower at your NASCAR Home Track, Meridian Speedway.
---
Back to News