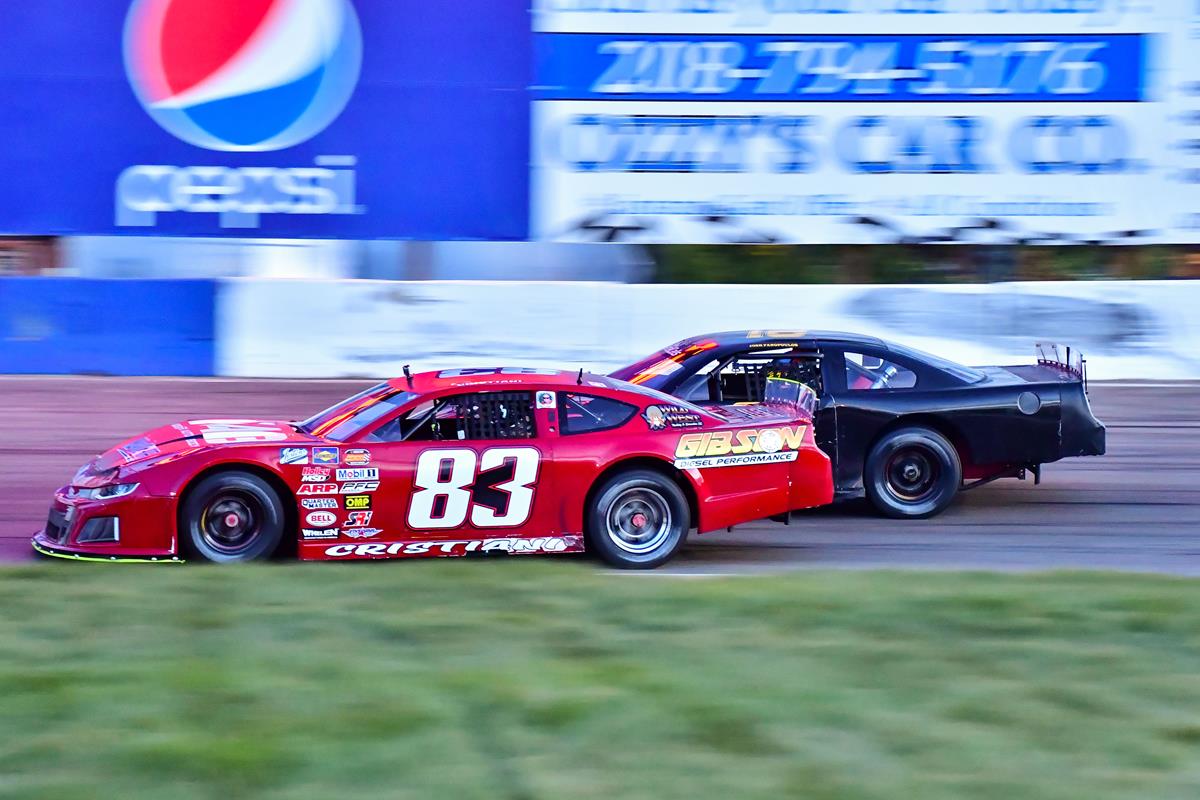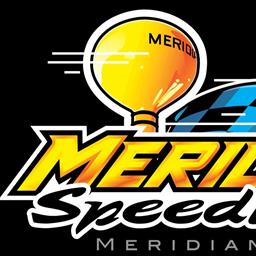 5/23/2022
Meridian Speedway
---
Cristiani, Fanopoulos Battle for Pro-Late Victory
It was all main events all night long Saturday, May 21, as Meridian Speedway hosted the Project Filter Twin 25's on Military Appreciation Night. The Zamp Pro-Late Models, Project Filter Pro-4s, Boise Bath and Kitchen Company Mini Stocks, All-Star Club Series, and Firehouse Pub and Grill Bombers each battled their way through a pair of feature races.
Cody McCue and Neil Wassmuth led the Zamp Pro-Late Models to green for their first 25-lap feature. Wassmuth got to the gas pedal first and put his Neil Alan Fine Jewelry, Jan's Hair Design racer out front early, but soon came under attack from Nampa, Idaho racers Melissa Weaver and Dalton Cristiani.
Cristiani's car was strong in the outside groove and motored around Weaver's Marv's Tire Service machine to take his turn atop the Pepsi-Cola scoreboard. While Cristiani built his lead, quick qualifier Josh Fanopoulos battled hard to get around Terrel Daffron and his 208 Tire, Taco Time entry.
As Fanopoulos inched closer and closer to the third spot, Cristiani's car began to slow as the right rear tire lost air. Cristiani wrestled his car hard to keep it out front, but after three laps the tire was all but flat and he could only watch as Weaver, Fanopoulos, and Daffron streamed by.
A group of cars dove low to keep from getting trapped behind Cristiani's stricken racer, contact was made and a caution flag waved. Under caution, Cristiani pitted for a new tire and restarted tenth with six circuits left.
Up front, Weaver did everything she could to keep Fanopoulos at bay, but it wasn't enough as the Boise, Idaho driver stormed to the win. Cristiani rebounded to a sixth-place finish.
With all four tires properly inflated Cristiani took the night's final green flag from the fifth spot. Cristiani followed talented youngsters Delaney Grace and Nevaeh Hull forward, before taking the lead for himself on lap five.
In Cristiani's mirror was Fanopoulos, who sliced his way through the field to second with eight laps to go. Fanopoulos gained on Cristiani, but a late spin brought out another caution and allowed him to restart outside of Cristiani.
The green flag waved and the leaders fired into turn one. Fanopoulos pushed his Certified Services, Allan Marsh Travel Center machine hard to keep pace with Cristiani, but as the white flag flew the Nampa, Idaho youngster cleared his competition and charged to the victory.
The Project Filter Pro-4 competitors found it hard to get a grip Saturday, as a slippery racing surface led to a number of spins and slides. In the first feature, Kenny Chandler, Andrew Prince, and Jordan Harris kept control of their entries and engaged in a three-way fight for first.
Harris moved his H&H Auto, Kim's Kars machine past Prince's Bad Fast Engineering, Hagerman Automotive mount with seven circuits left, then set his sights on Chandler. Chandler wheeled his racer hard to keep the lead as Harris drew even on the white flag lap. But Harris' car broke loose in turn two, which allowed Chandler to pilot his Project Filter, Jim's Drive Train car across the Caleb's Chop Shop Victory Stripe first.
In the division's second Project Filter Twin 25, Harris methodically worked the inside line while Chandler was mired in fifth behind a roadblock of slower traffic. Just short of the race's halfway point, Chandler and Ray Bolinger came together and spun down the front stretch.
This reset the field with Harris out front and Prince on his rear bumper. Harris got out of the blocks first and zipped to the lead while Prince fell into a battle for second with Sam Harris. Harris made the pass and held on for second over Prince, while Jordan Harris cruised to the win.
Boise Bath and Kitchen Company Mini Stock competitors Dylan Wardle and Brandal Glenn battled hard for the lead in their first feature. But contact out of turn four sent both Glenn and Wardle for a spin down the front stretch.
Racing resumed with Tyler, Travis, and Troy Palmer up front. Troy wasted no time taking over the top spot as top-four qualifiers Travis Pavlacky, Gary Luck, and Ryan McCaul moved forward. Contact near the race's halfway point relegated Luck to the back of the pack, while the restart saw Pavlacky and McCaul take over the top two spots.
The lead battle raged over the race's final five laps as Pavlacky weaved his Modern Auto Service, FVC Construction pickup in and out of traffic to stay ahead of McCaul's Performance Signs and Graphics, David's Racing Products machine. A daring three-wide move with two laps left put Pavlacky out front once and for all.
In the second Boise Bath and Kitchen Company feature, Gary Luck put his racer out front on lap four and never looked back as he sped into the Caleb's Chop Shop Winner's Circle.
Cody Garrett jumped out front early in his Interstate Batteries car to take home the All-Star Club Series' first victory. Thompson Brown fought his way through the field to take the division's second Project Filter Twin 25 victory.
Richard Scott and DJ Taylor outplayed the other Firehouse Pub and Grill Bomber competitors, mostly by accident it seemed, to take home a Feature Flag apiece.
The short track action continues this Sunday, May 29, with the Advanced Composite Solutions Memorial Races. The Speed Tour Modifieds powered by Pit Stop USA rumble to green for the LeeRoy Nelson 65, while the Zamp Pro-Late Models, Touchdown Automotive Street Stocks, Domino's Legends, and Meridian Midgets pay homage to some of the greats from the Concrete Jungle's past. General admission is just $14 for adults, $12 for seniors and military members, $8 for kids 7-11, and free for kids 6 and under. Gates open at 4:45 p.m. Sunday, with the first green flag at 6:30 p.m. Tickets are still available at www.meridianspeedway.com, and be sure to text 'meridianspeed' to 84483 to receive exclusive news and notes from around the quarter-mile. We'll see you under the big, yellow water tower this Sunday, May 29, for the Advanced Composite Solutions Memorial Races at your NASCAR Home Track, Meridian Speedway.
---
Submitted By: Tyler Schild
Back to News