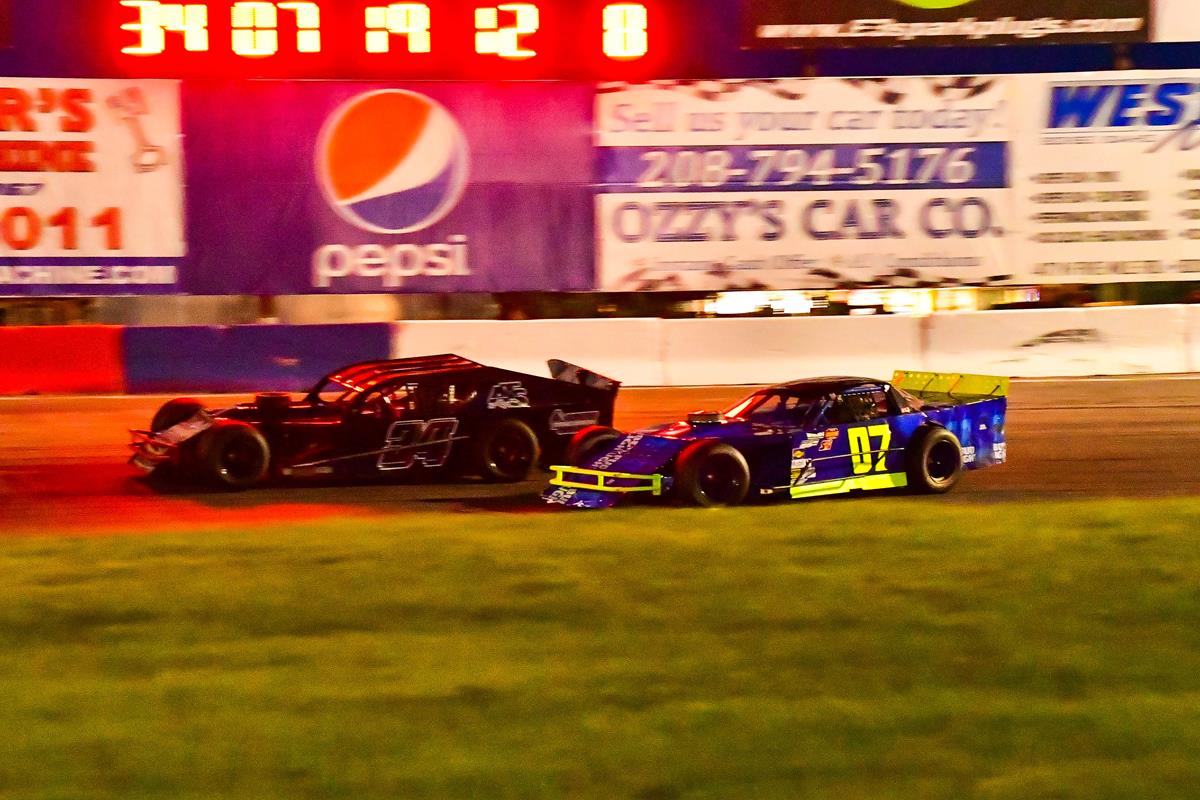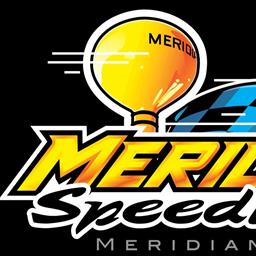 6/6/2022
Meridian Speedway
---
Nelson, Fries Go Wheel-to-Wheel for the Win
Racing returned to Meridian Speedway on Saturday, June 4, for Ozzy's Car Company EMS-Police-Fire and Correctional Officers Night. The Bud Light NASCAR Modifieds, Pepsi Sprintcars, Domino's Legends, Boise Bath and Kitchen Company Mini Stocks, and Big Daddy's Barbecue Hornets all crowded the asphalt quarter-mile oval as they battled for the night's Trammel Construction Feature Flags.
Fifteen Bud Light NASCAR Modifieds rumbled to the night's first green flag. Chuck Youngblood and Neal Latham asserted themselves at the front of the pack early while quick-qualifier Colton Nelson was hampered deep in the field with mechanical issues.
Latham wheeled his Impact Motorz, Conrad and Bischoff modified hard to keep pace with Youngblood and his PBT Auto Sales, Idaho CDL Training entry, and with five laps left the lead duo made contact. Both Youngblood and Latham managed to keep a handle on their machines, but the slow-down brought Quentin Duncan into the lead fight.
Duncan worked his racer to the inside of Latham, but contact with three laps to go sent Latham for a wild slide down the backstretch. This left the field in the hands of Youngblood and Joe Daily for the restart.
Youngblood shot out of the blocks first and sped to the lead while Daily was left to fend off a resurgent Nelson and Caity Miller. Daily would succeed, but could only watch as Youngblood roared across the Caleb's Chop Shop Victory Stripe first.
Upon post-race inspection an issue was found with Youngblood's machine, which handed the win to Daily and his Iron Body Fitness, Daily Fit Body modified.
Brendon Fries and Colton Nelson took control of the Bud Light Modifieds' second feature of Ozzy's Car Company EMS-Police-Fire and Correctional Officers Night. Nelson looked to have the upper hand early in his Bud Light, YMC Mechanical machine, but Fries, in a backup ATS Inland Northwest, Horizon Credit Union modified, kept pace.
A mid-race caution flag brought Fries even with Nelson, but again Nelson was able to gain the upper hand. Another caution with eight laps left bunched the field again and set up one final shootout for the win.
The green flag waved and the top two took off. Fries held the high line while Nelson dug hard to keep up on the inside. Back and forth the two battled as laps wound off the Pepsi-Cola scoreboard.
Nelson pushed hard to put his machine back up front, but lost the handle on his racer and spun in turn two. No damage was done, but Fries was left in the lead with Latham and Alex Duda in pursuit. Fries proved too stout to pass in the closing laps and he claimed the night's final victory.
A full field of Domino's Legends ran forty laps in memory of Austin Christopherson and Eldon Cahill. Mike Soiseth and AJ Martinson battle for first on the Pepsi-Cola scoreboard early, while Jerry Davis, and Casey Tillman went wheel-to-wheel as they tore through the pack. Tillman had the car to beat, and easily dispatched Soiseth for the lead.
Deep in the pack, chaos reigned as drivers battled to gain positions. As the race neared its halfway point this constant contact led to a pile up in turn one involving seven cars including Davis, points leader Niko Heinzel, and early leader Martinson.
With the track cleared racing resumed with Tillman and Johnethan Davis in a battle for the top spot. Johnethan's GCAT, Interstate Batteries car was fast, but each time he approached the leader's rear bumper Tillman would take off again. This pattern repeated through the race's final ten laps, and Tillman parked his racer in the Caleb's Chop Shop Winner's Circle.
Twenty-one Boise Bath and Kitchen Company Mini Stocks rolled to the green flag for a 25-lap slugfest. Young Dylan Wardle led most of the early going in his TraBar Customs, Padgett Pest Control machine, but by the time a caution flag flew with ten laps remaining on the Pepsi-Cola scoreboard, Wardle was joined by heavy-hitters Jason Sanders, Riley Rogers, Troy Palmer, and Travis Pavlacky.
On the restart Wardle hung tough on the outside, but Sanders hooked the inside line and burst to the lead followed by Rogers and Pavlacky. Rogers immediately pulled his to the outside of Sanders and took the lead just before a single-car spin brought out another caution flag.
The green flag waved and Rogers zipped back to the lead, but Pavlacky followed and in the final set of corners made a desperate bid to pass for the lead. But Rogers was too strong and he collected the Trammel Construction Feature Flag.
The Big Daddy's Barbecue Hornets couldn't lead more than one lap at a time in their 25-lap feature. As the laps wound down Blaine Waller and Dale Bolinger found themselves alternating the top spot with Trenton Wilson and Kevin Matuska stacked up behind.
Coming to the white flag, Waller and Bolinger both slammed on their brakes and Wilson dove to the inside and took the lead. Now unable to win the race, but able to take second place, Wilson slowed as the lead trio headed into turns three and four. Bolinger stayed high in his Leisure Time, Aspen Transitional Rehab racer, while Waller dove his Boise River Koi and Pond Supply, Two Idaho Mom's Boutique car to the inside of Wilson. Contact was made and Wilson was spun sideways in front of Waller, who kept his foot to the floor and, even while pushing Wilson's spinning car, beat Bolinger across the line.
Pepsi Sprintcar competitor Bryan Warf, at the controls of his Allan Marsh RV and Marine Center, CF Floor Covering sprinter, dominated the division's 25-lap feature, taking the victory by two and a half seconds over Kaleb Johnson and Ryan Newman.
The Fire and Fury of Diamond Cup presented by Neil Alan Fine Jewelry returns to Meridian Speedway this Friday and Saturday night. Don't miss the Northwest Sprintcar Racing Association and Speed Tour Sprint Cars powered by Pit Stop USA as they battle wheel-to-wheel for the weekend's ultimate prize, a custom diamond ring courtesy of Neil Alan Fine Jewelry. Tickets are going fast! Get your advance tickets today at www.meridianspeedway.com. Gates open at 4:45 p.m. Friday and Saturday, with qualifying around 6 p.m. and racing at 6:30 p.m. We'll see you this Friday and Saturday, June 10 and 11, for Diamond Cup presented by Neil Alan Fine Jewelry under the big yellow water tower at your NASCAR Home Track, Meridian Speedway.
---
Submitted By: Tyler Schild
Back to News