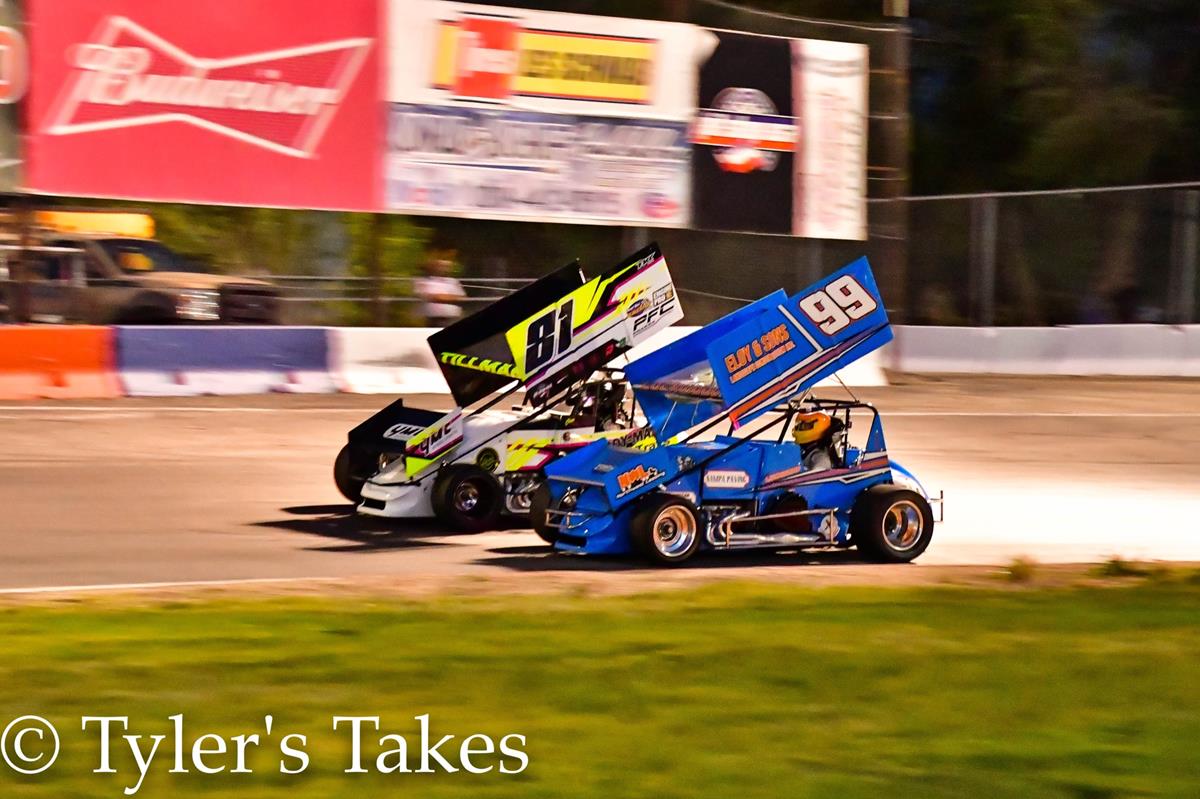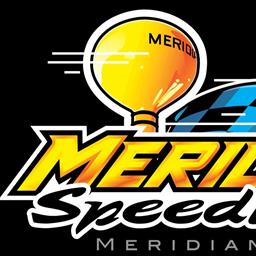 6/15/2022
Meridian Speedway
---
Tillman Scores Second Diamond Cup Title
The fastest open-wheel racers in the West descended on Meridian Speedway on Friday and Saturday, June 10 and 11, for the 34th annual Diamond Cup presented by Neil Alan Fine Jewelry. The Northwest Sprintcar Racing Association and Speed Tour Sprint Cars powered by Pit Stop USA battled for the weekend's ultimate prize, a custom Neil Alan Fine Jewelry diamond ring, while the Speed Tour Supermodifieds, Salt Lake City Midgets, and North West Tour Truck Series joined in the two-day festivities. The Firehouse Pub and Grill Bombers rounded out Friday's Stinker Sinclair Family Pass Night action, while the Trammel Construction Stingers battled Saturday night for their Idaho CDL Training Feature Flag.
Friday night's Northwest Sprintcar Racing Association and Speed Tour Sprint Car powered by Pit Stop USA feature was one part race, one part bare-knuckle brawl. The tone for the 40-lap Stinker Sinclair Family Pass Night headline event was set halfway through lap one when contact mid-pack led to an eight-car melee. Though no significant damage was done to any one car, the jam session spread the field around nearly the entire quarter-mile oval.
Side-by-side, full-contact racing continued throughout the field, with Randy DuBois, Aiden Spiers, Casey Tillman and others suffering damage throughout the night. When the dust settled Bryan Warf stood atop his Allan Marsh Travel Center, Magic Valley Estate Sales sprinter victorious. However, this victory was only good for a third-place standing in the overall Diamond Cup presented by Neil Alan Fine Jewelry standings, fourteen points behind Cory Lockwood and sixteen behind leader Tillman.
Tillman's two-point cushion over Lockwood grew when Tillman pedaled his Ready-Made Plastic Trays, TS Fuel and Oil sprinter to second on the Pepsi-Cola scoreboard with a lap of 11.468 seconds in qualifying. Lockwood could only muster a lap of 11.734 seconds, which was eighth-best on the night.
Lockwood scored a win in his heat race, but Tillman crossed the line in second place to minimize the damage to his weekend standing. This left Tillman in control of his Diamond Cup destiny as the 19-car field lined up for Saturday night's 50-lap feature.
Tillman fought his way forward through a chaotic pack. On lap twelve Tillman roared around the outside of Colton Nelson to take the fifth spot, right behind Lockwood's Eloy and Sons Landscaping, Stinker-Sinclair machine.
Up front, Quesnel , British Columbia's Ron Larson showed the way with Riley Rogers and his The Boise Bath and Kitchen Company, Sticker Status sprinter in pursuit. A caution flag just past the halfway point re-racked the field and put Larson on pole with Rogers and Nelson in row two.
The green flag waved and Larson blasted back to the lead as Rogers and Nelson dueled for second. After five wheel-to-wheel laps Nelson ripped around Rogers and set his sights on Larson.
Nelson inched closer and closer to Lason as the laps wound down, but his run was stymied by a caution flag with three laps to go. When the green flag waved again Nelson pushed his Mulder's Auto Machine, YMC sprinter as hard as he could to find a way past Larson, but the Canadian driver was too strong and he sped across the Caleb's Chop Shop Victory Stripe first.
With his fourth-place finish Tillman locked up his second Diamond Cup presented by Neil Alan Fine Jewelry title.
"To put my name on this list for a second time in the last three years is an awesome accomplishment," Tillman said.
The Speed Tour Supermodifieds powered by Pit Stop USA returned to the Naylor Memorial Classic trophy with a 35-lap Friday night feature. Art McCarthy and Randy Whitman dueled early for the top spot. Whitman would get the best of this battle, but the Fort Collins, Colorado racer's attention turned to Colton Nelson.
A caution flag flew near halfway as long-time rivals Jim Birges and Ricky Otts made contact on the backstretch. This slow down allowed Nelson to pull even with Whitman, and when the green flag waved, he powered to the lead and the Naylor Memorial Classic victory.
"I've always really wanted to get my hands on this trophy," Nelson said in the Caleb's Chop Shop Winner's Circle. "The Naylor family means a lot to me."
The forty-lap JP Memorial feature greeted a field of 10 Speed Tour Supermodifieds powered by Pit Stop USA. Again, Randy Whitman turned his front row starting spot to an early lead. Behind Whitman, Rich Castor, Birges, and Nelson surged forward, and by lap ten this trio installed themselves atop the Pepsi-Cola scoreboard.
Castor was fast out front and held the top spot until he tangled with a lapped car with eight laps to go. The contact sheared the left half of Castor's front wing off and caused a caution flag for metal scattered in turn two. This caution period also sent Nelson to the pit area with an apparent oil leak, which was patched up before the green flag waved.
This left Castor in the lead with Birges in pursuit. The green flag waved and Castor charged into turn one, where the damage to his front wing became apparent with a wicked push up the racetrack.
Castor wrestled his ailing car, but failed to stay ahead of Birges as Nelson tore around the outside of the pack and inserted himself in the lead fight just as his engine expired on the back stretch. The ensuing restart left Castor one-on-one with Birges. But the Bennett, Colorado driver could not keep pace, and Birges roared across the Caleb's Chop Shop Victory Stripe victorious for a second straight year.
Birges picked up not only the 2022 JP Memorial trophy, but also a fiancée after a successful proposal to his girlfriend in victory lane.
"It's always better to be lucky than good," Birges said of his win. "I was going to do this last night, but I got my ass kicked," he said of the proposal.
Jessica Bean made the most of her visit to Meridian Speedway as the Farmland, Indiana racer took home feature flags on both Friday and Saturday night in the Salt Lake City Midget ranks. Friday, Bean dominated the feature, while Saturday it took until the last lap to dispatch Anthony Quintana for the win.
"This is the first time I've been in a racecar in seven months," Bean said Friday. "I was able to kick the rust off yesterday and I think we've got it going pretty good today."
The North West Tour Truck Series ran back-to-back double feature nights Friday and Saturday. John Wong and Drew Reitsma split Friday night's features, while John Newhouse won both Saturday night features.
Keith Gonzales outdueled DJ Taylor for Friday's Firehouse Pub and Grill Bomber feature. Niko Heinzel cruised to the Trammel Construction Stinger victory.
The Meridian Speedway season rolls on this Saturday, June 18, with Walking Sombrero Taco Night. The Touchdown Automotive Street Stocks honor long-time safety crew member Mike Hasson with a 50-lap feature, while the Bud Light NASCAR Modifieds, Pepsi Sprintcars, Domino's Legends, and the All-Star Club Series round out a full night of short track racing action. General admission is just $14 for adults, $12 for seniors and military members, $8 for kids 7-11, and free for kids 6 and under. Gates open at 4:45 p.m. Saturday, with qualifying at 6 p.m. and racing at 6:30 p.m. Skip the line at the gate and purchase your advance tickets online at www.meridianspeedway.com and text 'meridianspeed' to 84483 to join our text club and receive exclusive updates. We'll see you this Saturday, June 18, for Walking Sombrero Taco Night under the big yellow water tower at your NASCAR Home Track, Meridian Speedway.
---
Submitted By: Tyler Schild
Back to News