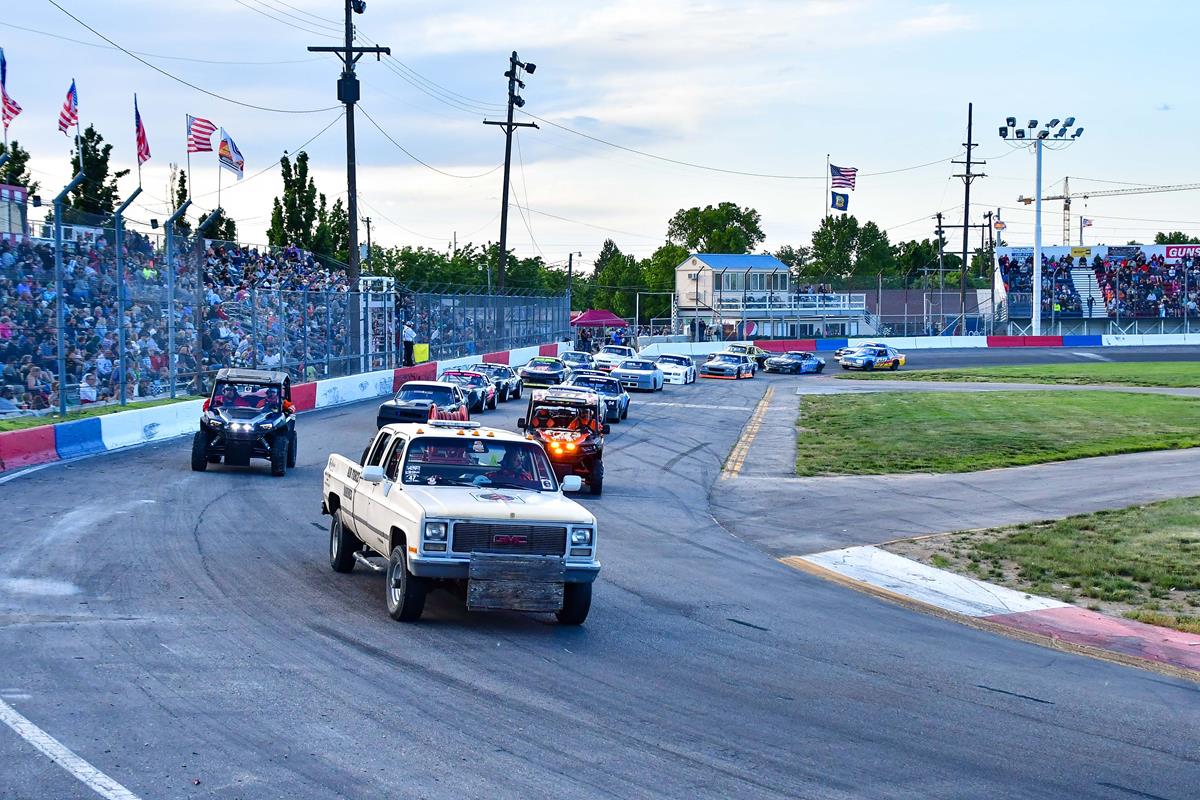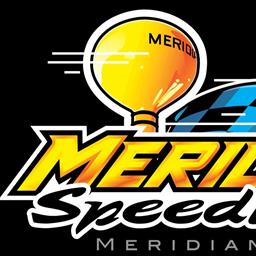 6/20/2022
Meridian Speedway
---
Twist Ending to Inaugural Mike Hasson At A Track 50
Meridian Speedway hosted the inaugural Mike Hasson At A Track 50 Saturday, June 18, on Walking Sombrero Taco Nite presented by Ninja Kitty Fireworks. The Touchdown Automotive Street Stocks, Bud Light NASCAR Modifieds, Pepsi Sprintcars, Domino's Legends, and the All-Star Club Series battled for the night's Tackle Tom's Feature Flags.
The Royce Industries Fire Crew led sixteen Touchdown Automotive Street Stocks rumbled to green for the inaugural Mike Hasson At A Track 50. On the break Josh Peterson jumped to the early lead before Kendra and Taylor Occhipinti blew past to take over the top two spots.
While the Occhipinti siblings battled for the lead in their Marv's Tire Service machines, heavy-hitters Pat Tully, Neal Latham, and Josh Fanopoulos worked their way through the field and into the top five fight. As the leaders rolled into lapped traffic, Taylor Occhipinti took over the lead from sister Kendra. Tully followed suit and closed on the leader, but a spin at the race's halfway point brought out a caution flag and doubled up the field for a restart.
The green flag waved and Tully beat Taylor to the gas pedal and roared to the top spot followed by Fanopoulos. While Fanopoulos worked Tully's Pinnacle Appraisal, Bruce and Rod's Point S Tire and Auto Service racer over, a mechanical issue was brewing under Latham's hood. Latham's Conrad and Bischoff, KJ's Super Store entry trailed more and more smoke as the laps wore on, until he was black flagged on lap thirty-four.
Up front Fanopoulos wrestled his Certified Services, Folger Building car around the quarter-mile while Latham and his heavy smoke rejoined the race. A spin with eight laps left brought out another caution flag and set up one final sprint to the finish.
The green flag waved and Fanopoulos powered to the lead with Latham and Troy Evans in tow. Latham wheeled his car for all it was worth, but couldn't catch Fanopoulos who crossed the Caleb's Chop Shop Victory Stripe first. Back in the pack, Taylor Occhipinti and Tyler Marston tangled in turn four and pounded the outside wall as they slid across the line fifth and sixth, respectively.
"[Mike Hasson] always made sure to let me know what I was doing right, wrong, or otherwise," Fanopoulos remarked as he hoisted the Mike Hasson At A Track Memorial trophy.
But all was not well when the field rolled into the technical inspection area, where a misinterpretation of rules led to the disqualification of eight racers, including the top four finishers. This left Taylor Occhipinti as the winner, with Tyler Marston second and Kendra Occhipinti third. Josh Peterson and Dwaine Baccus collected their first top-five finishes of the season as well, with Samantha Raymond, Mike Hasson's son TJ Hasson, and Kane Thomasson as the non-disqualified finishers.
"The cars/drivers in question did not appear to be in violation of the rule through intentional malice," read Meridian Speedway's official inspection report.
The Bud Light NASCAR Modifieds started Walking Sombrero Taco Nite with the first of their two feature races. Tommy Harrod piloted his PBT Auto Sales, YMC Inc. racer to the front and looked to have the victory in hand. But with two laps left Harrod lost the handle on his modified and spun down the front stretch into turn one.
The pack scattered to avoid Harrod, but point leader Neal Latham's car spun as he slowed and piled into the stopped machine. The damage to Latham's Impact Motorz, Treasure Valley Metal Works racer was extensive and he would commandeer a backup car from teammate Dylan Caldwell for the rest of the night's racing.
When the green flag waved again Joe Daily made his move and roared across the Caleb's Chop Shop Victory Stripe first in his Daily Fit Body, JcooRocks racer. Colton Nelson snuck past Alex Duda at the line for second followed by Caity Miller and Caldwell.
"Every one of the cars in this class can win any time," Daily said as he collected the Tackle Tom's Feature Flag and his plate of Walking Sombrero Tacos.
The division's second feature was extended to forty laps after their exceptionally hard-fought but clean run earlier in the night. Rookie Rusty Houpt jumped to the early lead, but fellow division Rookie of the Year contender Caity Miller bested Houpt for the lead. Next to take over the top spot was Colton Nelson, who hooked the inside line and slung himself into the lead.
At the race's halfway point Brendon Fries' ATS Inland Northwest, Ryan Shelby at Academy Mortgage machine came alive. First, he dispatched Josh Randolph for third, then worked to reel Miller in. As soon as Fries arrived on Miller's rear bumper a caution flag waved. For the restart Miller chose the inside line, which lined her up in row two and gave Fries the spot outside of leader Nelson.
In a repeat of the final feature of June 4, Fries and Nelson shot into turn one side-by-side. Nelson's Bud Light, Division Construction mount was strong down low, but Fries' modified was strong up top and with four laps to go rocketed to the lead. Nelson could not mount a comeback, and Fries took home his second victory of the season.
"I wouldn't want to race anyone else besides Colton," Fries said as he collected the Tackle Tom's Feature Flag. He'll race you harder than anyone, but cleaner than anyone."
An eight-pack of Pepsi Sprintcars took 25 turns around the quarter-mile Saturday. Tony Ackerland jumped out to the early lead while Ryan Newman found himself in the middle of a physical mid-pack fight.
After six rough-and-tumble laps Newman moved his North American Recycling, Ashley Heating sprinter to second on the Pepsi-Cola scoreboard. But Newman had fast company in the forms of Daytona Wurtz and James Pahl. Wurtz was first to Newman's tail tank and launched a savage series of attacks on the runner up. These attacks would take their toll on Wurtz' sprinter, and with six circuits left her All Makes Towing, United Metals machine lost power in the pit entrance, which drew a yellow flag.
On the restart Newman overpowered Ackerland to take the lead and, ultimately, the feature victory.
"The first half was like a demolition derby," Newman said. "I felt like I was getting hit from every side there."
Fifteen Domino's Legends rolled to green for their 25-lap feature. Youngsters Niko Heinzel and Leon Tridle dueled for the lead early, with Heinzel getting the better of this battle in his Idaho Laser and Design car. As the laps wound down Jerry Davis broke free from the field and closed on the leader. But Davis' charge came too late and he could only muster a runner-up finish behind Heinzel.
Ten All-Star Club Series competitors took the Walking Sombrero Taco Nite presented by Ninja Kitty Fireworks green flag. Tommy Harrod powered his PBT Auto Sales machine through the pack to score his second win in as many starts.
This Friday, June 24, Meridian Speedway races 'til the cows come home as it hosts the Idaho CDL Training Dairy Day Races. The Zamp Pro-Late Models contest the Bill Crow 50, while the Project Filter Pro-4s, Boise Bath and Kitchen Company Mini Stocks, and Firehouse Pub and Grill Bombers race for their own Trammel Construction Feature Flags. Gates open late this Friday at 5:45 p.m. Races go green at 7:45 p.m. Friday. Log on to www.meridianspeedway.com to purchase your advance tickets now. We'll see you this Friday, June 24, for the Idaho CDL Training Dairy Days Races under the big yellow water tower at your NASCAR Home Track, Meridian Speedway.
---
Submitted By: Tyler Schild
Back to News