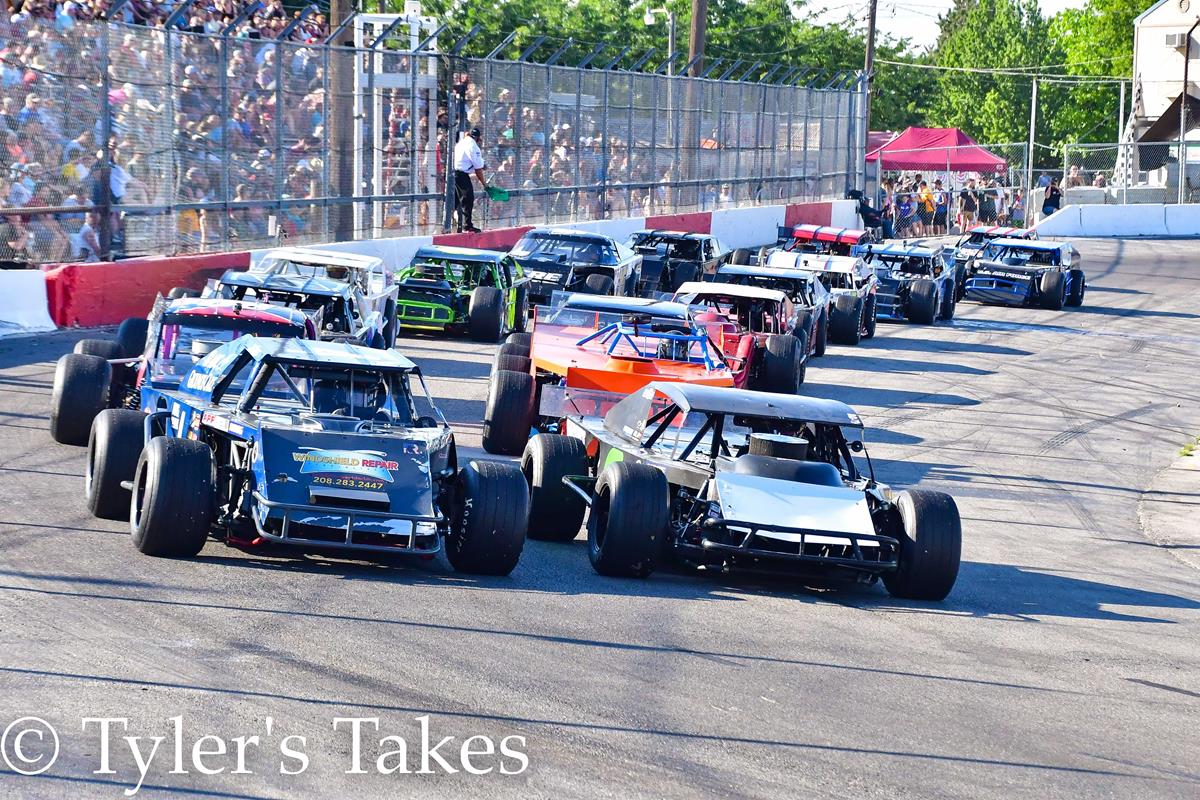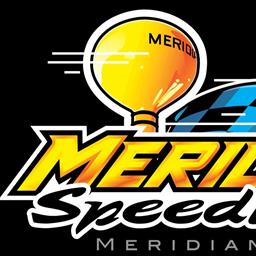 7/11/2022
Meridian Speedway
---
Miller Mighty in ICCU Night Modified Main
Meridian Speedway's summer stretch kicked into high gear Saturday, July 9, as the quarter-mile asphalt oval hosted Idaho Central Credit Union Nite at the Races. The Bud Light NASCAR Modifieds contested twin 30-lap features, while the Pepsi Sprintcars, Project Filter Pro-4s, Domino's Legends, and Trammel Construction Stingers went wheel-to-wheel for the night's Trammel Construction feature flags.
Sixteen Bud Light NASCAR Modifieds roared to green for the final feature of Idaho Central Credit Union Nite at the Races. On the break Carson Ackerland dispatched outside pole sitter Tommy Harrod to move his Ackerland Construction, YMC Inc. machine to the early lead. But Harrod wasn't happy with second, and kept significant pressure on Ackerland until the race's first caution on lap five.
On the restart Ackerland crowded back in front of Harrod's PBT Auto Sales modified and brought Rusty Houpt and Caity Miller into a battle with Harrod for second spot. Miller wasted no time in taking her Pit Stop USA, Kustom Fab machine to the outside line. After a fierce four-lap battle with Harrod and Ackerland, Miller found her way to the point.
As Miller built her lead heavy-hitters Shelby Stroebel, Brendon Fries, and Neal Latham found themselves stuck in the mid-pack scrum. It was only a matter of time before contact was made, and with a dozen laps left Ackerland found himself sliding backwards down the back straightaway in front of the field.
When the dust settled seven cars sported damage of one sort or another from the incident. Despite launching over a tire and slamming the concrete in turn three, Latham's Impact Motorz, Conrad and Bischoff team repaired his modified enough to continue, as did fellow low flyer Quentin Duncan and his crew.
On the break Miller once again asserted her dominance and dashed to the lead while Mike Davis dispatched Houpt for the runner up spot. Though Davis wheeled his Haz Tech Drilling, American Tire of Nampa car hard to keep ahead of Fries and his ATS Inland Northwest, Horizon Credit Union machine, he would fall to third in the race's closing laps.
But it all happened behind Miller, who took home the victory in just her second night of racing at Meridian Speedway since 2019.
"We've been working on this car for about two years," Miller said. "It feels really good to be in victory lane."
Shelby Stroebel held off a late race charge from Caity Miller to park his Trinity Construction-sponsored Bud Light NASCAR Modified in the Caleb's Chop Shop Winner's Circle.
A full field of nineteen Domino's Legends crowded the quarter-mile Saturday for a 35-lap feature race. The green flag flew and Riley Palomo rocketed to the top spot with Keller Meechudhone and Leon Tridle in tow.
First around Palomo's machine was Tridle, who powered around the outside to take the lead. Just two laps later Tridle came under fire from Las Vegas, Nevada's Cody Brown, who knifed inside the leader and shot to the top of the Pepsi-Cola scoreboard on lap seven.
Behind Brown's Paul Johnson Drywall, Sherwin-Williams racer chaos reigned as cars scrambled three and four-wide through the corners to keep on the lead lap. The hard racing culminated with contact that sent Meechudhone's Third Gen Racing machine around on the front stretch.
The restart set Palomo outside of Brown when the green flag waved. Brown blasted back to the lead with Brenden Ruzbarsky in second and Parker Heffel third. As the laps wound down Ruzbarsky and Heffel closed the gap on Brown, but both were stymied by heavy lapped traffic as Brown streaked across the Caleb's Victory Stripe first.
Sixteen Trammel Construction Stingers took the green flag on their 18-lap feature. Alannah Trammel at the wheel of her Trammel Construction, Bobby's Transmission racer set sail out front early while the field jockeyed for position behind her.
Coleman Green was first to challenge Trammel, and on a lap 5 restart he hooked the outside line and put his Haz Tech Drilling, Greens Custom Haying car out front. But Green had quick company in the form of division dominator Niko Heinzel, who piloted his Idaho Laser and Design machine to the top of the Pepsi-Cola scoreboard just after the race's halfway point and never looked back as he stormed into the Caleb's Chop Shop Winner's Circle.
Nine Pepsi Sprintcars rumbled to green for their 25-lap feature. Ryan Newman was on the march early as he piloted his North American Recycling, RMac Shop sprinter past Jamo Stephenson for the early lead. But Bryan Warf had his Allan Marsh RV and Marine Center, Magic Valley Estate Sales machine dialed in and the Meridian, Idaho speedster tore his way around Newman on the outside and led the final eleven laps on his way to the win.
Kenny Chandler celebrated his birthday with a throwback paint scheme on his Project Filter, Fairly Reliable Bob's and his second feature victory of the year.
"I'm glad we got this car back out," Chandler said of his burnt orange machine. "We've got nine champions on it and it's a good car to drive."
The Meridian Speedway season rolls on this Saturday, July 16, with Weed Man Lawn Care Lucky Rides 4 Kids Night. The North West Tour Truck Series, Salt Lake City Midgets, Zamp Pro-Late Models, Touchdown Automotive Street Stocks, and Big Daddy's Barbecue Hornets are all on tap for a full night of shot track racing the way it ought to be. Plus, kids get to take a ride around the Concrete Jungle with a lucky ride ticket, available in Saturday night's souvenir programs! Gates open at 4:45 p.m. with qualifying at 6 p.m. and racing at 6:30 p.m. Purchase your advance tickets online now at www.meridianspeedway.com and stay up to speed with exclusive updates from out text club by sending 'meridianspeed' to 84483. We'll see you under the big yellow water tower this Saturday, July 16, for Weed Man Lawn Care Lucky Rides for Kids Night at your NASCAR Home Track, Meridian Speedway.
---
Submitted By: Tyler Schild
Back to News