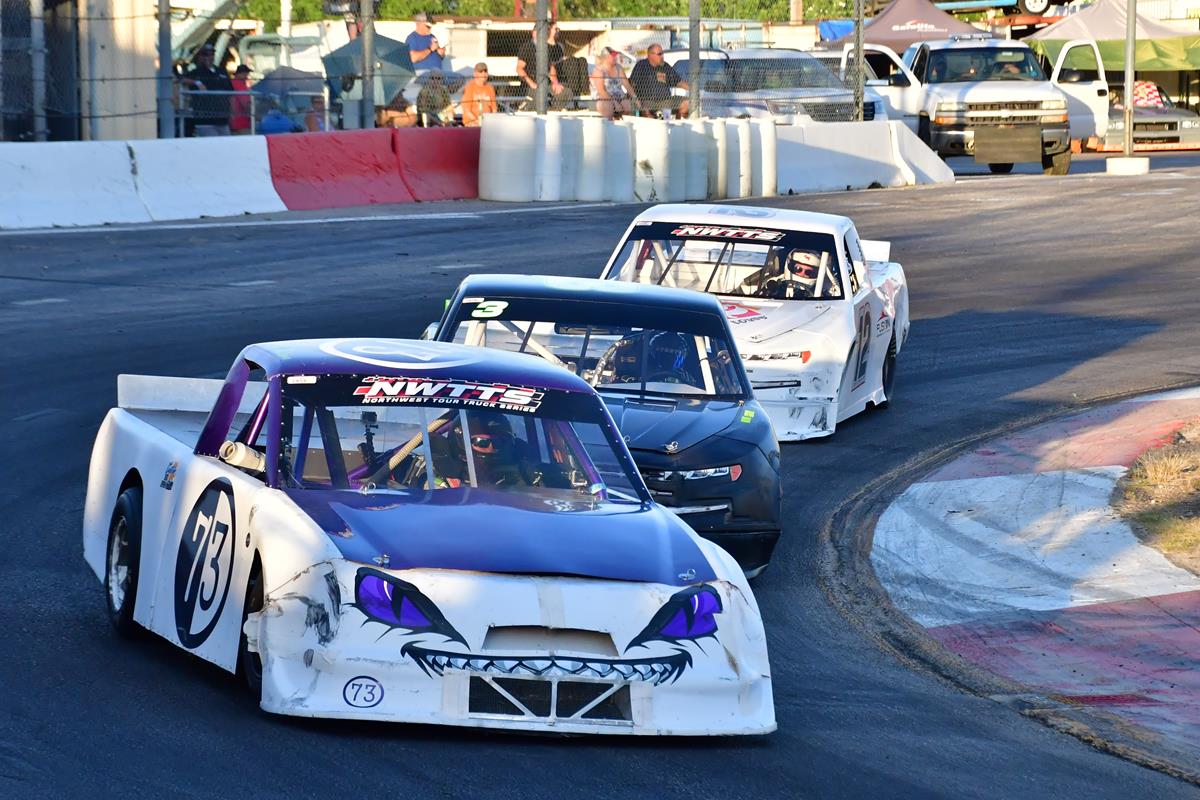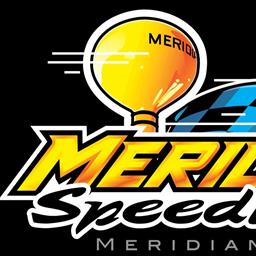 7/18/2022
Meridian Speedway
---
Wong, Reitsma Tops in Tour Trucks
It was one hot night of racing at Meridian Speedway Saturday, July 16, as triple-digit temperatures welcomed Weed Man Lawn Care Lucky Rides for Kids Night at the Races. The North West Tour Truck Series beat and banged their way through twin 35-lap features, while the Salt Lake City Midgets, Zamp Pro-Late Models, Touchdown Automotive Street Stocks, and Big Daddy's Barbecue Hornets dashed for their own Kim's Kars Feature Flags.
John Wong rooted his way to the lead and the win in Saturday's first North West Tour Truck Series feature. The Eagle, Idaho driver lined up eighth for the second feature, and looked to sweep the weekend when the green flag waved.
Ron Lawser and Tanner Wong led the North West Tour Truck Series to green on their second 35-lap feature of the night. Wong used the outside line and piloted his Wong Farms, Champion Produce pickup to the lead with Lawser and Jordan Harris in tow.
An early caution flag slowed the field and lined Harris up outside of Tanner Wong for the restart. Harris, at the wheel of a backup truck usually piloted by Jeff Wade, couldn't find his footing early, and after contact with both Tanner and later John Wong, dropped back to mid-pack.
Next to take on Tanner Wong was Drew Reitsma. At the wheel of his Reitsma Holsteins, Fields 66 truck, Wendell, Idaho's Reitsma committed to the inside line and with a light body blow off of turn four moved into the lead.
John Wong copied Reitsma's door-slamming tactic and one lap later held the second spot ahead of Jenna Quale. Wong worked the rearview mirror of Reitsma until the race's halfway point, when the handling of Wong's Champion Produce, Advanced Primate machine soured. This forced Wong to defend his runner up spot from Quale's Custom Auto Repair, Quale's Electronics pickup.
But it all happened behind Reitsma, who cruised across the Caleb's Chop Shop Winner's Circle.
Ten Salt Lake City Midgets took the green for their 25-lap feature. Devon Westover drove his Lucky 13 Racing, Idaho Powder Coating machine, followed by Anthony Quintana and River Merrill.
Quintana wheeled his Jimmy Waters Motorsports, FK Rod Ends car hard to keep pace with Westover, and with just nine circuits left on the Pepsi-Cola scoreboard he drew within two car lengths of the leader. But try as Quintana might Westover was too strong and the Saratoga Springs, Utah racer crossed the Caleb's Chop Shop Victory Stripe First.
Neil Wassmuth and Delaney Grace led the Zamp Pro-Late Models to green. Grace got to the gas pedal first and piloted her CoreTec Flooring, Splash and Dash Groomerie entry to the early lead. But Wassmuth found the handle on his Neil Alan Fine Jewelry, Jans Hair Design car and ripped around the inside to take the top spot.
Behind Wassmuth full contact racing broke out as first Kyle Latham and Grace came together on the front stretch, then Ron Hayes and Brandt Wilson traded paint in turn one a lap later as they looked for a way around Riley Bradford.
As the chaos settled quick qualifier Dalton Cristiani worked his Karcher Auto Body, Cristiani Motorsports racer around the outside of the track, and with ten laps left he caught and dispatched Wassmuth to take the point himself. Cristiani wouldn't look back over the race's final laps and rolled into the Caleb's Chop Shop Winner's Circle for the fourth time in 2022. Hayes came home second in his Eden Water Technologies of Las Vegas, RC Willey machine with Melissa Weaver third in her Marv's Tire Service racer.
The Touchdown Automotive Street Stocks rumbled to green for a 25-lap feature. Kane Thomasson motored past Samantha Raymond for the early lead while siblings Kendra and Taylor Occhipinti lined up in a bid for the front.
Taylor's bid for the win was cut short after just five laps as the suspension on his Marv's Tire Service machine failed. This left Thomasson, Kendra, and Troy Evans to decide the feature. Evans marched through the field and put his Gem State Carpet and Upholstery Cleaning, A&E Sharpening machine up front for good on lap ten. Kendra Occhipinti came home second with Thomasson's Gem State Metals, Burn the Boats Tattoo entry third.
The Big Daddy's Barbecue Hornets took on both the quarter-mile oval and the one-tenth mile tri-oval as they closed out Weed Man Lawn Care Lucky Rides for Kids Night with a Big Track-Little Track feature. Fifth-place starter Cris Endicott mastered the transition from big to little track early, and quickly built a five-second lead. As the laps wound down Endicott's lead only grew and he rolled his Eagle Auto Repair machine into the Caleb's Chop Shop Winner's Circle.
Main events take center stage this Saturday, July 23, with the Horizon Credit Union Twin 25's. The Bud Light NASCAR Modifieds, Pepsi Sprintcars, Project Filter Pro-4s, Boise Bath and Kitchen Company Mini Stocks, Trammel Construction Stingers, and the All-Star Club Series go green for night of full throttle short track action. Gates open at 4:45 p.m. Saturday with qualifying at 6 p.m. and racing at 6:30 p.m. Advance tickets are available at www.meridianspeedway.com. We'll see you under the big yellow water tower this Saturday, July 23, for the Horizon Credit Union Twin 25's at your NASCAR Home Track, Meridian Speedway.
---
Submitted By: Tyler Schild
Back to News