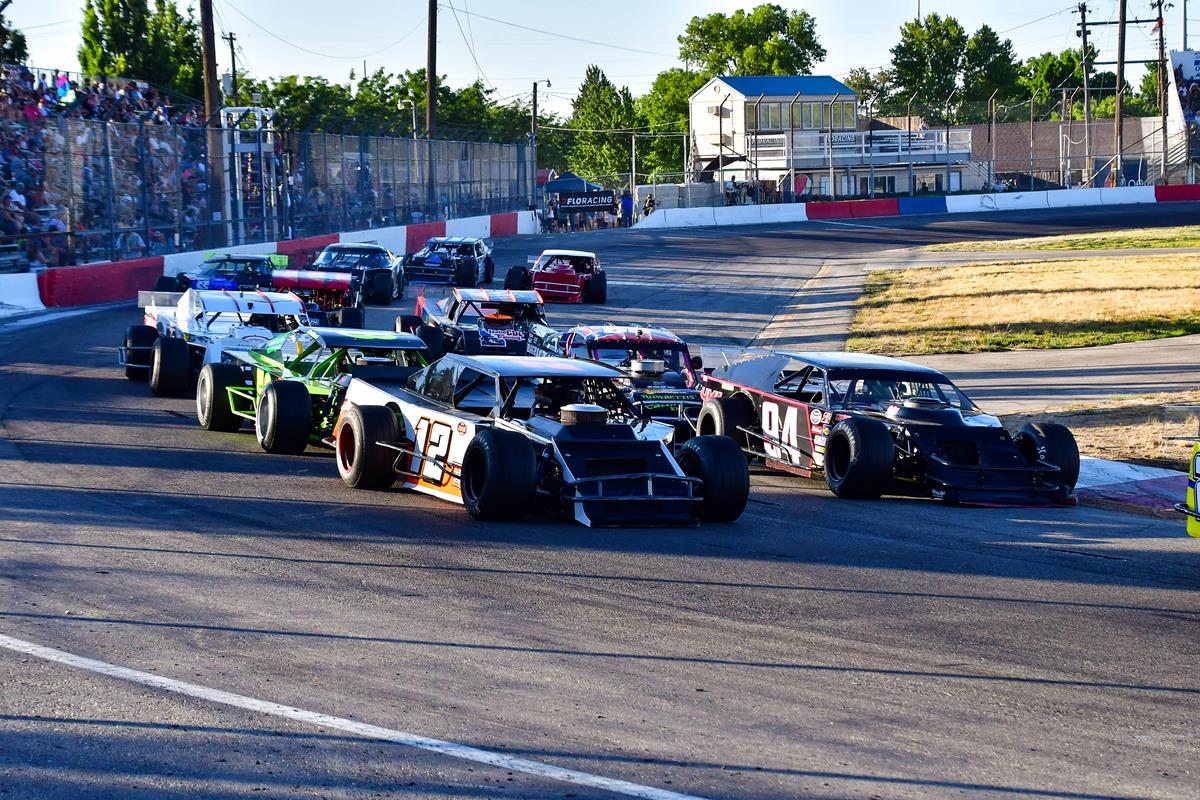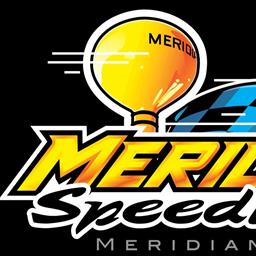 7/27/2022
Meridian Speedway
---
Horizon Twin 25's Deliver Double Dose of Everything
Race fans saw double on Saturday, July 23, as six Meridian Speedway classes battled wheel-to-wheel in the Horizon Credit Union Twin 25's. The Bud Light NASCAR Modifieds, Pepsi Sprintcars, Project Filter Pro-4s, Boise Bath and Kitchen Company Mini Stocks, Trammel Construction Stingers, and All-Star Club Series doubled down on features as they raced for the night's Trammel Construction Feature Flags.
Tommy Harrod crossed the Caleb's Chop Shop Victory Stripe first in the Bud Light NASCAR Modifieds' first feature, but his PBT Auto Sales, YMC machine was found too light in post-race inspection. This handed the victory to Alex Duda and his Boise Boys Transport, Idaho Dairy Pro racer.
Brian Hyde got to the gas pedal early in the division's second feature and the Boise, Idaho racer stormed to the early lead in his Western Sandblasting and Powdercoat Service, HazTech Drilling modified. But Colton Nelson was on the move, and by lap five had his Bud Light, Division Construction racer atop the Pepsi-Cola scoreboard.
Behind Nelson traffic stacked up two-by-two as second place runner Carson Ackerland and his Ackerland Construction, YMC Inc entry proved difficult to dispatch. Race winners Caity Miller and Brendon Fries both wheeled their modifieds hard to find a way around the youngster but could not as the laps wound down. This left Nelson unchallenged and the Meridian, Idaho racer cruised into the Caleb's Chop Shop Winner's Circle.
"This thing was good around the top," Nelson said. "We got up there and I just hoped for a green-white-checkered."
Eleven Pepsi Sprintcars took the green for their first feature. Point leader Ryan Newman piloted his North American Recycling, Ashley Heating machine to the early lead, but couldn't hold off a late race charge by Kaleb Johnson at the wheel of his YMC, Giesler's Auto Repair sprinter.
Division rookie Jett Nelson took his Giesler's Auto Repair, Mulder's Auto Machine entry to the second feature's early lead, but soon had Daytona Wurtz' sprinter on his tail tank. Wurtz looked high and low for a way past Nelson until a caution flag with seven circuits to go lined her up outside of the leader for the restart.
The green flag waved, and Nelson again bolted out front with Wurtz right behind. The lady racer went to make her move on the outside with four laps left but made contact with Nelson and skipped hard into the turn one concrete. Wurtz climbed from her machine disappointed but okay.
This left Bryan Warf, Tony Ackerland, and Jamo Stephenson behind Nelson on the restart. Warf and Stephenson hooked up in the high groove to dispatch Nelson in one lap. Stephenson then swung his YMC Mechanical, Restoration Rods open-wheeler to the inside of Warf and took over the lead coming to the checkered flag.
Stephenson detailed how his run was almost cut short during the late red flag.
"The car owner came out and he says 'how hot is it?' I said '250, but I think I can win this. We gotta keep it out here,'" Stephenson said in the Caleb's Chop Shop Winner's Circle.
Morgan Trammel took full advantage of a last lap caution to win the Boise Bath and Kitchen Company's first feature in his Trammel Construction, Bobby's Transmission car. The Meridian, Idaho racer's luck would run out on lap two of the division's second race when he and a handful of others were swept up in a grinding turn one crash.
Once the race resumed Gary Lucky stormed to the lead and collected his third Trammel Construction Feature Flag of the year.
Trammel Construction Stinger competitor Niko Heinzel, at the wheel of his Idaho Laser and Design car, was the only driver to sweep the Horizon Credit Union Twin 25's. Greyson Patton finished runner-up in both features, while Coleman Green and Ryat Gorringe split the night's third place finishes.
Kenny Chandler and Andrew Prince dueled early in the Project Filter Pro-4s' first feature but contact on lap ten sent Prince's Bad Fast Engineering, Hagerman Automotive racer sliding through the grass into turn three. This handed the lead to Jordan Harris, who put the spurs to his H&H Auto, Kim's Kars mount and raced to the victory in feature number one.
Chandler asserted his dominance in the division's second feature as he piloted the Project Filter, Jim's Drive Train smoke-free 33 to the lead on lap three and held it until the checkered flag.
The All-Star Club Series kicked off the night's action with a literal bang as division point leader Jeff Matuska's number 44 car erupted in flames as he ran third. Matuska hopped out of his blazing car unscathed, but the fuel-fed fire did major damage to his Neil Alan Fine Jewelry, BC Mobile Repair machine.
"They [NASCAR officials] said 'fire on the 44 car' and I was like, 'I think I know that number,'" Matuska joked as the Royce Industries Safety Crew worked to extinguish the flames.
When racing resumed Tommy Harrod zipped to the lead and held on to take his third victory of the season.
Harrod's PBT Auto Sales machine would visit the Caleb's Chop Shop Winner's Circle again in the division's second feature, this time with Matuska at the wheel.
"Thanks to Tommy Harrod man...that guy is first class," Matuska said. "To go from on fire to finally winning in the car that keeps beating me that's pretty cool to do."
The fireworks continue this Saturday, July 30, with the biggest night on the Meridian Speedway calendar, Eve of Destruction XIV powered by Jalopy Jungle. The World Famous Boat and Trailer Races, The Beast Jet Car Meltdown, Hornets versus the Gauntlet, and more await those with an appetite for destruction Saturday. Racing action will include the Bud Light NASCAR Modifieds, Domino's Legends, Touchdown Automotive Street Stocks, Big Daddy's Barbecue Hornets, and Firehouse Pub and Grill Bombers. Tickets to Eve of Destruction XIV are going fast! Buy yours now at www.meridianspeedway.com before they're gone. Gates open at 4:45 p.m. on Saturday with destruction going green at 6:30 p.m. We'll see you this Saturday, July 30, for Eve of Destruction XIV presented by Jalopy Jungle under the big yellow water tower at your NASCAR Home Track, Meridian Speedway.
---
Submitted By: Tyler Schild
Back to News