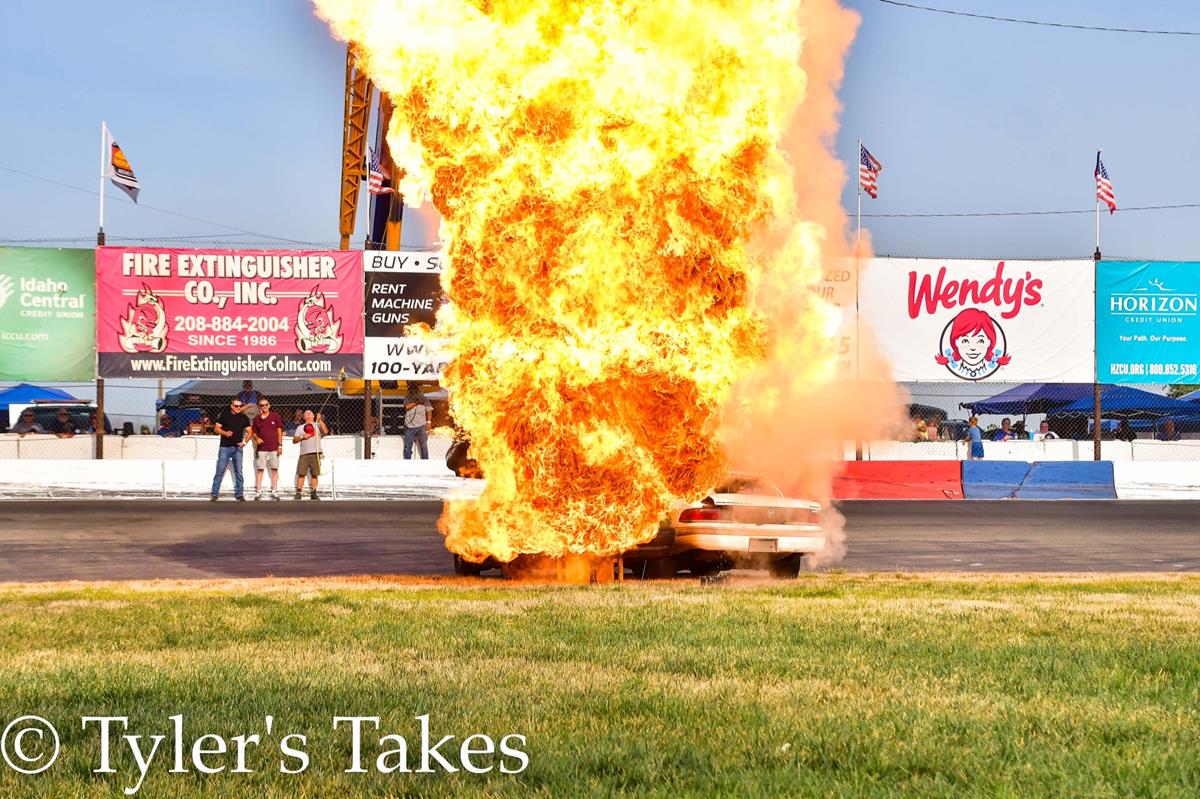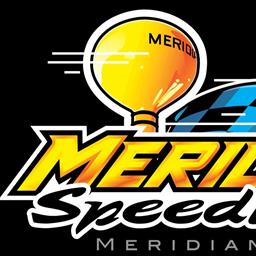 8/1/2022
Meridian Speedway
---
Carnage, Chaos Rule at Eve of Destruction XIV
A capacity crowd braved the heat Saturday, July 30, as Meridian Speedway hosted Eve of Destruction XIV powered by Jalopy Jungle. Before the Mystery Machine tore down the spooky abandoned camper, The Beat roasted a pair of hapless Hornets, and twenty boat racers spread carnage around the quarter-mile asphlat oval, the Bud Light NASCAR Modifieds, Domino's Legends, Touchdown Automotive Street Stocks, Big Daddy's Barbecue Hornets, and the Firehouse Pub and Grill Bombers traded paint as they scrapped for the night's Idaho CDL Training Feature Flags.
The Bud Light NASCAR Modifieds ran a pair of 25-lap features Saturday. Josh Fanopoulos made a triumphant return to the division as he piloted his Allan Marsh Travel Center, TalkAboutJesus.tv machine to victory in the night's first feature.
"I haven't been up here for a while," Fanopoulos joked. "I kind of forgot what to say."
Fanopoulos' luck would run out in the division's second feature when he tangled with Tommy Harrod's PBT Auto Sales, YMC Inc Modified just past the race's halfway point. This allowed Chuck Youngblood to line up alongside leader Brendon Fries and his ATS Inland Northwest, HUB International modified for the restart. The green flag waved, and Fries rocketed back int the top spot while Youngblood fell into the clutches of Neal Latham. Latham closed on the leader as the laps wound down, but ran out of time to catch Fries, who rolled to his third win this season.
"Winning in front of a sold-out Meridian Speedway, that's badass," Fries said in the Caleb's Chop Shop Winner's Circle.
The Domino's Legends went three-wide on the first lap of their 25-lap feature. The intense early jockeying left Mike Soiseth all alone up front as brothers Chance and Johnethan Davis carved their way through the pack to give chase.
Johnethan was first to clear traffic in his GCAT, Interstate Batteries machine, but looked to be too far behind Soiseth to catch him. A timely caution flag erased Soiseth's half-track advantage and set the older Davis brother to his outside for the restart.
Soiseth got to the gas pedal fast and held off Davis for the first four laps before Davis hooked the inside line and shot to the top of the Pepsi-Cola scoreboard, where he would stay until the checkered flags waved. Soiseth held off Chance Davis, Leon Tridle, and Niko Heinzel for the runner up spot.
Troy Evans, at the wheel of his Matt Compton Racing Engines, A&E Sharpening racer, outdueled Josh Fanopoulos to continue his Touchdown Automotive Street Stock dominance Saturday. With his third-straight division victory Evans closed the gap between himself and division points leaders Kendra and Taylor Occhipinti.
A wild three-wide restart settled the Big Daddy's Barbecue Hornets' fifteen lap feature as Caldwell, Idaho's Adam Wurtz took home the Idaho CDL Training Feature Flag. The Firehouse Pub and Grill Bomber ranks were again bested by DJ Taylor at the wheel of his Brewster Baker-themed machine.
Chuck Youngblood belly-flopped an over-sized Mystery Machine-themed van through a haunted camper and drove off to not only tell about it, but also dominate the opening half of the night's Boat Race of Destruction.
Richard Scott and Dale Bolinger backed their way to the Tow Mater Reverse Race win in the Firehouse Pub and Grill Bombers and Big Daddy's Barbecue Hornet division respectively.
Kane Thomasson hopped out of his Touchdown Automotive Street Stock to win the Spectacular Drag exhibition, and celebrated with an epic burnout down the front stretch.
It took Jeff Atamian's The Beast Jet Dragster just over two minutes to fry a pair of grocery getters to extra crispy. The resulting inferno was knocked down by the Royce Industries Fire Crew, but smoldered for the rest of the night.
Though down on power, the Gauntlet soldiered through seven and a half watermelon-slinging, firework-popping laps before a swarm of Big Daddy's Barbecue Hornets stopped it cold on the back stretch.
Twenty brave drivers rolled to the green flag of Saturday night's World-Famous Boat Race of Destruction. The action started early as Travis Pavlacky's Grave Digger-themed entry toppled onto its side. Fellow driver Rob Taylor hopped out of his nearby Weed Man Lawn Care entry and helped pull Pavlacky free from the wreckage.
"I was just trying to get off that boat," Pavlacky said trackside. "Then all of a sudden, I think my boat got smacked and just tipped me over."
Fresh off of two Bud Light NASCAR Modified main events and the night's earlier stunt, Chuck Youngblood and the Mystery Machine looked unstoppable when the destruction resumed, but the van's radiator exploded after contact with a boat just past the event's halfway point. This left Morgan Trammel as the favorite to outlast the World-Famous Boat Races of Destruction field. Trammel systematically hunted and destroyed the competition to stand victorious on his well-wrinkled SUV tow rig.
Meridian Speedway falls silent this Saturday, August 6, as the quarter-mile asphalt oval takes a one-weekend summer break. Racing returns on Saturday, August 13, with the Project Filter Twin 25's on Busch Light Special Can Nite. The Speed Tour Sprint Cars powered by Pit Stop USA headline a full night of short track racing along with the Zamp Pro-Late Models, Project Filter Pro-4s, Boise Bath and Kitchen Company Mini Stocks, and the Trammel Construction Stingers. General admission to a full night of feature racing is just $14 for adults, $12 for seniors and military members, $8 for kids 7-11, and free for kids 6 and under. Gates open at 4:45 p.m. Saturday, August 13, with qualifying at 6 p.m. and racing at 6:30 p.m. Skip the line at the gate and purchase your advance tickets online at www.meridianspeedway.com. Miss any of the Eve of Destruction XIV action? Relive the most spectacular night of the year on-demand with FloRacing.com. We'll see you under the big yellow water tower Saturday, August 13, for the Project Filter Twin 25's at your NASCAR Home Track, Meridian Speedway.
---
Submitted By: Tyler Schild
Back to News