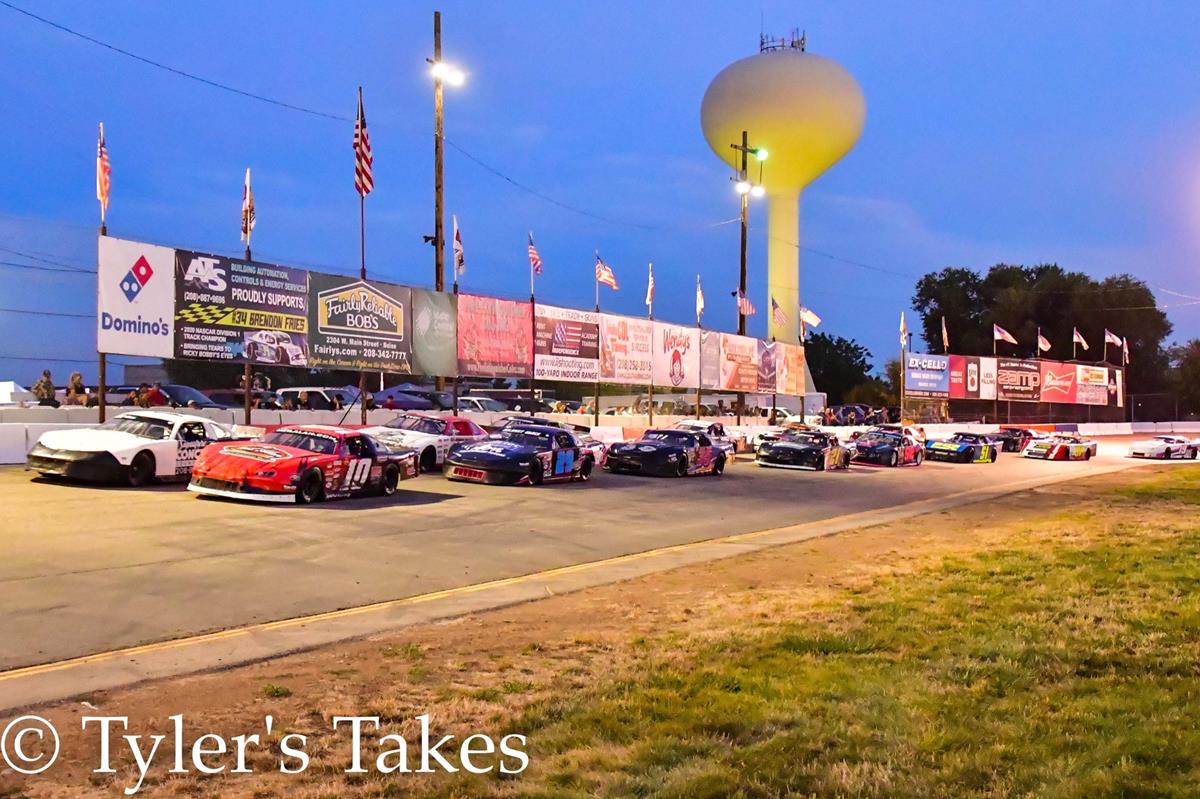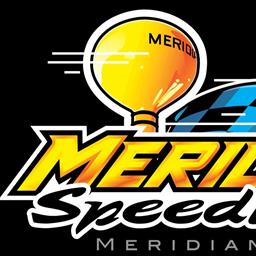 8/22/2022
Meridian Speedway
---
Tellstrom Takes YMC 104 Title, Pole for Idaho 208
Thunder rolled across the Treasure Valley Friday, August 19, as the Speed Tour Super Late Models powered by Pit Stop USA assembled to fight for their starting spots in the $20,000 NAPA Auto Parts Idaho 208 victory. The Zamp Pro-Late Models ran their own big money race with the YMC Inc. 104, as the North West Tour Truck Series, and Big Daddy's Barbecue Hornets battled for their own Trammel Construction Feature Flags.
Seventeen rowdy Big Daddy's Barbecue Hornets kicked off main event action on Friday night with a fifty lap skirmish. Despite near constant three-wide racing and casual contact, division leaders Dale Bolinger and Tommy Harrod battled their way to the top of the Pepsi-Cola scoreboard.
At the race's halfway point Bolinger held a commanding lead in his Leisure Time, A Moving Company racer, but this advantage was erased when Ron Wurtz' car burst into flames. This brought Harrod to Bolinger's outside, and on the restart Harrod pounced to put his PBT Auto Sales racer out front and park it in the Caleb's Chop Shop Winner's Circle.
Kyle Tellstrom piloted his QuickCar Racing Products, Carbon Designs Racing Vinyl car to the NAPA Auto Parts Idaho 208 pole position. The Ukiah, California driver lapped the quarter-mile in 13.701 seconds, just eight one-thousandths of a second faster than second quick Jonathon Gomez of Twin Falls, Idaho. Middleton, Idaho's Zach Telford locked himself into the third starting spot with a lap of 13.766 seconds, while Greeley, Colorado racer Brett Yackey hustled into the fourth spot with a lap of 13.787 seconds.
Larry Hull dominated the first 25-lap qualifying feature in his Diversified Carpet and Upholstery Cleaning, Shake N Bake Racing-sponsored Speed Tour Super Late Model powered by Pit Stop USA, and would have started inside row number three if not for a disqualification after the race. This gave the fifth starting spot to Dylan Caldwell and dropped Hull back to the thirteenth starting spot behind Dan Lowther, Dennis Wurtz, and Jamo Stephenson.
Greeley, Colorado's Brett Yackey joined the second qualifying feature despite already being lock into the fourth starting spot. Yackey's gamble paid off and not only did he race his way into the Caleb's Chop Shop Winner's Circle, but he also gained valuable experience behind the wheel of his Breeze Thru Car Wash, Local Hive Honey racer. Brett's teammate and father Bruce Yackey raced his way into the sixth starting spot, followed by Wyatt King, Troy Evans, and Emilee Newman.
Drew Reitsma put his fellow North West Tour Truck Series competitors on notice Friday night as he piloted his Reitsma Holsteins, Fields 66 machine to a clean sweep of the division's two 35-lap features. After a runner up finish in the night's first feature Jenna Quale's Custom Auto Repair, Quale's Electronics pickup suffered a mechanical issue in the second feature, which opened the door for John Wong to bring his Champion Produce, Advanced Primate truck home second.
Fifteen Zamp Pro-Late Models roared to green for Friday night's YMC Inc. 104. Neil Wassmuth and Terrell Daffron broke free of the pack to take the early lead, but the real battle was mid-pack as quick qualifiers Dalton Cristiani and Kyle Tellstrom knifed their way forward.
By lap ten Tellstrom had his QuickCar Racing Products, Air Filter Superstore machine outside of leader Daffron, and after a short battle the Ukiah, California driver took over the top spot. While Tellstrom walked away from the field Pat Tully took over the runner up spot with Cristiani, Kyle Latham, and Tyler Brown in tow.
The first caution flag flew after 29 laps and gave Tully his first crack at Tellstrom. Tully's Pinnacle Appraisal, Latham Motorsports mount couldn't keep pace with Tellstrom's, and when the next caution flag waved it was Cristiani's turn to line up outside the front row. Once again Tellstrom's number 91 car proved too strong to overcome, and Cristiani settled his Gibson Diesel Performance, Karcher Auto Body entry into second.
As the race wore on Cristiani's car wore down, and after 47 circuits he coasted to a stop in turn four. Cristiani would refire his machine and continue but would never match his speed from earlier in the event. Shortly thereafter Tully was forced into the pit area with mechanical issues as well.
This left Fanopoulos to take on Tellstrom in his Certified Services, Allan Marsh Travel Center racer. Fanopoulos pushed hard to keep up, but only lost time to the leader. Behind the lead fight Melissa Weaver and Doyal Moen came together in turn one as they battled for a top-5 spot. This contact left Weaver with a flat left rear tire and brought out another caution flag with 38 laps left.
With plenty of lapped cars between himself and Fanopoulos, Tellstrom cruised back to the lead on the restart and stayed there until a late caution flag allowed Fanopoulos one last chance to overtake the leader. The Boise, Idaho race made the most of this opportunity and hung on Tellstrom's right rear quarter panel through turns one and two but couldn't keep up the pace and watched as Tellstrom motored across the Caleb's Chop Shop Victory Stripe first.
A resurgent Weaver piloted her Marv's Tire Service machine to a third place finish ahead of Tate Elquist, the fourth and final lead-lap finisher.
The NAPA Auto Parts Idaho 208 went green Saturday, August 20 at Meridian Speedway. Keep your eye on meridianspeedway.com for a complete rundown of the richest Super Late Model race in Idaho, and we'll see you under the big yellow water tower this Saturday, August 27, for the Race for Hunger Hornet 125 at your NASCAR Home Track, Meridian Speedway.
---
Submitted By: Tyler Schild
Back to News