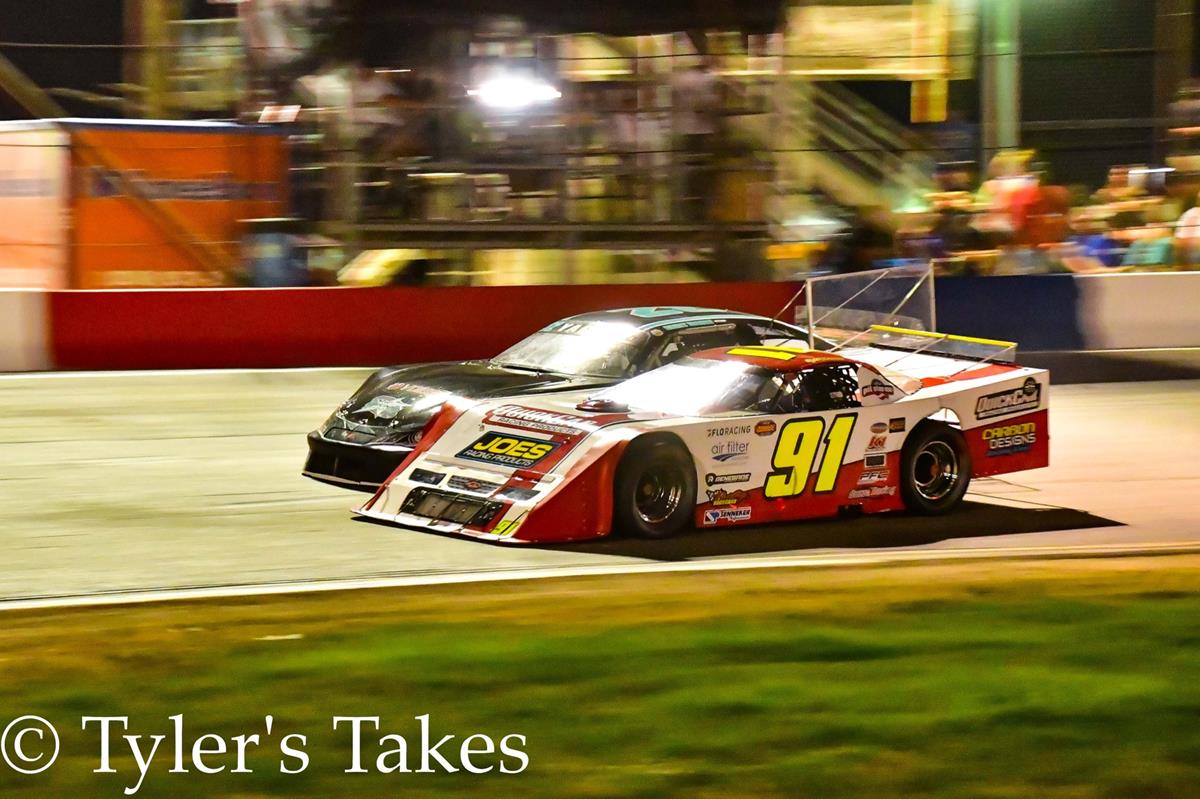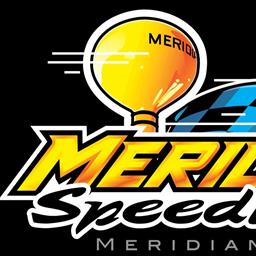 8/24/2022
Meridian Speedway
---
Yackey, Tellstrom Duel for Idaho 208
Twenty-three pavement pounding Speed Tour Super Late Models powered by Pit Stop USA took the green flag Saturday, August 20, on the richest stock car feature on the Meridian Speedway calendar, the NAPA Auto Parts Idaho 208. Alongside the $20,000 to win endurance race, the Speed Tour Modifieds powered by Pit Stop USA, North West Tour Truck Series, and Touchdown Automotive Street Stocks battled for the night's YMC Inc. Feature Flags.
Kyle Tellstrom and Jonathon Gomez led the Speed Tour Super Late Models powered by Pit Stop USA to green for the NAPA Auto Parts Idaho 208. On the break Tellstrom blasted to the lead with Gomez, Zach Telford, and Brett Yackey in pursuit.
On the charge early was Larry Hull, who charged from thirteenth starting spot to fifth in his Diversified Carpet and Upholstery Cleaning, Shake N Bake Racing entry by lap 35. But his progress was stopped there as Telford and Yackey battled side-by-side for position. Telford wheeled his Project Filter, Precision Framing entry hard, but couldn't keep up with Yackey's Breeze Thru Carwash, Local Hive Honey machine.
The battle for sixth place got physical as contact between Bruce Yackey and Craig Bell sent Bell's Bell's Automotive, Indian Creek Machine racer spinning into traffic on the front stretch, where he collected Neil Wassmuth and Kyle Latham. Bell was quick to hop out of his destroyed racer and pounded on Yackey's door as he idled by. Not content with this passing discussion, Bell walked to Yackey's car, now parked under the red flag, and stuck his head in the Greeley, Colorado racer's window to have a further discussion.
With the front stretch cleared Tellstrom and Gomez led the field to another restart. Gomez' Vincent Farms, K&T Carpentry car was lightning fast, but couldn't keep pace with Tellstrom, who rocketed his way back to the top spot.
As the first 104-lap segment of the NAPA Auto Parts Idaho 208 wound down, third place runner Yackey tangled with the lapped car of Brandt Wilson, who spun to a stop on the front stretch. This relegated both Wilson and Brett Yackey to the back of the pack for the restart.
Yackey, unhappy with his demotion to the back of the lead lap, went on the attack as soon as the green flag fell. First, Yackey muscled his way beneath Jamo Stephenson to break free from lapped traffic. Next, Yackey set his sights on Hull for fourth place, but ran out of laps before the caution flag waved for the halfway break.
Seventeen cars rolled to green for the second 104-lap segment of the NAPA Auto Parts Idaho 208. Just six laps passed before third-place runner Telford lost the handle on his racer and spun in turns one and two. Josh Fanopoulos tried to dive under Telford's spinning car, but made heavy contact with the Middleton, Idaho racer's front end. Telford's crew worked quickly to cut away the mangled sheet metal, but his shot at the victory was over.
On the restart Yackey went back to work and moved his way into the runner up position. Lapped traffic was heavy, and held Yackey at bay while Tellstrom, his QuickCar Racing Products, Joe's Racing Products machine sporting some significant right rear quarter panel damage, built a comfortable lead. This game of cat-and-mouse was interrupted by a caution flag with 44 laps left.
Chaos broke out on the ensuing restart. Down the back stretch Yackey and Tellstrom came together entering turn three. Tellstrom held on to his machine as did Yackey. But half a lap later Doyal Moen wasn't so fortunate, and the Twin Falls, Idaho racer spun in front of the back half of the field. Five cars piled into the accident, four of which were able to continue as the green flag waved with 35 laps to go.
Yackey sent his machine deep into turn one, but Tellstrom was hooked up on the inside line and fought his way back to the lead. Another caution flag flew with 25 circuits to go, and this allowed Yackey one last shot at the $20,000 winner's check.
The green flag waved and Yackey once again blasted into turns one and two. Still door-to-door with Tellstrom Yackey dove hard into turn three, but Tellstrom got back to the gas pedal first and took the lead back by half a car length. The lead duo battled side by side back through turns one and two before Yackey made hard contact with Tellstrom's right rear as they roared into turn three. The shot broke both cars loose, but Tellstrom recovered first and rocketed away from Yackey.
This contact proved to be the final challenge for Tellstrom who, once back out front, set his machine on cruise control and eased across the Caleb's Chop shop Victory Stripe over six seconds ahead of runner up Yackey. Gomez brought his machine home third, followed by Hull and fifth-place finisher Wyatt King.
"There's these moments in life where you have a great group of people around you and you make a plan and you execute," an emotional Tellstrom said. "Man, I wanted this one bad."
Andrew Richardson and Donovan Barr battled hard for the 65-lap Speed Tour Modifieds powered by Pit Stop USA feature win. Richardson, at the wheel of his Renegade Race Fuel, Pit Stop USA racer got to the front first and stayed there to take home the night's YMC, Inc. Feature Flag.
John Wong and Jenna Quale battled hard for the North West Tour Truck Series win Saturday. Wong survived some late contact to park his Champion Produce, World Star Packaging truck in the Caleb's Chop Shop Winner's Circle.
Troy Evans piloted his Matt Compton Racing Engines, Gem State Carpet and Upholstery Cleaning machine to victory in Saturday night's Touchdown Automotive Street Stock feature.
The Meridian Speedway season rolls on this Saturday night, August 27, with the Race for Hunger Hornet 125, an endurance race that benefits the Boise Rescue Mission. The Big Daddy's Barbecue Hornets and All-Star Club Series combine to run the night's main event, while the Bud Light NASCAR Modifieds, Pepsi Sprintcars, and Project Filter Pro-4s battle for their own Neil Alan Fine Jewelry Feature Flags. General admission for a full night of short track action is just $14 for adults, $12 for seniors and military members, $8 for kids 7-11, and free for kids 6 and under. Gates open at 4:45 p.m. with racing at 6:30. Log on to www.meridianspeedway.com to purchase your advance tickets and text 'meridianspeed' to 84483 to join our text club and receive exclusive updates. We'll see you under the big yellow water tower this Saturday, August 27, for the Race for Hunger Hornet 125 at your NASCAR Home Track, Meridian Speedway.
---
Submitted By: Tyler Schild
Back to News