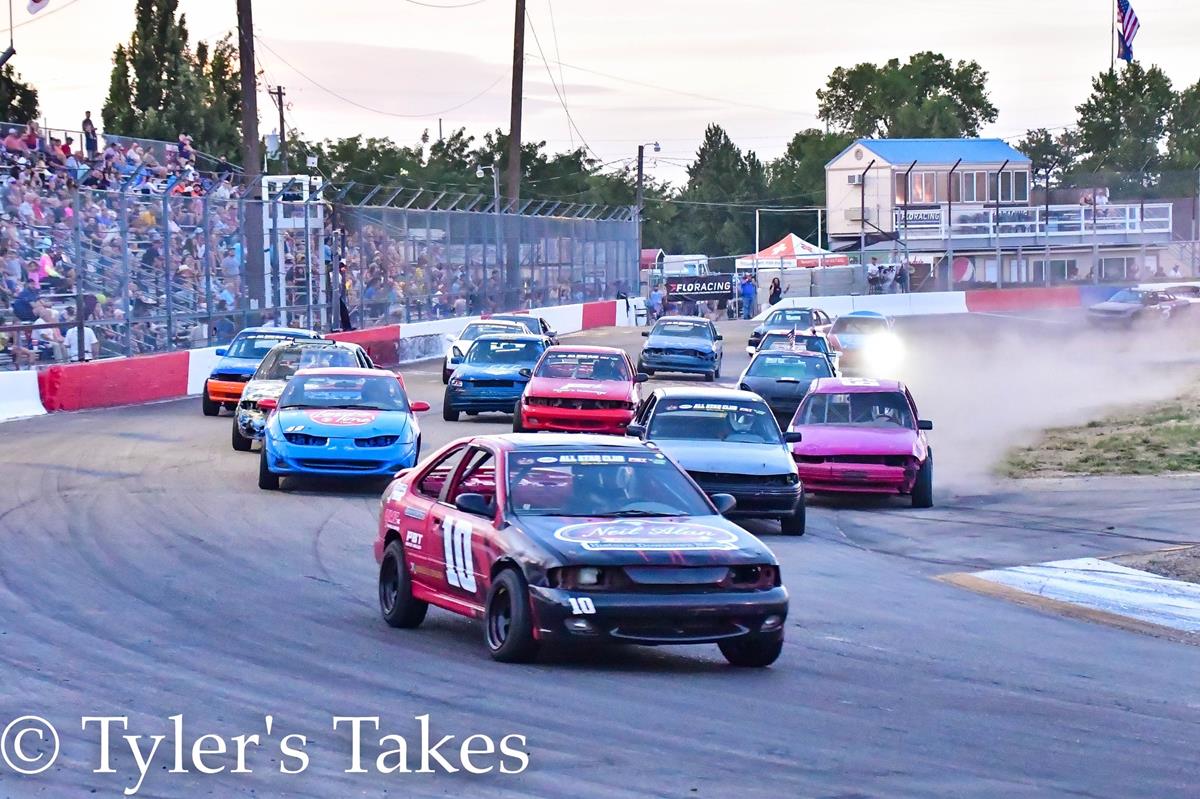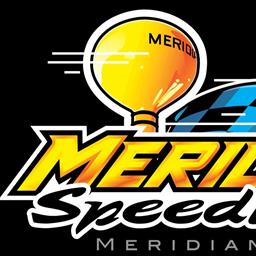 8/29/2022
Meridian Speedway
---
Race 4 Hunger Satisfies with Harrod-Pahl Battle
Over thirty Big Daddy's Barbecue Hornets swarmed Meridian Speedway last Saturday, August 27, as the quarter-mile asphalt oval hosted the annual Race for Hunger 125 to benefit the Boise Rescue Mission. Alongside the largest Hornet field of the year, the Bud Light NASCAR Modifieds, Pepsi Sprintcars, and Project Filter Pro-4s banged bumpers and traded paint on their way to the night's Neil Alan Fine Jewelry Feature Flags.
Chris Endicott and Titus Clancy led a combined field of 32 Big Daddy's Barbecue Hornet and All-Star Club Series drivers to green for the 125-lap Race for Hunger. Endicott got to the gas pedal first and shot to the lead, but soon found himself in a battle with Bo Darville and Brock Nelson for the top spot.
Darville and Nelson made quick work of Endicott, and as soon as the pair found clean air they set sail at full speed into lapped traffic. Nelson and Draville set a blistering pace as they worked to put as many cars a lap down as possible. In nineteen laps the lead duo had lapped up to seventeenth place.
Just one caution flag slowed the first forty laps as Nelson continued to blaze a trail through the Concrete Jungle. By the time the race's second yellow flag waved Nelson had built a three second lead and trapped all but the top fourteen runners down at least one lap.
On the restart James Pahl decided it was time to go, and the Caldwell, Idaho driver sliced his way first into the runner up spot, then used lapped traffic to take the lead on lap 47. Nelson pushed hard to pursue Pahl, but contact with a lapped car sent the former leader sliding sideways through turn two.
Now in forth Nelson put the pedal down in an attempt to chase down third place Tommy Harrod. Nelson wheeled his YMC machine hard to make up time, but the strain proved too much for his right front tire, which exploded as he exited turn four. Nelson pounded the front stretch barrier and brought out another caution flag.
Up front Harrod and Pahl sat side-by-side for the restart. The flag waved and Harrod erupted off the line to take the lead in his PBT Auto Sales racer. But Pahl caught back up as the dead duo negotiated turns one and two. Harrod would pull back to the lead at the other end of the track as Pahl stuck close in his tire tracks.
Pahl stalked Harrod and waited for the leader to make a mistake. Once it became apparent Harrod wouldn't, Pahl turned up the wick on his racer and charged forward as lap ninety wound off the board. But before Pahl could mount a serious challenge another caution flag flew for a jam up in turns one and two.
The green flag waved and Pahl rocketed around the outside into turn one. This time Pahl overpowered Harrod and held the lead while Harrod wheeled his car feverishly to keep up. Lap after lap Pahl and Harrod exchanged the lead until Harrod picked Pahl off behind a pesky lapped car.
Pahl quickly gathered himself and got back to the gas and caught back up to Harrod with fifteen laps left. Now it was Harrod's turn to have a close encounter with lapped traffic, and he hopped one cars left front tire, caromed off of a second car, and somehow held onto the lead. Pahl was hemmed in by the same traffic, and couldn't break free in time to track Harrod back down as the Nampa, Idaho racer pulled into the Caleb's Chop Shop Winner's Circle.
"I closed my eyes when I was up in the air," Harrod joked about his late contact.
"Hats off to Tommy," Pahl said post-race. "What a hell of a drive."
The Bud Light NASCAR Modifieds kicked off Saturday night's action with the first of their two features. Joe Daily, at the controls of his Iron Body Fitness, Jcoo Rocks modified, held off the hard-charging Caity Miller and Colton Nelson to take home the Neil Alan Fine Jewelry Feature Flag.
In the second feature Nelson piloted his Bud Light, Division Construction machine through the field and into the lead early. A late caution flag reset the field with Neil Latham to Nelson's outside, but once the green flag fell Nelson motored to the lead an ultimately the Caleb's Chop Shop Winner's Circle.
Action in the Project Filter Pro-4 ranks got physical as a late restart led to heavy contact between leader Andrew Prince and Jordan Harris. Harris got the better of this paint trading as the Nampa, Idaho racer gathered his H&H Auto, Challenger Auto and Transport machine and sped to the checkered flag. Prince held onto the second spot in his Bad Fast Engineering, Hagerman Automotive car while Kenny Chandler came home third.
"That was a really competitive race," Harris said post-race. "The 51 [Prince], he's fast, but I wasn't going to give it up easy."
The Pepsi Sprint Cars saw electric battles throughout the field Saturday. After a prolonged five-way battle for the lead Jett Nelson lost the handle on his Giesler's Auto Repair, Mulder's Auto Machine sprinter and spun through the infield grass on lap eight. On the restart veteran open-wheeler Bryan Warf got up on the wheel of his Allan Marsh RV and Marine Center, Magic Valley Estate Sales machine and zipped to the victory. Quick qualifier Kaleb Johnson took home runner up honors with Jamo Stephenson third.
Celebrate Labor Day with Meridian Speedway this Sunday, September 4, as the quarter-mile hosts the Twin 1K's presented by Ferguson Water Works. The Boise Bath and Kitchen Mini Stocks run double $1,000 features Sunday, with the Zamp Pro-Late Models, Domino's Legends, Touchdown Automotive Street Stocks, and Firehouse Pub and Grill Bombers chasing their own Trammel Construction Feature Flags. General admission to Sunday's event is just $14 for adults, $12 for seniors and military members, $8 for kids seven to eleven, and free for kids six and under. Gates open at 4:45 p.m. Sunday with races going green at 6:30 p.m. Log on to www.meridianspeedway.com to purchase your advance tickets now, and be sure to text 'meridianspeed' to 84483 to get exclusive text club updates. We'll see you under the big yellow water tower this Sunday, September 4, for the Twin 1K's presented by Ferguson Water Works at your NASCAR Home Track, Meridian Speedway.
---
Submitted By: Tyler Schild
Back to News