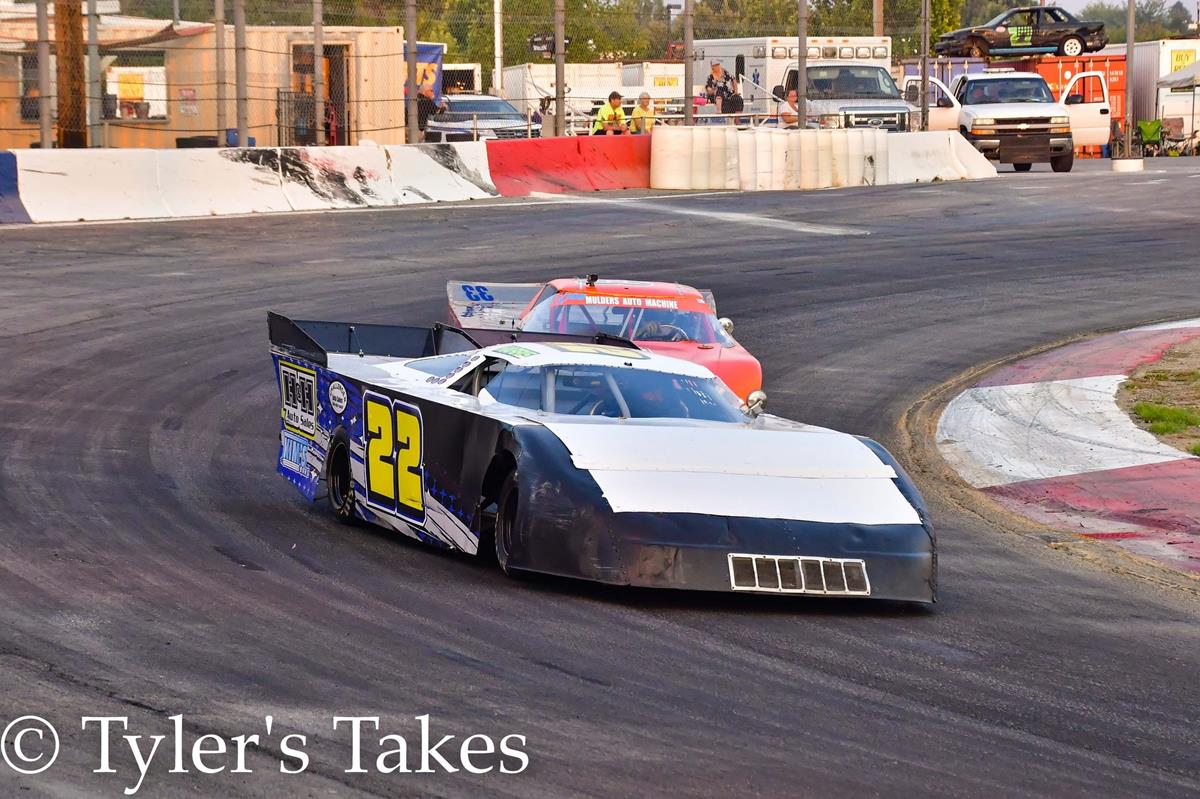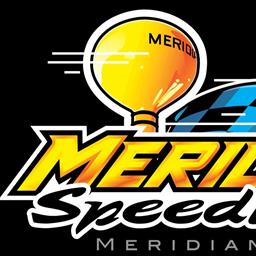 9/12/2022
Meridian Speedway
---
Jordan Harris Takes First Title of 2022
Championship season kicked off Saturday, September 10, at Meridian Speedway with Zamp Night at the Races. The Project Filter Pro-4s settled their season with a final 25-lap run to the checkers, while the Bud Light NASCAR Modifieds, Pepsi Sprintcars, Zamp Pro-Late Models, Big Daddy's Barbecue Hornets, and the Trammel Construction Stingers battled for late season points and the night's Xtreme Photo Feature Flags.
Fourteen Bud Light NASCAR Modifieds took the green flag on the night's first feature but contact on lap two left half of those starters in a heap in turn three. When the smoke cleared all but Caity Miller and her banged up Joe's Race Products machine were able to drive from the scene.
When the race resumed Tylor Newman jumped out front but quickly came under fire from Joe Daily, Ryan Newman, and Neal Latham. But all was not well under the hood of Newman's borrowed PBT Auto Sales, YMC entry, and as his pursuers drew near the Middleton, Idaho driver lost power.
This left Daily and Latham to battle for the win. Daily wheeled his Iron Body Fitness, Antlers Boutique machine hard to stay ahead of Latham's Impact Motorz, Treasure Valley Metal Works modified, but couldn't hold off the division points leader who motored around Daily on the outside late in the going for the lead and the win.
The division's second feature of the night featured less destruction and saw Chuck Younblood outlast the field in his PBT Auto Sales, Idaho CDL Training machine to claim the night's final Xtreme Photo Feature Flag.
The Project Filter Pro-4 season wrapped up Saturday with one final 25-lap feature race. Ryan Bailey jumped out front early but couldn't fend off Kenny Chandler and division points leader Jordan Harris past the halfway point.
Chandler was first to the top of the Pepsi-Cola scoreboard in his Project Filter, Fairly Reliable Bob's machine, but Harris' H&H Auto, Kim's Kars racer was not far behind. As the laps wound down Harris closed on Chandler, and with four laps left the Nampa, Idaho racer took over the top spot. Chandler wasn't able to mount a late challenge as Harris steamed across the Caleb's Chop Shop Victory Stripe first for the seventh time in 2022.
Harris' victory capped a dominant championship-winning season for the 24-year-old.
"This is championship two," Harris said. "And I think we got more coming."
Zamp Pro-Late Model racers Melissa Weaver and Brandt Wilson spent most of their 25-lap feature side-by-side but came under heavy attack from point leader Dalton Cristiani at the race's halfway point. A late caution flag shuffled the running order and put Cristiani and his Gibson Diesel Performance, Karcher Auto Body machine beside Weaver's Marv's Tire Service racer on the front row for the restart.
The green flag waved and Cristiani erupted off the line into the lead. This left Weaver in the clutches of Wilson, Tyler Brown, and Ray Clever. Each of these drivers would dispatch Weaver's ill-handling machine in the closing laps, but none could mount a serious challenge on Cristiani, who cruised to the victory.
Pepsi Sprintcar points leader Kaleb Johnson found himself in trouble early when his right front wheel flew off in turn two. Quick action by his pit crew allowed Johnson to rejoin the race in his YMC, Giesler's Auto Repair sprinter. Up front Johnny Giesler wheeled brother Preston Henderson's The Ranch in Caldwell, Keystone Pizza car into the lead after a short battle with Ryan Newman, who would pull into the pits with mechanical trouble a few laps later.
A mid-race caution flag brought Bryan Warf to Giesler's outside for the restart. Giesler again outdueled his competition to remain out front, while Warf turned his attention to a resurgent Johnson, who dove to the inside of his championship foe and roared into the runner up spot behind Giesler.
"This is my brother's car," Giesler said in the Caleb's Chop Shop Winner's Circle. "I really appreciate him letting me drive it."
The Big Daddy's Barbecue Hornets battled their way through twenty full contact laps before the top-5 lined up side-by-side-by-side for an elimination-style finale. Blaine Waller and Dale Bolinger took the final green flag, and though Bolinger's Leisure Time, Cherry Creek Events car got off the line first, Waller piloted his Boise River Koi and Pond Supply, Two Idaho Moms Boutique machine the long way around and nabbed the victory by a bumper at the Caleb's Chop Shop Victory Stripe.
Niko Heinzel and his Idaho Laser and Design racer bested the Trammel Construction Stinger field to extend his point lead. Alanna Bergseng brought her Trammel Construction, Bobby's Transmission car home second ahead of fellow top-5 finishers Coleman Green, Greyson Patton, and Bailey Torres.
Two title fights come to a close this Saturday, September 17, as The Fence Store Night at the Races takes to the Concrete Jungle. The Speed Tour Modifieds presented by Pit Stop USA and the Pepsi Sprintcars both take their final checkered flags of the season alongside the Bud Light NASCAR Modifieds, Touchdown Automotive Street Stocks, and the Boise Bath and Kitchen Company Mini Stocks. Log on to meridianspeedway.com for more information. We'll see you under the big yellow water tower this Saturday, September 17, for The Fence Store Night at the Races at your NASCAR Home Track, Meridian Speedway.
---
Submitted By: Tyler Schild
Back to News