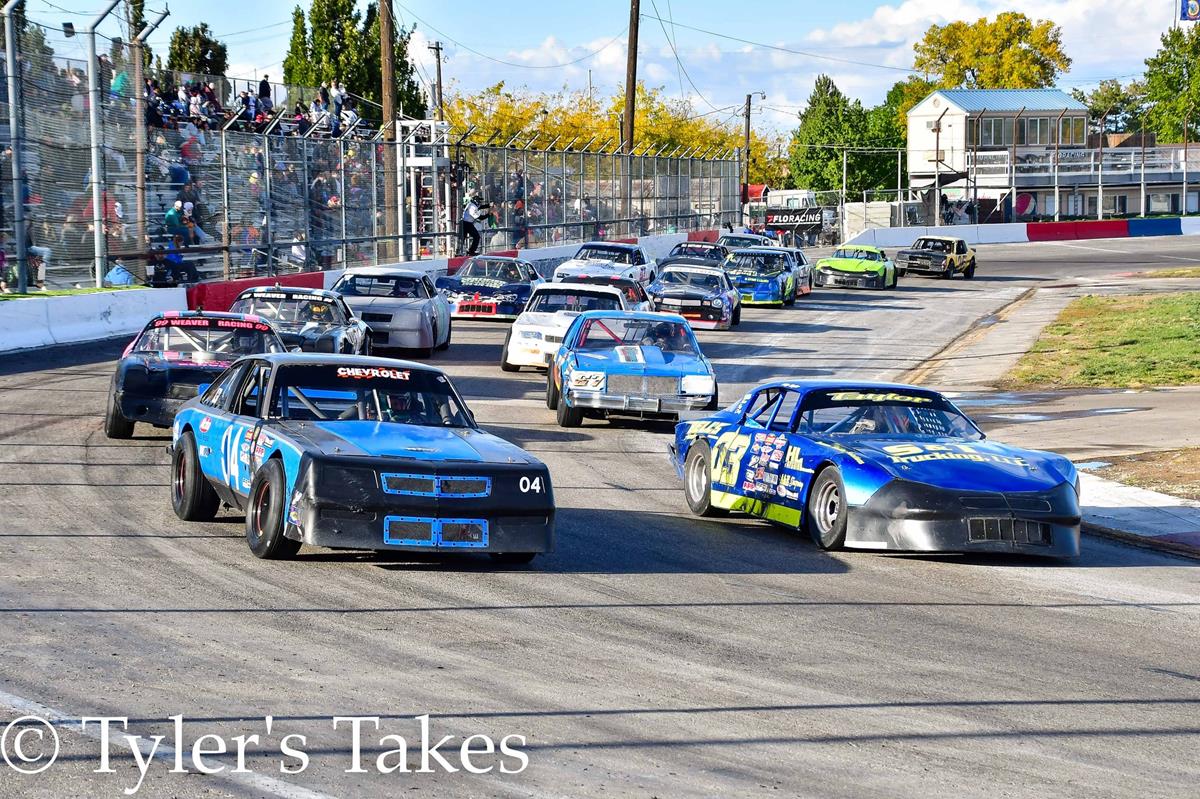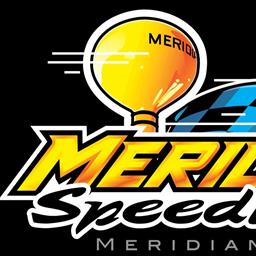 10/26/2022
Meridian Speedway
---
Evans, Occhipinti Battle for Street Stock Title
Seven divisions settled their seasons Saturday, October 22, at Meridian Speedway's annual Trunk or Treat and Championship Races. The Touchdown Automotive Street Stocks took three 33-lap turns at the Concrete Jungle, while the Zamp Pro-Late Models, Domino's Legends, Boise Bath and Kitchen Company Mini Stocks, Big Daddy's Barbecue Hornets, Trammel Construction Stingers, and Bandoleros raced for their final Trammel Construction Feature Flags of the season.
Seventeen Touchdown Automotive Street Stocks took the green flag for Saturday's first feature. Championship contender Taylor Occhipinti charged around DJ Taylor to take the early lead, but soon came under heavy attack from quick qualifiers Josh Fanopoulos and Troy Evans, Occhipinti's title foe.
Fanopoulos and Evans used a mid-race restart to dispatch Occhipinti's Marv's Tire Service, Wendy's machine to third. Try as Evans might, he couldn't catch Fanopoulos, who roared across the Caleb's Chop Shop Victory Stripe first.
Evans and Fanopoulos were the center of attention in the second Touchdown Automotive Street Stock 33-lap feature. Under caution from a lap five incident this pair found themselves in a skirmish on the front stretch. After some body and bumper blows both drivers were sent to the pit area for the rest of the night's second 33-lap feature.
With Evans' Matt Compton Racing Engines, A&E Sharpening machine parked in the pit area the door was wide open for Occhipinti to take control of the standings once and for all. While Skip Taylor and James Pahl raced hard up front, Occhipinti methodically moved into the top five, then passed Michael Bess for fourth. As Occhipinti drew close to his sister Kendra's rear bumper she dove beneath Pahl's racer.
His bid to move forward stymied, Occhipinti settled into fourth place, until Kendra tangled with lapped traffic late in the going. This handed Taylor Occhipinti the third spot and a chance to hunt down Pahl for second. But Pahl proved too tough to pass, and the division rookie eked out a runner up finish.
Shawn Lester turned his front row starting spot into the early lead in Saturday's final main event. Lester soon came under attack from Taylor Occhipinti and Josh Fanopoulos.
Lester and Occhipinti race side-by-side for ten laps before the handling on Occhipinti's car soured. This dropped the young racer into the clutches of Fanopoulos and his Certified Services, Allan Marsh Travel Center racer. Occhipinti held off Fanopoulos to finish second and sew up
Domino's Legends title competitors Jerry and Johnethan Davis started eleventh and twelfth in the division's final 35-lap feature. Mike Soiseth motored to the early lead while Johnethan Davis led his father Jerry through the crowded field. Johnethan navigated his GCAT Towing, Interstate Batteries machine to third, while Jerry sat mired in heavy traffic outside of the top-five.
As the elder Davis fought for position, he and Canyon Ashley came together entering turn three. Ashley's car catapulted into the wall upside down, pirouetted in mid-air, then crashed back onto the pavement. Ashley climbed from his wrecked racer under his own power and Davis was relegated to the back of the pack.
Leon Tridle got the jump on Roxali Kamper on the green and blasted to the lead while Kamper battled with Johnethan Davis for second. This fight went wrong when this pair came together in turn two and Davis spun. No significant damage was done, but it was now Johnethan's turn to restart last on the field.
Tridle shot back to the lead on the restart, a position he would not relinquish in the race's closing laps. Behind Tridle's Power Systems West, Kohler Generators racer, Johnethan Davis fought his way back to fifth, one position ahead of his father Jerry. But one spot wasn't enough, and Jerry Davis claimed his third consecutive Domino's Legends division championship.
Action started early in the Zamp Pro-Late Model division when contact in the heat race sent Ray Clever's Signature Concrete Counter Tops racer headlong into the turn one concrete and catch fence. Fortunately, the division's 35-lap main event featured less destruction.
Emilee Newman showed the way early in her AC to Z Mechanical Services racer, but was soon overcome by Dylan Caldwell, Dan Lowther, and division point leader Dalton Cristiani. Caldwell looked to have the race in hand, when contact with a lapped car sent him spinning into the turn two wall. Caldwell expressed his displeasure several times while the field circulated under caution, but was forced to retire his Conrad and Bischoff, Impact Motorz machine from the event.
This turned control of the field over to Cristiani and his Gibson Diesel Performance, Karcher Auto Body entry. Despite a late charge from Tyler Brown, Cristiani held the lead and cruised to his eighth win on the season.
A full field of two dozen Boise Bath and Kitchen Company Mini Stocks crowded the quarter-mile for their final 35-lap feature of 2022. Mike Davis took the early lead while cars collided and jockeyed for position behind him.
Robbie Hyde's High Line Powersports, Western Sand Blasting and Coating car was quick early, and he dispatched Davis after a handful of laps. But all was not well under the hood of Hyde's ride, and with a puff of steam his car blew water all over turn two. Jason Hammond was fortunate enough to evade the danger, but the rest of the top five, and several others from deeper in the pack, found themselves involved.
With this mess cleaned up the green flag waved again. Hammond put his Touchdown Automotive, GB Ready-Mix machine back out front, but soon came under attack from Chase Parker. Parker worked Hammond over on the outside and inside, but couldn't find a way around the Caldwell, Idaho racer, who motored to his first victory of the season.
The Big Daddy's Barbecue Hornet championship was settled over a 25-lap feature Saturday. At the end of a physical feature battle Justin McClure stood victorious in the Caleb's Chop Shop Winner's Circle, while Dale Bolinger collected his first division championship in his Leisure Time, Aspen Transitional Rehab machine.
Niko Heinzel and his Idaho Laser and Design car dominated the season's final Trammel Construction Stinger feature as he collected his second-straight division title. Behind Heinzel the battle for standings runner up raged as Makayla Trafford, Greyson Patton, and Coleman Green raced hard for every possible point.
Green came to grief as contact with Ryat Gorringe flattened his left front tire with ten laps left. Green was able to replace this tire and return, and would pilot his HazTech Drilling, Schaffer's Oil machine to a third-place finish.
Just three laps later Trafford got loose in turn one and slid nearly to a stop in front of Patton, who threw his L2 Hauling and Excavation, Rick Lane Construction racer sideways toward the wall to evade. When the dust settled Patton had his car back under control, while Trafford was collected by Bailey Torres, and found herself parked atop Torres' Torrid Kustomz, Shop Strange hood. Both drivers were okay after this hard contact, with Trafford returning to her Pollo y Mariscos, Quick Dry machine to finish the feature in fourth.
Six strong Bandoleros closed their season with a twelve-lap exhibition. Alanna Bergseng raced her way to the checkers, followed by Michael Trammel and Alannah Trammel.
With the 2022 season in the books, focus shifts to the 2023 schedule release party at the Boise Roadster Show, scheduled for March 10-12. Stay up to speed with all the latest news and notes from around the quarter-mile at www.meridianspeedway.com and our Facebook and Instagram pages. On behalf of each and every member of the Meridian Speedway staff, we thank you for a great season of racing under the big yellow water tower, and we'll see you in 2023 at your NASCAR Home Track, Meridian Speedway.
---
Submitted By: Tyler Schild
Back to News