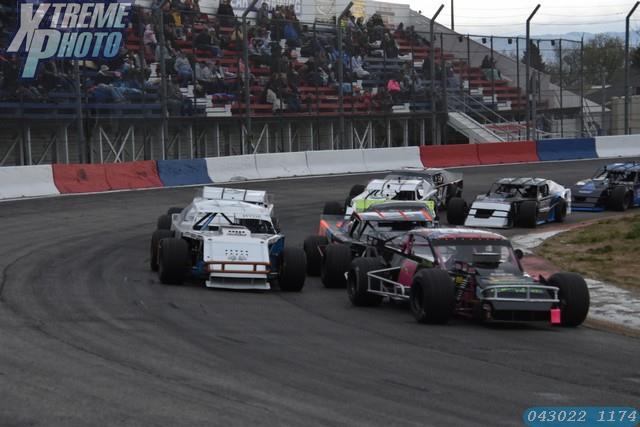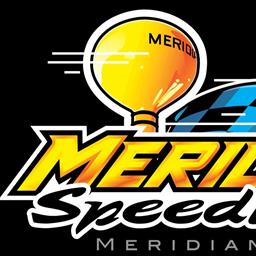 5/2/2022
Meridian Speedway
---
Mother Nature Dominates Ladies Night
Meridian Speedway fought Mother Nature Saturday, April 30, and Mother Nature won as a monsoon washed out Touchdown Automotive Ladies Night. The Bud Light NASCAR Modifieds and Big Daddy's Barbecue Hornets got on track for a brief period Saturday night, but the Project Filter Pro-4s, Boise Bath and Kitchen Company Mini Stocks, and Touchdown Automotive Street Stocks were unable to complete any racing laps.
Tylor Newman and Mike Davis led the Bud Light NASCAR Modified field to green for their first of two scheduled 30-lap features. Davis got the drop on Newman and raced into the top spot with Brian Hyde, Josh Randolph and Chuck Youngblood in tow.
Deep in the pack, Brendon Fries worked the outside line to clear traffic before he went wheel-to-wheel with Josh Jackson for fifth. After one lap of close racing the pair made contact on the front stretch, which flung Fries into the turn one water barrels. Fries climbed from his battered ATS Inland, Horizon Credit Union machine unscathed, but was forced to retire from the event.
With the track cleared racing resumed with Davis back out front. Hyde and Youngblood battled hard for second on the Pepsi-Cola scoreboard for five laps before the pair made contact and spun in front of the pack. No hard contact was made in the melee, but when the dust settled nine cars sat scattered across the North end of the track.
Then the skies opened up.
The Big Daddy's Barbecue Hornets ran three heat races in an attempt to keep the quarter-mile raceable. But the precipitation was too much, and the night was officially called after just 32 total laps of competition.
The Mike Hasson At A Track Memorial 50 will be rescheduled to a date later in the year.
Chaos is set to reign over Meridian Speedway this Saturday, May 7, as Smash-O-Rama powered by Jalopy Jungle takes over the quarter-mile. The Speed Tour Sprint Cars, Zamp Pro-Late Models, Boise Bath and Kitchen Company Mini Stocks, Big Daddy's Barbecue Hornets, and Firehouse Pub and Grill Bombers are set to provide the racing thrills, while Mr. Dizzy, an old-fashioned demolition derby, the World-Famous Boat Races of Destruction, and more provide the spills. General admission to Smash-O-Rama powered by Jalopy Jungle are just $20 for adults, $18 for seniors and military members with ID, $8 for kids 7-11, and free for kids 6 and under. Gates open at 4:45 p.m. with qualifying around 6 p.m. and mayhem going green at 6:30 p.m. Tickets are going fast! Secure your advance tickets now at www.meridianspeedway.com. We'll see you this Saturday, May 7, under the big yellow water tower in downtown Meridian at your NASCAR Home Track, Meridian Speedway.
---
Submitted By: Tyler Schild
Back to News