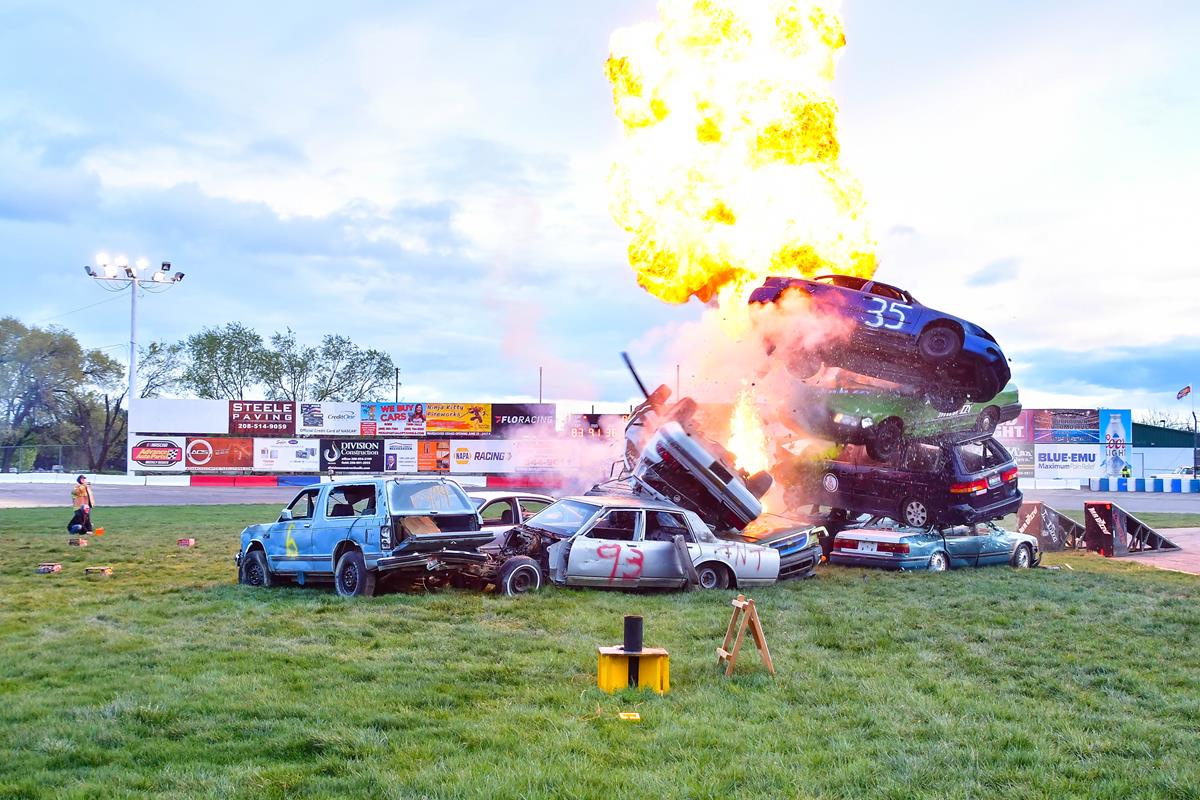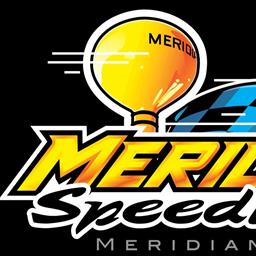 5/10/2022
Meridian Speedway
---
Nelson Breaks Through for Smash-O-Rama Sprint Car Win
Not even Mother Nature could calm the chaos as Smash-O-Rama powered by Jalopy Jungle stormed Meridian Speedway on Saturday, May 7. Alongside the death-defying Mr. Dizzy, Hornet-incinerating The Beast Jet Dragster, and catastrophic Boat Race of Destruction, the Speed Tour Sprint Cars powered by Pit Stop USA, Zamp Pro-Late Models, Boise Bath and Kitchen Company Mini Stocks, Big Daddy's Barbecue Hornets, and Firehouse Pub and Grill Bombers dodged the rain drops to speed through a full night of short track action.
The Speed Tour Sprint Cars powered by Pit Stop USA roared to the green flag on their 35-lap main event. Aaron McPeak dispatched outside pole sitter Kenny Hamilton to put his sprinter out front.
Deep in the field, Colton Nelson and Bryan Warf struggled to make their way forward. That changed after a lap eleven restart as the Meridian, Idaho racers charged into fourth and fifth on the Pepsi-Cola scoreboard.
As Warf and Nelson made their move, Brent Collins relieved McPeak of the lead. Collins held a healthy advantage over the pack until a lap sixteen caution, which allowed Nelson to line his Mulder's Auto Machine, PBT Auto Sales sprinter up outside for the restart.
The green flag flew and so did Nelson, who never looked back on his way to the Caleb's Chop Shop Winner's Circle. Warf brought his Allan Marsh Travel Center, Magic Valley Estate Sales entry home second, while Rob Grice completed the podium.
A full field of sixteen Zamp Pro-Late Models took the green flag for their 25-lap feature. Lee Hackney, at the controls of the championship-leading QuickCar Racing Products, YMC Mechanical racer, sliced through the field and took the lead on lap eleven.
But Hackney soon had fast company as Dalton Cristiani raced his way out of the pack and with seven laps to go restarted side-by-side with Hackney. The green flag waved and Cristiani surged ahead. Hackney pushed hard to catch back up, but Cristiani was too strong and he sped across the Caleb's Chop Shop Victory Stripe first.
Eighteen Boise Bath and Kitchen Company Mini Stocks crowed the quarter-mile for a 25-lap dash to the Idaho CDL Training Feature Flag. Familiar foes Travis Pavlacky and Riley Rogers found themselves wheel-to-wheel on a late-race restart. Rogers pushed his The Boise Bath and Kitchen Company, Fiesta Guadalajara racer hard on the inside line, but Pavlacky had momentum on the outside, and piloted his Modern Auto Service, FVC Construction pickup to the victory.
Newcomer Jeremy Gilkison outdueled veteran Big Daddy's Barbecue Hornet competitor Dale Bolinger to score the victory in only his third night behind the wheel of his 208 Skids and Hoes, Dynamite Enterprises racer.
Mr. Dizzy joined the Firehouse Pub and Grill Bombers for a 25-lap, second-over-the-line-wins race. Dizzy pin-balled his way through the pack, but it was DJ Taylor who outplayed the pack to win the feature.
After his turn on the track, Dizzy took his former taxi cab and, with the help of a short ramp, toppled a tower of crash cars. Jeff Atamian turned his jet dragster 'The Beast' on a hapless Big Daddy's Barbecue Hornet and reduced it to a flaming hulk. And twenty boat race rigs crashed their way thorough the most chaotic Boat Race of Destruction in recent memory.
The Meridian Speedway season rolls on this Saturday, May 14, with Grace Assisted Living Nite at the Races. On tap for a full night of short track racing are the Bud Light NASCAR Modifieds, Pepsi Sprintcars, Touchdown Automotive Street Stocks, Domino's Legends, and Trammel Construction Stingers. General admission is just $14 for adults, $12 for seniors and military members, $8 for kids 7-11, and free for kids 6 and under. Gates open at 4:45 p.m. with qualifying at 6:00 p.m. and the first green flag at 6:30 p.m. Log on to www.meridianspeedway.com for your advance ticket now, and stay up to speed with exclusive updates from around the quarter-mile by texting 'meridianspeed' to 84483. We'll see you this Saturday, May 14, under the big yellow water tower in downtown Meridian, Idaho, for Grace Assisted Living Nite at the Races at your NASCAR Home Track, Meridian Speedway.
---
Submitted By: Tyler Schild
Back to News