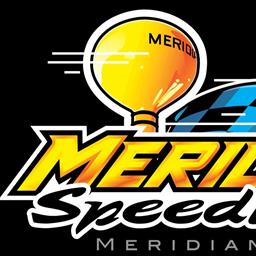 5/11/2022
Meridian Speedway
---
NASCAR Mods Set for Saturday Double Dip
The Meridian Speedway season rolls on this Saturday, May 14, with Grace Assisted Living Nite at the Races. The Bud Light NASCAR Modifieds, Pepsi Sprintcars, Touchdown Automotive Street Stocks, Domino's Legends, and Trammel Construction Stingers are all on tap for a wild night of action as they chase the night's A&E Sharpening Feature Flags.
The Bud Light NASCAR Modifieds are back on track chasing first night feature winners Josh Jackson and Neal Latham. With rain having washed two features off the schedule, drivers will look to make up for lost laps Saturday.
Two-time Pepsi Sprintcar winner Ryan Newman will go for three-in-a-row this Saturday night. But behind runaway point leader Newman, a close battle for second rages between Tony Ackerland, Kaleb Johnson, and Daytona Wurtz.
The Touchdown Automotive Street Stocks rumble into Grace Assisted Living Nite at the Races in the tire tracks of Pat Tully. With first through fifth place separated by just 23 markers, expect the action to be intense throughout the pack as these steel-bodied machines beat and bang their way to the A&E Sharpening Feature Flag.
The Domino's Legends are once again ready to rock and roll around the quarter-mile this Saturday. After a physical first feature these competitors are ready to once again duel for the checkers.
Meridian Speedway's future stars shine Saturday night as the eleven to fourteen-year-old competitors of the Trammel Construction Stingers take on the Concrete Jungle.
General admission is just $14 for adults, $12 for seniors and military members, $8 for kids 7-11, and free for kids 6 and under. Gates open at 4:45 p.m. with qualifying at 6:00 p.m. and the first green flag at 6:30 p.m. Log on to www.meridianspeedway.com for your advance ticket now, and stay up to speed with exclusive updates from around the quarter-mile by texting 'meridianspeed' to 84483. Can't make it to the Concrete Jungle? Catch all the action live and on-demand on your device at www.floracing.com. We'll see you this Saturday, May 14, under the big yellow water tower in downtown Meridian, Idaho, for Grace Assisted Living Nite at the Races at your NASCAR Home Track, Meridian Speedway.
---
Submitted By: Tyler Schild
Back to News