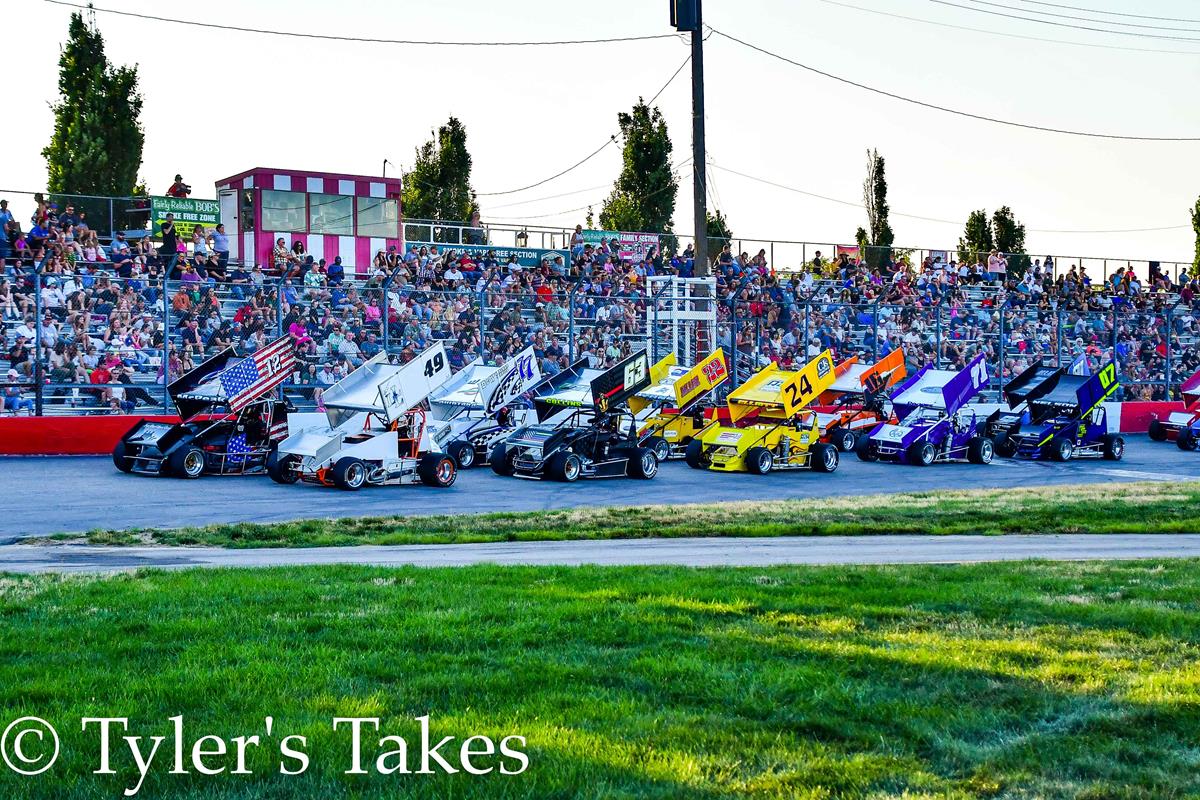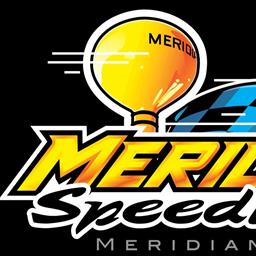 8/16/2022
Meridian Speedway
---
Grice, Quintana Split Twin Sprints
Meridian Speedway fans saw double Saturday, August 13, as the quarter-mile asphalt oval hosted the Project Filter Twin 25's on Busch Light Special Can Night. The Speed Tour Sprint Cars presented by Pit Stop USA, Zamp Pro-Late Models, Project Filter Pro-4s, Boise Bath and Kitchen Company Mini Stocks, and Trammel Construction Stingers traded plenty of paint as they chased the night's Challenger Auto Feature Flags.
Thirteen Speed Tour Sprint Cars powered by Pit Stop USA roared to life for the first of their two feature races Saturday. Aaron McPeak took the early lead, but soon came under fire from West Valley, Utah's Anthony Quintana. After an intense seven-lap battle Quintana pinned his The Sign Shoppe, West Side Machine sprinter to the outside groove and sped to the lead and the victory.
In the division's second feature Rob Grice had his Snake River Edge, Just Cater It by Chef Wally machine on a rail and blazed to a sizeable lead in the early laps. While Grice ran off and hid from the rest of the pack Bryan Warf, Cory Lockwood and Colton Nelson fought their way forward.
Warf was the first to overtake Matt Elliott for the runner up spot and was quickly joined by Colton Nelson. Warf tried to close the half-lap gap Grice held, but ran out of laps to mount a challenge on Grice.
While Zamp Pro-Late Model competitors Riley Bradford and Ron Hayes feuded mid-pack, Terrell Daffron held off Melissa Weaver and division point leader Dalton Cristiani to pick up the victory.
Cristiani and Weaver got their chance to duel for a Busch Light Special Can Night win. Weaver wheeled her Marv's Tire Service car hard, but couldn't catch Cristiani's Karcher Auto Body machine as he sped to win number five on the season.
Jordan Harris made the most of his H&H Auto, Challenger Auto and Transport machine's speed as he won the night's first Project Filter Pro-4 feature.
After an early tangle relegated Jordan Harris and Andrew Prince to the back of the pack, Kenny Chandler and backup driver Kendra Occhipinti were left to battle for the win. Chandler charged to the lead, but Occhipinti reeled in the veteran campaigner and drew alongside with five laps to go. As the white flag waved Occhipinti pulled her Challenger Auto and Transport, Kim's Kars entry to the lead and crossed the Caleb's Chop Shop Victory Stripe first.
"Beating Kenny Chandler is like beating my grandpa," Occhipinti said. "I feel so...oh my God!" Occhipinti's grandfather is two-time speedway champion Marv Weaver.
Robbie Hyde and Justin Wilkerson battled side-by-side for nearly half of the Boise Bath and Kitchen Company Mini Stocks' first feature. But Donovan Parker worked his racer through the pack and took over the lead with eight laps left, and stayed there until the checkered flag waved.
Ryan McCaul has been snake bitten the last several week of the 2022 season. McCaul's luck looked to stay the same after his Performance Signs and Graphics, Healing Heart Counseling car was smashed up in an incident in main event one. But the Caldwell, Idaho racer made the most of his front row starting spot and rolled to his first division victory on Busch Light Special Can Night.
Coleman Green and his HazTech Drilling, Greens Custom Haying machine survived a wild Trammel Construction Stinger feature to claim the night's first Project Filter Twin 25.
Payton Weller grabbed the lead early in a borrowed Idaho State Towing car and outlasted the field to collect the division's second Challenger Auto Feature Flag.
The Speed Tour Super Late Models powered by Pit Stop USA take over the Concrete Jungle this Friday and Saturday, August 19 and 20, for the NAPA Auto Parts Idaho 208. Friday night also features the Zamp Pro-Late Models as they race door-to-door for the YMC 104, plus the North West Tour Truck Series, and the Big Daddy's Barbecue Hornets. Saturday features the NAPA Auto Parts Idaho 208, along with the Speed Tour Modifieds powered by Pit Stop USA, North West Tour Truck Series, and the Touchdown Automotive Street Stocks. Tickets are still available online at www.meridianspeedway.com. We'll see you under the big yellow water tower this Friday and Saturday, August 19 and 20, for the NAPA Auto Parts Idaho 208 at your NASCAR Home Track, Meridian Speedway.
---
Submitted By: Tyler Schild
Back to News