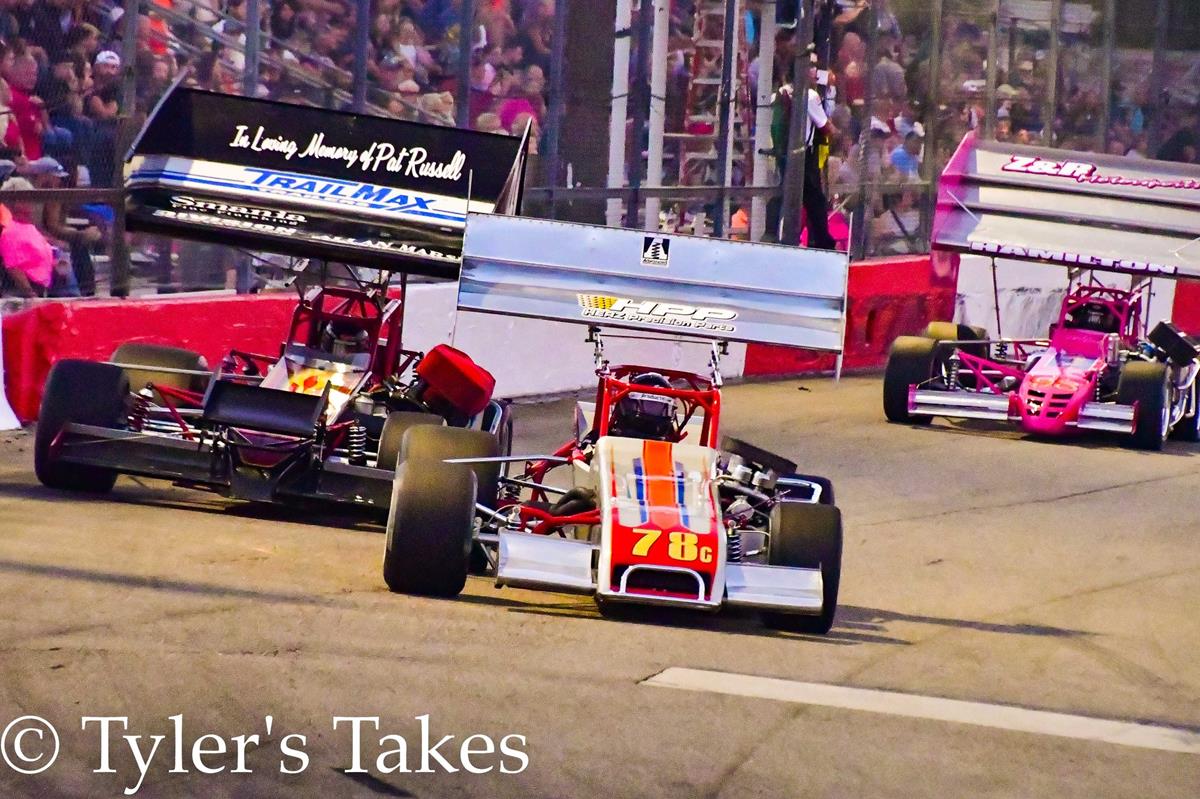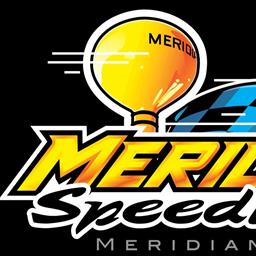 9/28/2022
Meridian Speedway
---
Warf Wins Inaugural Pat Russell Supermodified Cup
All eyes in the Treasure Valley turned to Meridian Speedway last Friday and Saturday, September 23 and 24, as nearly forty winged sprintcars packed the pit area for the eighth annual Pink Lady Classic. Alongside this Speed Tour Sprint Car powered by Pit Stop USA extravaganza, the Speed Tour Supermodifieds, Salt Lake City Midgets, and West Coast Vintage Sprintcars ran both Friday and Saturday nights, while the All-Star Club Series crowned a champion Friday night and the Trammel Construction Stingers did battle for precious late-season points on Saturday.
Bryan Warf and Cory Lockwood led nine cars to green on the Pink Lady Classic's first qualifying feature. Warf piloted his Allan Marsh Travel Center, Magic Valley Estate Sales machine to the lead on lap one and never looked back on his way to the checkers. But the man on the move was Vancouver, British Columbia's Brad Aumen. The Canuck tore through the field in his Tom Turner and Island Race Masters, Upland Ready Mix sprinter and used a late caution flag to muscle his way around Lockwood and take the feature's second transfer spot into the Pink Lady Classic.
The Elliott Sportsman Classic capped Friday night's Speed Tour Sprint Cars powered by Pit Stop USA action. Pre-race the Elliott sportsmanship award was presented to Brad Hunziker in recognition to his contributions to sprint car racing.
When the green flag waved Fort Collins, Colorado driver Brian Gossel erupted off the line to take the lead and kept the pedal to metal to park his BG Automotive, BG Products sprinter in the Caleb's Chop Shop Winner's Circle. The battle for eighth place was intense as Cory Lockwood, Nate Little, and DJ Lyons went wheel-to-wheel for the chance to transfer into Saturday night's Pink Lady Classic. Little held onto the transfer spot, which relegated Lyons, Glenn Hopper, Alan Beck, and Brent Collins to Saturday night's Last Chance Qualifier.
"The level of competition is next to none," Gossel said as he collected his plate of Walking Sombrero Taco Truck tacos.
The Speed Tour Sprint Car drama started early Saturday night as twelfth-place Pink Lady Classic starter Randy DuBois lost an engine in his RJD Construction, Geico sprinter. Without a replacement the Redmond, Washington racer was forced to retire from the event.
This left an extra spot up for grabs in the Last Chance Qualifier. DJ Lyons motored past Glenn Hopper to take the early lead and looked like he would cruise to the win until smoke erupted from his engine with two laps left on the Pepsi-Cola scoreboard.
Lyons tried to limp his struggling Stinker Stores, Eloy and Sons racer to the finish, but the engine damage proved terminal, and he limped to the pit area on the white flag lap. Behind Lyons, Hopper spun to the infield, while Brent Collins and Alan Beck maintained control of their sprinters and laid claim to the final two starting spots in the Pink Lady Classic.
For a full rundown of the Pink Lady Classic, see David Sink's Pavement Pounders article, posted earlier this week.
Eight Speed Tour Supermodifieds powered by Pit Stop USA roared to green on their 25-lap Friday night feature. Randy Whitman piloted his neon yellow Rhinnies Small Engine, A Unique Storage machine to the early lead, but was immediately beset by Bryan Warf, back behind the wheel of his familiar black-winged Division Construction, Allan Marsh Travel Center racer after a long hiatus due to the loss of car owner Pat Russell.
Warf dove inside Whitman to take the lead on lap eight, then stormed his way into lapped traffic. By the time the checkers few Warf held a half-track advantage over second place and had lapped all but Whitman, Jim Birges, and Randy Anderson.
"I never in a million years thought I was ever going to get back behind the wheel of this thing," said an uncharacteristically emotional Warf. "I hope Pat [Russell] is watching down...We had to remind everybody in the supermodified world what the baddest supermodified on the planet looked like."
Saturday night saw eleven Speed Tour Supermodifieds take the green flag, but just eight machines make it through turn one as contact between Rich Castor and Whitman caused a chain reaction that launched Birges headlong into the front stretch barrier. All three drivers emerged from their battered roadsters okay, but Birges and Castor would be out for the evening.
Or, Birges would have been out for the evening if not for Brian Shafer, who climbed out of his bright orange racer and allowed Birges to take over the controls. Birges drove this car to just past halfway, when a mechanical failure sidelined the Fresno, California competitor.
Out front it was all Bryan Warf and the Pat Russell Special. For the second night in a row Warf wheeled his familiar number 91 to a dominant victory.
"This car has been a huge [part of] history at this speedway," Warf said. "This was Pat's baby and the Russell family was very gracious to let us bring it out in memory of Pat."
As Warf collected his Hunziker 98x Feature Flag, Meridian Speedway promoter Adam Nelson stepped forward to announce the fall Speed Tour Supermodified race as an annual event, named the Pat Russell Supermodified Cup.
"I want to thank Meridian Speedway for keeping supermodified racing alive," Warf said.
Kyle Tellstrom outlasted Casey Tillman to take the victory Friday in the Salt Lake City Midget division's Chaz Groat Memorial 30.
Sixteen Salt Lake City Midgets took the green flag for Saturday night's 30-lap Chaz Groat Memorial. Duane Swanson zipped to the early lead with Fife, Washington's Randy Schaaf and Ukiah, California's Kyle Tellstrom in hot pursuit. An early caution flag bunched the field and Tellstrom used this opportunity to dive low and power to the lead. This dropped Swanson into a three-wide battle with Schaaf and West Valley, Utah racer Ashlyn Powell.
Swanson lost out on this transaction as Powell took over second on the Pepsi-Cola scoreboard. Powell stalked Tellstrom, but couldn't mount a challenge on Tellstrom, who ran away with the victory for the second straight night.
Kenny Hamilton wheeled The Pink Lady to yet another Meridian Speedway win Friday night in the West Coast Vintage Sprintcar feature. "Dino" Dean Waltman returned another Meridian Speedway icon, his bright yellow upright coupe with a dinosaur painted on the back, to the Caleb's Chop Shop Winner's Circle.
The All-Star Club Series rounded out Friday night's slate of short track action. Jeff Matuska made the most of his outside pole starting spot and zipped to the lead and the victory. With his win Matuska claimed the inaugural All-Star Club Series championship.
The Trammel Construction Stinger division ran a hard-hitting feature that started with Michael Trammel and Layla Rivas taking a pair of wild rides in turn two. Despite a pair of hard hits and nearly synchronized roll overs Trammel and Rivas emerged from their cars unharmed with Trammel and his dad doing a cartwheel down the back stretch for good measure.
While Michael Trammel's car was towed to the pit area, his teammate Alanna Bergseng picked her way to the lead and held off a hard-charging Makayla Trafford to take the feature victory despite an ill-handling racecar. As Bergseng pulled her Trammel Construction, Bobby's Transmission machine to a stop the young racer found out why her car was, quote, 'turning weird.'
"I forgot to turn my e-brake off," Bergseng laughed.
This Saturday, October 1, we're going boat racing for the last time in 2022 on Academy Mortgage by Ryan Shelby Night at the Races. The Bud Light NASCAR Modifieds and Firehouse Pub and Grill Bombers find their season champions this Saturday, while the Domino's Legends, Touchdown Automotive Street Stocks, and Big Daddy's Barbecue Hornets do battle for crucial late-season points. Then, we bring out the water truck and satisfy your appetite for destruction one more time. General admission to a full night of action in the Concrete Jungle is just $14 for adults, $12 for seniors and military members, $8 for kids seven to eleven, and free for kids six and under. Gates open at 4:45 p.m. Saturday with qualifying at around 6 p.m. and racing at 6:30 p.m. For tickets and the latest news and notes from the Concrete Jungle, log on to www.meridianspeedway.com. We'll see you under the big yellow water tower this Saturday, October 1, for Boat Races and Fireworks on Academy Mortgage by Ryan Shelby Night at the Races at your NASCAR Home Track, Meridian Speedway.
---
Submitted By: Tyler Schild
Back to News