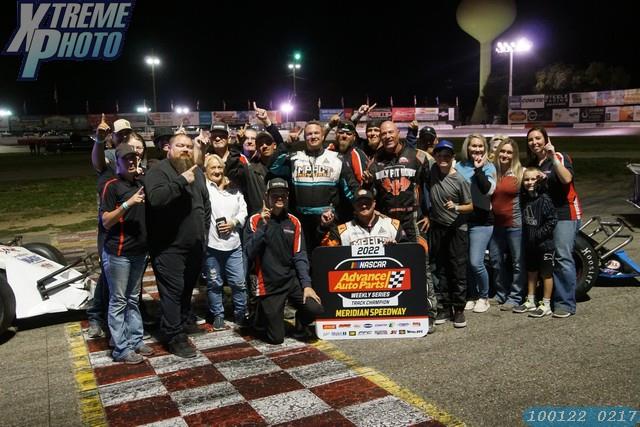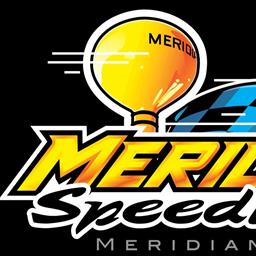 10/3/2022
Meridian Speedway
---
Latham Crowned 2022 NASCAR Mod Champ
The grandstands were packed Saturday, October 1, as Meridian Speedway hosted the season's final Boat Race of Destruction on Academy Mortgage by Ryan Shelby Night at the Races. The Bud Light NASCAR Modifieds and Firehouse Pub and Grill Bombers crowned season champions Saturday, while the Domino's Legends, Touchdown Automotive Street Stocks, Big Daddy's Barbecue Hornets, and Bandoleros ran their second-to-last feature races of the year.
Josh Jackson turned his front row starting spot into a feature victory. Behind Jackson, NASCAR West Region and track champion Neal Latham carved his way through the pack in his Impact Motorz, Conrad and Bischoff modified to finish in second place.
"We went into the season not really knowing what to expect," Latham said. "About halfway through we were looking really good in the local standings I just happened to peek at the national, regional, and state and I said 'holy crap, we've got 'em all right now. It's time to get going.'"
Thirteen Touchdown Automotive Street Stocks rumbled to green for a 25 lap feature. Josh Fanopoulos joined son Aaden as a feature winner as he outran Troy Evans, Taylor and Kendra Occhipinti, and James Pahl for the Feature Flag.
A full field of fourteen Domino's Legends crowded the quarter-mile for their 25 lap feature. Leon Tridle and Mike Soiseth took advantage of the early-race three-wide chaos to move to the top of the Pepsi-Cola scoreboard. But the man on the move was Ken Frickey, whose late charge paid off with a lap 23 pass for the win.
The Big Daddy's Barbecue Hornets combined several different games during their feature. Young Aaden Fanopoulos seemingly mastered these games to take the win in his Certified Services car.
Blaine Waller put an exclamation mark on his championship Firehouse Pub and Grill Bomber season as he outdueled Richard Scott for the feature win. It was the third time in 2022 that Waller and his Kuna Healthcare, All-Pro Glass machine had visited the Caleb's Chop Shop Winner's Circle.
Jacoby Pavlacky beat Alannah Trammel to the checkers to take home the night's Bandolero Feature Flag.
The final race of the 2022 Meridian Speedway season goes green on Saturday, October 22, as the quarter-mile asphalt oval hosts its annual Trunk or Treat event. The Zamp Pro-Late Models, Domino's Legends, Touchdown Automotive Street Stocks, Boise Bath and Kitchen Company Mini Stocks, Big Daddy's Barbecue Hornets, Trammel Construction Stingers, and Bandoleros all settle their seasons with one last Saturday night under the lights. Stay tuned to www.meridianspeedway.com for details on all the Trunk or Treat festivities. We'll see you under the big yellow water tower Saturday, October 22, for Trunk or Treat, at your NASCAR Home Track, Meridian Speedway.
---
Submitted By: Tyler Schild
Back to News