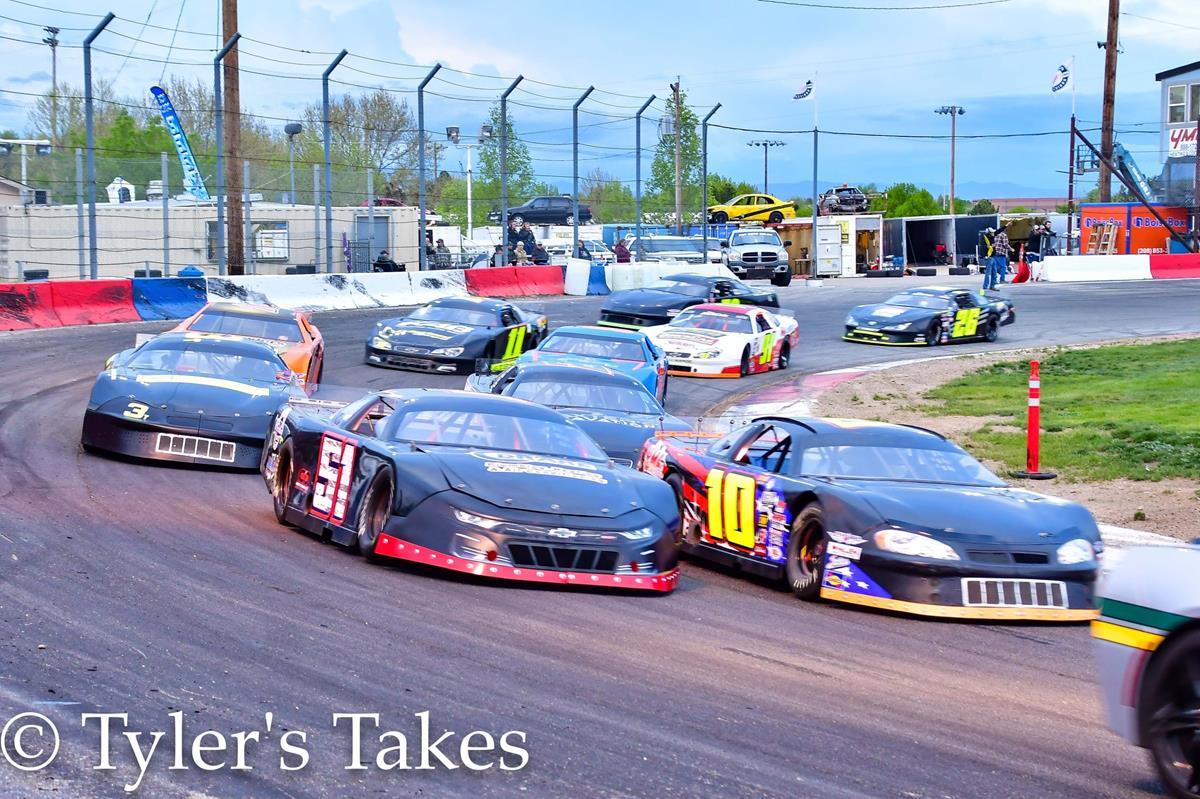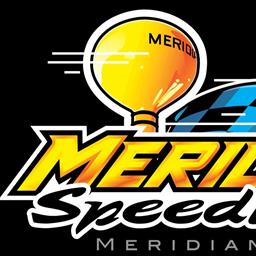 5/8/2023
Meridian Speedway
---
Newhouse, Gibson Duel for Super Late Model 75
The Speed Tour Super Late Models powered by Pit Stop USA kicked off their season at Meridian Speedway on Saturday, May 6, as they contested the Grace Assisted Living 75, presented by Meridian Bowling Lanes. The Pepsi Sprintcars raced 59 laps to honor long-time sprintcar racer and car owner Dick Sola, while the Idaho Vintage Racers, Big Daddy's Barbecue Hornets, Firehouse Pub and Grill Bombers, and Bandoleros battled for the night's Trammel Construction trophies.
Firehouse Pub and Grill Bomber competitor Tau Jeppesen drifted his way to victory Saturday over Morgan Trammel, Tyler Taylor, and Stephen Brackenberry.
Ryan Barlow outran Allana Bergseng to win the Bandolero feature Saturday night in his Barlow Excavation, WSJ machine. Alannah Trammel, Mason Martin, and Jacobi Pavlacky also scored top-5 finishes Saturday.
The Idaho Vintage Racers rolled seven lovingly-restored sprintcars to green for a twenty-lap feature. Meridian Speedway legend Ken Hamilton, at the controls of the iconic Pink Lady sprintcar, navigated his way through the field to dispatch leader Joey Layman at the race's halfway point. From there Hamilton cruised to victory ahead of Layman, Dean Waltman, and Dan Arriola.
Blaine Waller raced his way to the Caleb's Chop Shop Winner's Circle Saturday. Behind Waller's Two Idaho Moms Boutique, American Staffing racer points leader Greyson Patton took second place, followed by Adam Wurtz, Ben Sommerfeld, and Ron Wurtz.
As the legendary Dick Sola looked on from the pit area, eleven Pepsi Sprintcars rumbled onto the asphalt quarter-mile for the Dick Sola 59. Rich Montes and Jamo Stephenson took turns with the early lead but were quickly overcome by veteran open-wheeler Sierra Jackson.
Jackson used an early restart to put her Giesler's Auto Repair, Mulder's Auto Machine sprinter in the lead. Behind Jackson, Bryan Warf struggled to find a way around Stephenson's YMC Mechanical, Gen 3 Electric machine. In the handful of laps Warf was hung up behind Stephenson, Jackson opened a three-second lead.
At the race's halfway point luck ran out for Tony Ackerland, as his Dick Sola-owned sprinter spun hard into the turn three barrier. Ackerland was okay, but the bright orange number 59 was forced to retire from the event.
On the restart Jackson dashed back to the top of the Pepsi-Cola scoreboard but couldn't escape Warf. The Meridian, Idaho driver hounded Jackson, but try as he might Warf couldn't muster enough from his Allan Marsh Travel Center, Division Construction sprinter to make the pass and settled for second behind Jackson. Stephenson, Carson Ackerland, and Jett Nelson
A twelve-pack of Speed Tour Super Late Models powered by Pit Stop USA rumbled to green on the Grace Assisted Living 75. Trouble struck almost immediately as the high line stacked up at the start-finish line. When the smoke cleared two cars found themselves spun out in turn two, while Dan Lowther was forced to take his Hands on Painting, Fire Snacks entry to the pit area with a severe oil leak.
With the chaos cleared up the race restarted and Larry Hull roared to the lead in his Diversified Carpet and Upholstery racer with Skip Taylor and Zach Telford in tow. Telford worked the outside line to pass Taylor, but a caution flag waved before he could complete the pass for the lead on Hull.
On the restart Telford planted his Project Filter, Builder's First Source machine to the lead, but came under intense attack from Nick Gibson. Gibson stalked Telford, then made his move to the lead on lap twenty. Contact was made as the pair bounced off one another down the front straightaway, but both drivers kept control of their machines.
But Gibson wasn't safe out front, and the Nampa, Idaho driver found his Gibson Diesel Performance, Karcher Auto Body machine under attack from Twin Falls, Idaho racer John Newhouse. Gibson used lapped traffic to pin Newhouse in second place, but a spin just past the race's halfway point brought out a yellow flag and lined Newhouse up door-to-door with Gibson for the restart.
The green flag waved and the lead duo charged side-by-side into turn one, then down the back chute, through turns three and four, and back to the start-finish line. Lap after lap the two flew around the quarter-mile in formation, until Newhouse overcharged turn one and allowed Gibson to slip by for the lead. But no sooner had Gibson settled in out front than another caution flag waved and gave Newhouse another chance.
This restart was a near carbon-copy of the previous, with Gibson on the inside and Newhouse on the outside. Gibson dug hard on the inside, but Newhouse had momentum on the outside, and with a dozen laps left Newhouse put his The Car Store of Twin Falls, Kidd Performance racer out front.
As Gibson geared up for one last challenge for the win, sixth-place runner T. Roy lost the handle on his A&E Sharpening, Gem State Carpet and Upholstery Cleaning machine and backed hard into the turn one water barrels. Roy was okay after the hit and, once helped off the top of a barrel, drove from the scene under his own power.
With just six laps left the green flag waved and Newhouse motored to the lead and the win, followed by Gibson, Johnathan Gomez, Telford, and Hull.
Meridian Speedway sees double this Saturday, May 13, as the Project Filter Twin 25's presented by Wendy's take the green flag. The Zamp Pro-Late Models, Project Filter Pro-4s, Idaho CDL Training Street Stocks, Boise Bath and Kitchen Company Mini Stocks, and Trammel Construction Stingers run double main events in pursuit of the night's Kim's Kars trophies. General admission is just $14 for adults, $12 for seniors and military members, $8 for kids 7-11, and free for kids 6 and under. Skip the line at the ticket gate and purchase your advance tickets now at www.meridianspeedway.com. We'll see you this Saturday, May 13, for the Project Filter Twin 25's presented by Wendy's under the big, yellow water tower at your NASCAR Home Track, Meridian Speedway.
---
Submitted By: Tyler Schild
Back to News