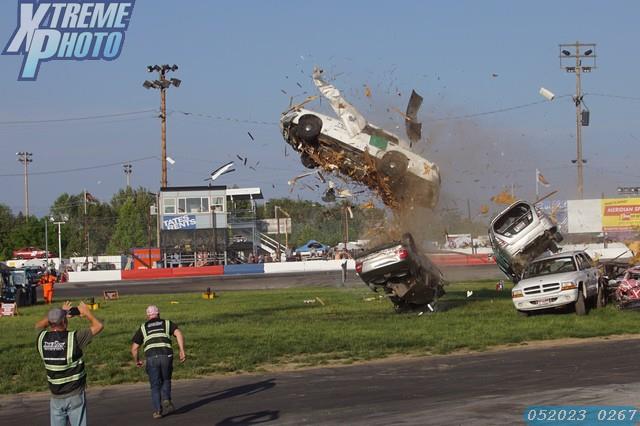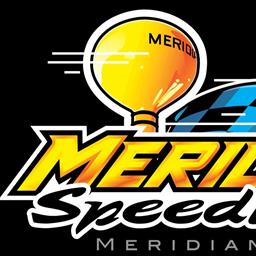 5/23/2023
Meridian Speedway
---
Smashes, Crashes Highlight Wild Saturday Night
Meridian Speedway tore it up on Saturday, May 20, as the annual Smash-O-Rama event blasted into the quarter-mile asphalt oval. Before Mr. Dizzy jumped a sedan halfway across the infield and the World Famous Boat Races of Destruction reduced a fleet of former floaters to smithereens, the Bud Light NASCAR Modifieds, Pepsi Sprintcars, Domino's Legends, Big Daddy's Barbecue Hornets, and Firehouse Pub and Grill Bombers provided plenty of their own thrills and spills.
Defending Bud Light NASCAR Modified champion Neal Latham took home Saturday's first feature flag in his Impact Motorz, Conrad and Bischoff machine.
Brendon Fries and Andrew Richardson went wheel-to-wheel for the second Bud Light NASCAR Modified feature victory. This duel turned sour late when contact sent Richardson's Renegade Race Fuel, Pit Stop USA modified into the back stretch wall. Fries would soldier on to victory in his ATS Inland Northwest, Horizon Credit Union mount, with Kyle Latham, first feature winner Neal Latham, and Caity Miller in tow.
Bryan Warf and his Allan Marsh RV and Marine Center, Division Construction sprinter conquered the Pepsi Sprintcar division Saturday. This was Warf's first win of the young season.
Las Vegas, Nevada-area trio Cody Brown, Jordan Holloway, and TJ Roberts took home the top three Domino's Legends division positions.
Dale Bolinger pushed fellow Firehouse Pub and Grill Bombers competitor Ben Driebergen across the finish line first to win the night's second-over-the-line feature. Cris Endicott raced his way to the Big Daddy's Barbecue Hornets feature victory.
Mike Buse, a.k.a Mr. Dizzy, electrified the near capacity crowd with a pair of high octane stunts Saturday, including a sky high car jump and being engulfed in a ball of fire. Kendra Occhipinti, with help from announcer Brent Arte and flagman Kevin Conway, raced her way to the Racin' Recliners crown. Jeff Peck beat and bashed his way to the Boat Race of Destruction victory.
Meridian Speedway celebrates those who protect our freedoms this Mondy, May 29, with US Navy Armed Forces Appreciation Night featuring the Speed Tour Sprint Cars powered by Pit Stop USA. All military members and their families get in the grandstand gates free with their military ID. General admission is $14 for adults, $12 for seniors, $8 for kids 7-11, and free for kids 6 and under. Gates open at 4:45 p.m. Monday, with races starting at 6:30 p.m. Stay up to speed with the latest news and notes from around the quarter-mile at www.meridianspeedway.com and send 'meridianspeed' to 84483 to receive exclusive updates via our text club. We'll see you this Monday, May 29, for US Navy Armed Forces Appreciation Night under the big, yellow water tower at your NASCAR Home Track, Meridian Speedway.
---
Submitted By: Tyler Schild
Back to News