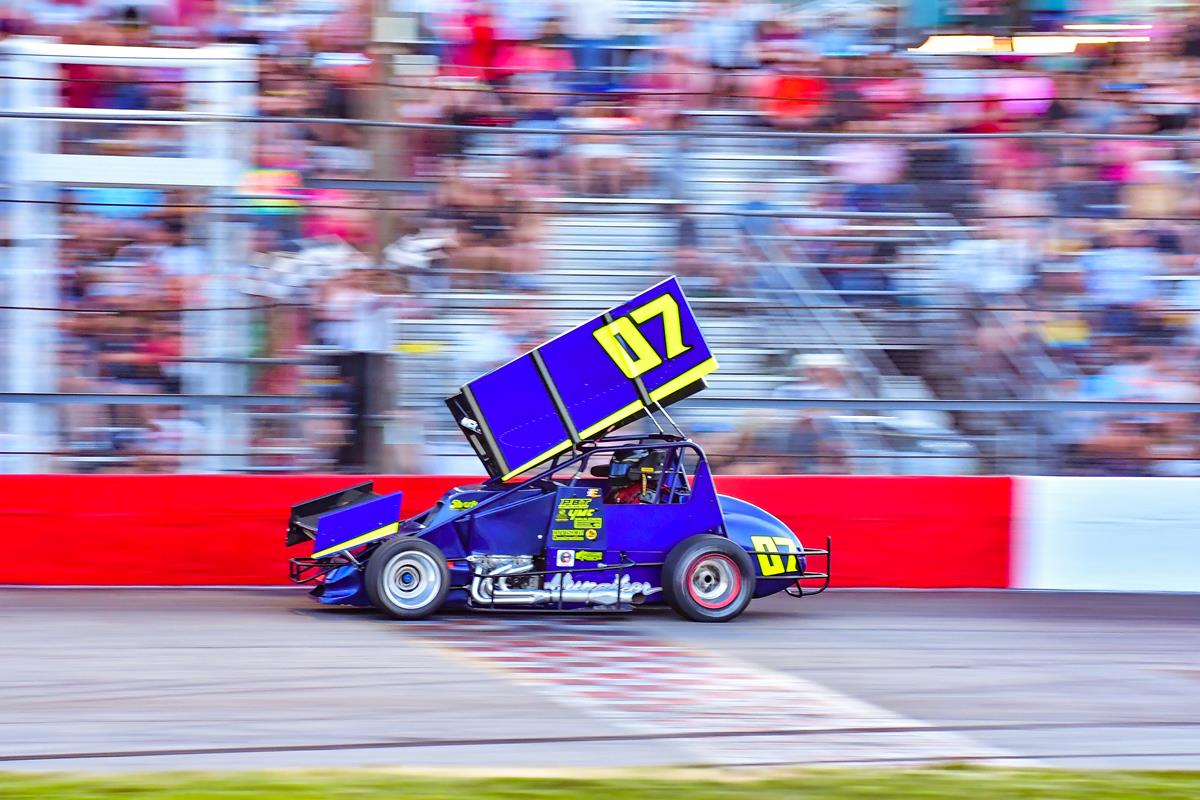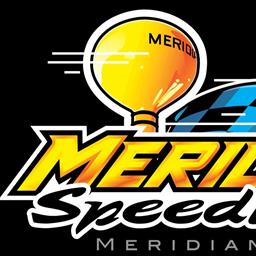 5/30/2023
Meridian Speedway
---
Nelson Speeds to Sprint Car Win
A full grandstand joined Meridian Speedway on May 29 for US Navy Armed Forces Appreciation Night. The Speed Tour Sprint Cars powered by Pit Stop USA, Idaho Vintage Racers, Zamp Pro-Late Models, Idaho CDL Training Street Stocks, and Trammel Construction Stingers battled each other and a hot, slick quarter-mile oval in pursuit of Monday night's Pacific Metalworks feature flags.
Layla Rivas and Makayla Trafford led the Trammel Construction Stingers to green on their 18-lap feature. Rivas and Trafford traded the lead for the race's first seven circuits before Trafford took over the top spot for good in her Pollo y Mariscos, American Tire machine.
Behind the lead duo, action got physical for the third position as Coleman Green and Alannah Trammel made contact and pounded the north end retaining wall. Trammel climbed from her Trammel Construction, Bobby's Transmission Center entry okay despite the heavy damage. Green's car limped away under its own power but would also be retired from the event.
This left Trafford up front for the restart, her mirrors full of new second place runner Ryat Gorringe. Gorringe searched high and low for a way around Trafford but ran out of time to make a move as Trafford flashed across the finish line first.
Joey Layman got his Idaho Vintage Racer up front first and proceeded to dominate the division's 22-lap feature in his 1975 Tognotti sprinter. Dean Waltman outdueled Dan Arriola to come home second on the Pepsi-Cola scoreboard, while Don Kithcart and Casey Heesch rounded out the top-5 finishers.
After mechanical issues hampered his qualifying run, Dylan Caldwell led the Zamp Pro-Late Models to green on the 2023 Bill Crow Memorial. With his gremlins resolved, Caldwell piloted his Hotbox Farms, National Coatings racer to the victory ahead of Dennis Wurtz, Melissa Weaver, Gary Luck, and Nevaeh Hull.
A full field of fourteen Idaho CDL Training Street Stocks took the green flag for the night's forty-lap LeeRoy Nelson Memorial. Kane Thomasson charged to the early lead in his Gem State Metals, Burn the Boats Tattoo machine, but quickly came under fire from Shawn Lester and his Jackson Spuds, Turn Key Realty entry. Lester got the better of this battle and settled into the lead on lap ten, just in time to enter lapped traffic.
As Lester caught the tail end of the field contact sent twelfth and thirteenth-place runners Andrew Palmer and Tony Baker hard into the turn three concrete. Lester spun to avoid the mishap and received a crushed passenger's side door for his trouble.
Lester led the field to the restart but came under immediate attack from Jesse James Lawson. Lawson worked the inside line and after an intense two lap battle the Caldwell, Idaho racer took the lead outright. It was a lead Lawson would never relinquish as he cruised to the LeeRoy Nelson Memorial 40 victory.
The Speed Tour Sprint Cars powered by Pit Stop USA capped Monday's US Navy Armed Forces Appreciation Night with a 35-lap dash to the checkers. On the break Natalie Waters overpowered DJ Lyons for the early lead but had Colton Nelson in hot pursuit.
As Nelson worked on Waters, the pack was separated due to Lyons' ailing sprinter and a flat tire on Dave Parrie's machine. These slowdowns allowed Nelson to build a three-second lead over second place Rob Grice. It looked as though Nelson would cruise to victory, until a caution flag flew with three laps left.
This set up a single-file restart with Nelson's Mulder's Auto Machine, Maxwell Plumbing sprinter out front, followed by Grice, Kyle Tellstrom, and Cory Lockwood. On the restart Nelson got to the gas pedal quickly, but so did Grice. Grice had Nelson in his sights until his Lissa's Learning Ladder, Snake River Edge sprinter snapped sideways at the start-finish line. This let Nelson scoot away to the victory and allowed Tellstrom to take over the runner up spot in his Hunziker Racing, Blue Heart Home Furnishings entry.
Meridian Speedway takes a night off on Saturday, June 3, but roars back to live on June 10 with the Treasure Valley 125 on EMS, Police, Fire, and Correctional Officers Night. The Speed Tour Super Late Models powered by Pit Stop USA run their second-longest feature of the year, while the Bud Light NASCAR Modifieds, Pepsi Sprintcars, Domino's Legends, Boise Bath and Kitchen Company Mini Stocks, and Bandoleros fill out an action-packed slate of short track racing. General admission is just $14 for adults, $12 for seniors and military members, $8 for kids 7-11, and free for kids 6 and under. Gates open at 4:45 p.m. with racing at 6:30 p.m. Log on to www.meridianspeedway.com to purchase your advance tickets now. We'll see you under the big, yellow water tower Saturday, June 10, for the Treasure Valley 125 at your NASCAR Home Track, Meridian Speedway.
---
Submitted By: Tyler Schild
Back to News