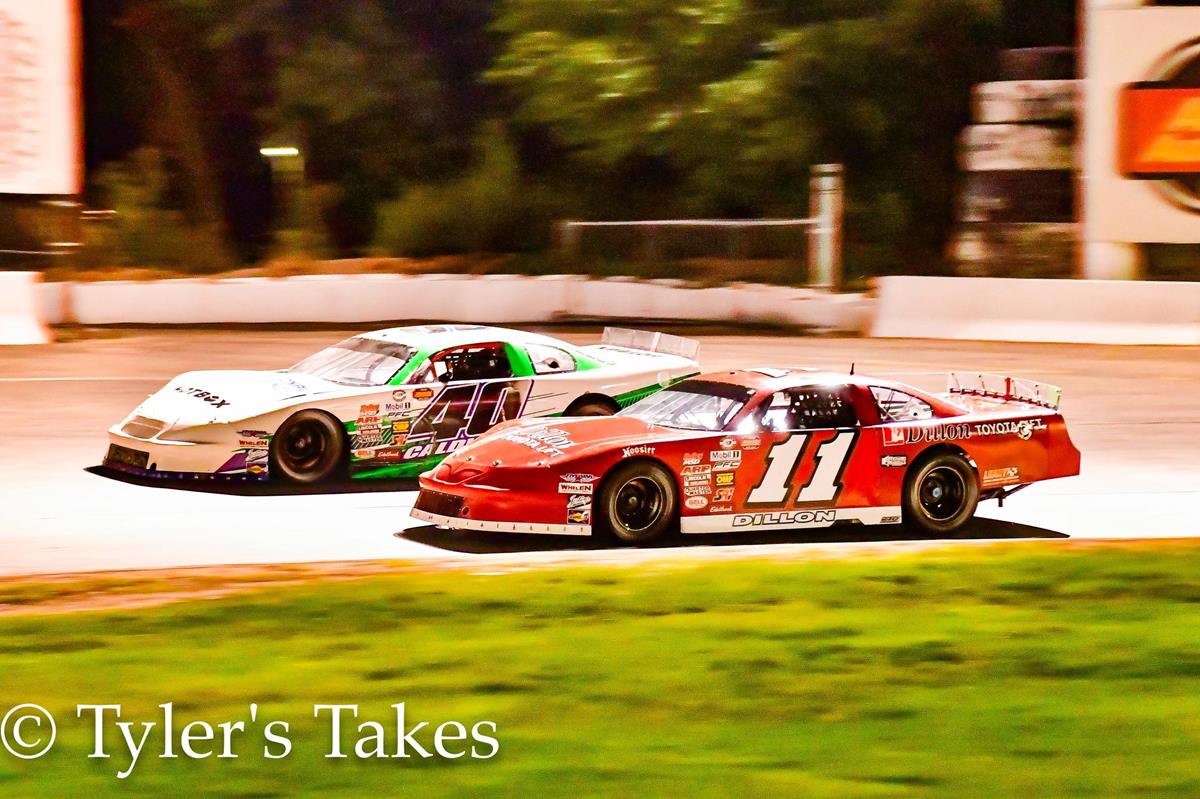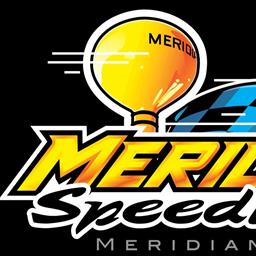 8/28/2023
Meridian Speedway
---
Dylan, Dillon Duel in Race 4 Hunger
Meridian Speedway brought its own thunder Saturday, August 26, as the quarter-mile asphalt oval hosted the Race for Hunger 125 presented by Neil Alan Fine Jewelry. The Zamp Pro-Late Models contested the night's title event, while the Project Filter Pro-4s, Domino's Legends, Big Daddy's Barbecue Hornets, and Trammel Construction Stingers raced for their own In Front Motorsports trophies.
The Race for Hunger 125 action started early as pole sitter Gary Luck and outside polesitter Neil Wassmuth got together on the parade laps. After this bizarre shoving match Wassmuth excused himself to the back of the pack, while Melissa Weaver pulled forward to join Luck on the front row for the green.
Weaver piloted her Marv's Tire Service, Sonic Crush machine to the early lead, but quickly came under fire from championship points leader Dylan Caldwell. Caldwell worked the inside line in his National Coatings, Hotbox Farms racer and after a heated fight took over the top spot on the Pepsi-Cola scoreboard.
Next to Weaver's rear bumper was Johvan Dillon and his bright red Dillon Toyota Lift car. Again, Weaver left the inside line clear, and again she was shuffled back as Dillon ripped to the runner up spot.
Now Dillon set his sights on Caldwell, and lap after lap the Eagle, Idaho racer cut into Caldwell's three-second lead. Lapped traffic helped Dillon halve the gap before a lap forty caution brought him even with Caldwell for the restart.
The green flag waved over the Dylan and Dillon show and the pair sped into turn one. Caldwell hooked the inside line and shot back to the lead, but Dillon stayed right in his tire tracks. After twenty laps of applied pressure Dillon swung around the high side to take the lead.
But no sooner had Dillon edged ahead than a caution flag flew for a brutal wreck that saw Dan Lowther's Neil Alan Fine Jewelry, Fire Snacks machine lose and engine and hammer the turn one water barrels. Luck then hit this patch of oil and plowed into Lowther's already stopped machine.
With the track cleared and weather rolling in the race went back green. Dillon took off fast and raced back to the lead, but Caldwell kept pace and hung to Dillon's outside for several laps before he was finally forced back to the second spot.
As the laps wound down the handling on Dillon's car soured, and the young driver had his hands full with a wicked loose car. But Dillon's lead proved insurmountable despite a pair of lurid sideways slides in the closing laps and he sped to the Race for Hunger 125 presented by Neil Alan Fine Jewelry victory. Caldwell brought his car home second, followed by Weaver, Daniel Johnson, and Wassmuth.
Fourteen Domino's Legends crowded the quarter-mile for a hard-fought 35-lap feature. Mike Soiseth and Leon Tridle marched through the field and were set to duel for the lead when they tangled on lap eight and smacked the front stretch retaining wall. Tridle was able to limp his LaMoure Trucking, Knife River racer away from the scene, while Soiseth's Performance Signs and Graphics entry was scooped up and carried to the pit area.
This left AJ Martinson and Payton Weller up front for the restart. The green flag waved and the pair charged around the track side-by-side before Martinson moved his McAlvain Companies, Inc., Abbot Home Inspection mount to the lead. This opened the door for Davis Jacobson and Courtney Weller to make their move to the runner up spot. Weller was first to pull beside her sister, but the two made contact and slid to the infield. This left Martinson and Jacobson to settle the race. When the green flag waved Jacobson scooted around Martinson to the lead and eventually the In Front Motorsports winner's trophy. Roxali Kamper, her Discount Tire machine freshly rebuilt after a heat race wreck, crossed the line second ahead of Canyon Ashley, Martinson, and Payton Weller.
Jordan Harris continued his reign of Project Filter Pro-4 dominance with yet another feature win at the controls of his Allen Marsh RV and Marine, Challenger Auto Sales machine. Kenny Chandler brought his Project Filter, Fairly Reliable Bob's racer home in the runner up spot ahead of Niko Heinzel and Makenzie Wells.
Seventeen Big Daddy's Barbecue Hornets took the green flag for a thrilling thirty-lap feature. Karyssa Wilson fought her way to the early lead while constant two and three-wide action broke out behind her. Despite the hard racing contact was kept to a minimum, and when the checkered flag fell Jeff Matuska found himself and his Neil Alan Fine Jewelry, Pisca Trucking machine atop the scoreboard.
Makayla Trafford outlasted Ryan Gorringe and Coleman Green to park her El Guero Pollo y Mariscos racer in the Caleb's Chop Shop Winner's Circle on Race for Hunger 125 presented by Neil Alan Fine Jewelry night.
Racing resumes Monday, September 4, with the Project Filter Labor Day Twin 25's. The Bud Light NASCAR Modifieds, Pepsi Sprintcars, Domino's Legends, Idaho CDL Training Street Stocks, Boise Bath and Kitchen Company Mini Stocks, and Firehouse Pub and Grill Bombers will be on hand for a full night of short track racing. General admission is just $14 for adults Monday, $12 for seniors and military members, $8 for kids 7-11, and free for kids 6 and under. Gates swing open at 4:45 p.m. Monday, with the first green flag at 6:30 p.m. Log on to www.meridianspeedway.com and purchase your advance tickets now. Plus, be sure to text 'meridianspeed' to 84483 to receive exclusive updates via our text club. We'll see you under the big, yellow water tower Monday, September 4, for the Project Filter Labor Day Twin 25's at your NASCAR Home Track, Meridian Speedway.
---
Submitted By: Tyler Schild
Back to News