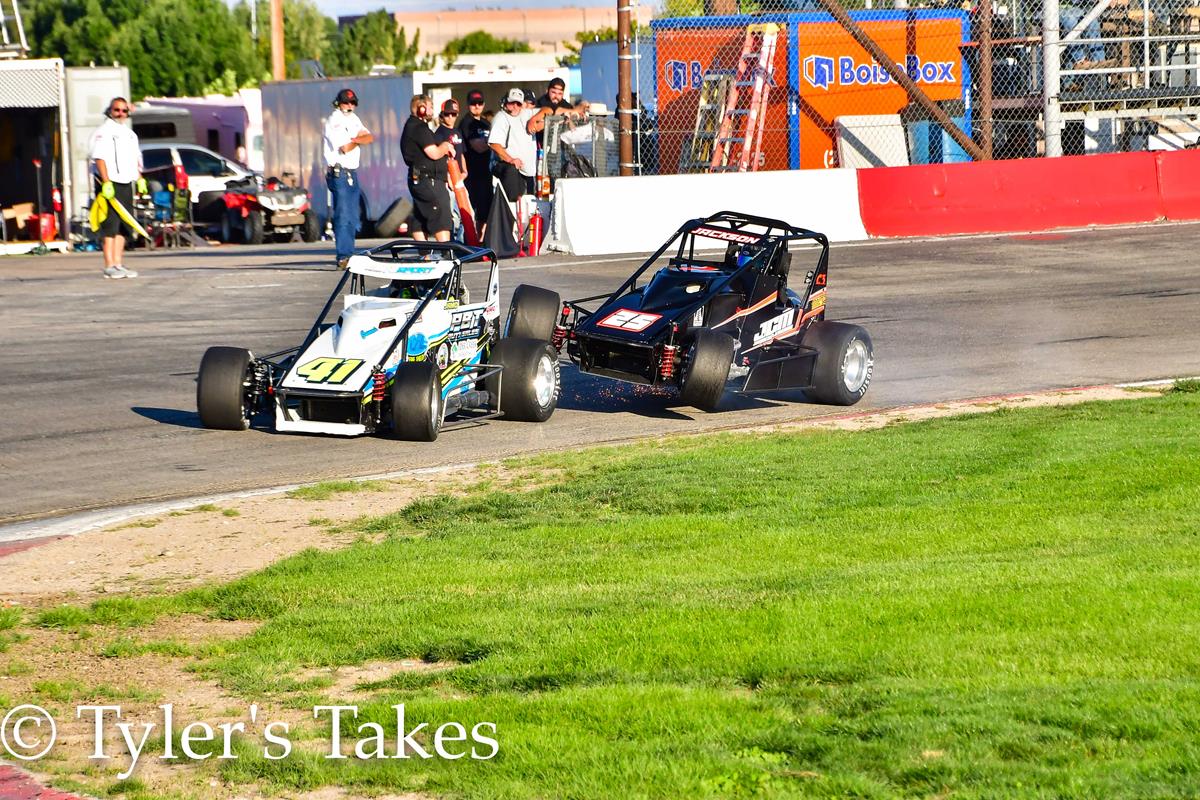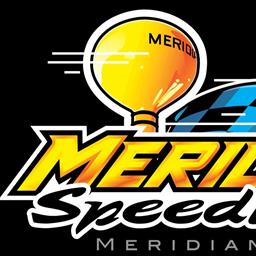 9/6/2023
Meridian Speedway
---
Beating, Banging Highlight Labor Day Double-Headers
Physical battles broke out across all classes at Meridian Speedway on Monday, September 4, as racers contested the Project Filter Labor Day Twin 25's. The Bud Light NASCAR Modifieds, Pepsi Sprintcars, Domino's Legends, Idaho CDL Training Street Stocks, Boise Bath and Kitchen Company Mini Stocks, and Firehouse Pub and Grill Bombers were on hand to race for the Trammel Construction trophies.
Twenty-one Bud Light NASCAR Modifieds crowded the quarter-mile for twin 35-lap features. Josh Jackson survived a rowdy first feature to claim the division's first feature victory. But more fireworks would erupt in feature number two.
Even before the field of 21 racers took the green flag contact sent multiple cars spinning down the front stretch. Nearly every car received some type of damage in the stack up, but the most notable were points leader Brendon Fries, first feature winner Jackson, and Joe Daily after his AirGas, So Good! modified jumped a wheel and pinwheeled through the air before crashing back to earth.
With the track cleared the green flag waved and Colton Nelson sprang to the lead with Chuck Youngblood, Andrew Richardson, and Kyle Latham in hot pursuit. Richardson, intent on gaining maximum championship points over the retired Fries, caught Youngblood and wasted no time moving his Renegade Race Fuel, Buzze Racing modified into the runner up spot. But Richardson wasn't safe in second as Latham levered his way to the inside of Richardson and moved himself into second place on the Pepsi-Cola scoreboard.
Now Latham unleashed his machine in a bid to track down Nelson. Lap after lap Latham closed in until he arrived on the leader's rear bumper with six circuits remaining. Nelson used lapped traffic to his advantage as long as he could, but the lapped cars ran out as Latham got a run into turn one.
Latham muscled past Nelson to take the lead coming to the white flag, and Nelson returned the favor with a blow to Latham's quarter panel the next lap. Nelson allowed Latham to gather his sliding Impact Motorz, Miller Welders machine, and Latham sped across the Caleb's Chop Shop Victory Stripe first.
"Twenty-one cars is a huge car count and I love seeing it," Latham said.
Jamo Stephenson and his YMC Mechanical, Gen 3 Electric sprinter came under siege in both of Monday's Pepsi Sprintcar races. The first feature saw Stephenson square off with Sierra Jackson. Jackson got her Giesler's Auto Repair, Mulder's Auto Machine entry too close for comfort at the race's halfway point and hopped over Stephenson's left rear tire. Both drivers kept control of their vehicles, and Jackson would motor past Stephenson to take the lead a few laps later.
In the Pepsi Sprintcar's second feature Stephenson had Nate Little to contend with. Little, at the controls of his Absolute Construction and Consulting, A to Z Pool Supplies racer, worked Stephenson over until a late caution flag reset the field and allowed Jackson to take over the runner up spot. Despite a valiant late-race charge Jackson would have to settle for second behind Stephenson.
"This class is so competitive," Stephenson said in the Caleb's Chop Shop Winner's Circle. "It's wheel to wheel every lap."
Championship contenders Little and Kaleb Johnson each scored one third place and one fourth place finish on the night, which allowed Johnson's point lead to balloon to 21 markers with three race nights left.
Idaho CDL Training Street Stock points leader Jesse James Lawson had an adventurous Project Filter Twin 25's night. Lawson piloted his Flap Jack Flips, Boise River Logistics entry to a second place finish in the night's first feature and looked to have another strong run going in the second feature until he tangled with Ryan Roulette as they battled for the runner up spot. As Roulette spun Dakota Allen juked up the track and slammed into Lawson's door before he caromed into the wall.
This opened the door for first feature winner Josh Fanopoulos to take control. Fanopoulos deftly navigated his Certified Services racer to the lead and the eventual victory.
Domino's Legends point leader Leon Tridle III continued his winning ways to collect his sixth win of the season. Gig Harbor, Washington's Danny Arnold sliced his way through the field in route to victory in the division's second feature.
Gary Luck and Ryan McCaul each claimed a Boise Bath and Kitchen Company Mini Stock victory on Monday.
Keith Gonzalez spun across the line to claim the night's Firehouse Pub and Grill Bomber win.
It's a quick turnaround in the Concrete Jungle this week as on Saturday, September 9, the quarter-mile hosts Zamp Night at the Races presented by Horizon Credit Union. The Bud Light NASCAR Modifieds battle for the night's Xtreme Photo trophies, joined by the Zamp Pro-Late Models, Project Filter Pro-4s, Big Daddy's Barbecue Hornets, and Trammel Construction Stingers. Plus, Saturday is this season's final Dairy Queen Bike Race for Kids. General admission is just $14 for adults, $12 for seniors and military members, $8 for kids 7-11, and free for kids 6 and under. Gates open at 4:45 p.m. with racing at 6:30 p.m. Log on to www.meridianspeedway.com to purchase your advance tickets now. We'll see you Saturday, September 9, for Zamp Night at the Races presented by Horizon Credit Union under the big, yellow water tower at your NASCAR Home Track, Meridian Speedway.
---
Submitted By: Tyler Schild
Back to News