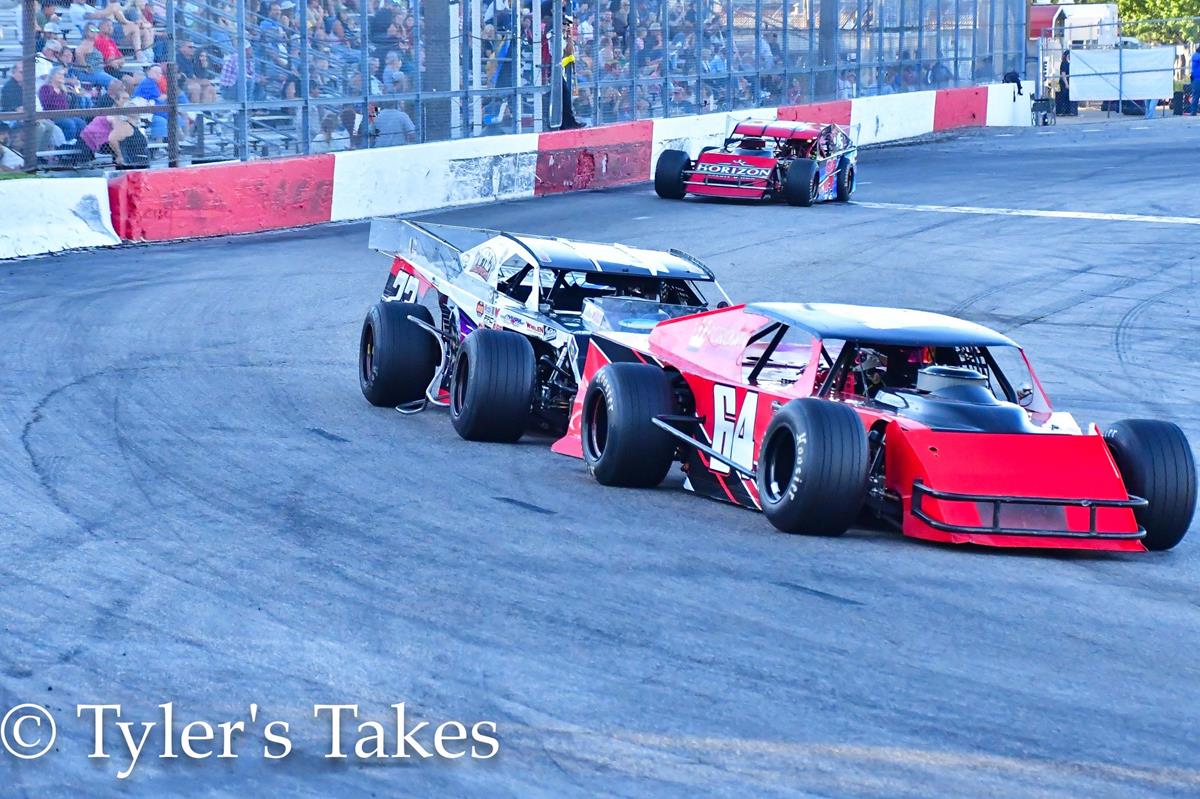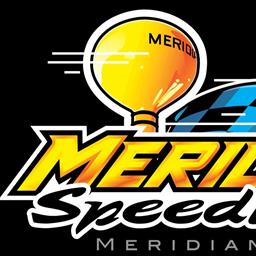 9/11/2023
Meridian Speedway
---
Houpt Holds Off Latham for Zamp Night Victory
Action came early and often at Meridian Speedway on Saturday, September 9, as the quarter-mile asphalt oval played host to a thrilling Zamp Night at the Races presented by Horizon Credit Union. The Bud Light NASCAR Modifieds went wheel-to-wheel for vital late-season NASCAR Division I points, while the Zamp Pro-Late Models, Project Filter Pro-4s, Big Daddy's Barbecue Hornets, and Trammel Construction Stingers battled for the night's Xtreme Photo trophies.
Josh Jackson stole the show early in the Bud Light NASCAR Modifieds' first feature when a front stretch tangle with James Strikwerda catapulted the Nampa, Idaho racer down the front straightaway. Jackson emerged from his impromptu aircraft unscathed, though his Ray's Diesel and Auto Repair, Lesterjette Painting entry did not fare as well.
When the green flag flew once again young Rusty Houpt sped to the lead in his Crown Utilities, Catapult 3 machine, but soon came under heavy fire from division veteran Kyle Latham. Latham searched high and low for a way around Houpt, but his efforts would come up short as Houpt scored the victory.
"It's been a tough one this year," Houpt said post race. "Two blown engines and a blown transmission. I just have to thank everybody that's worked on this car.
The Bud Light NASCAR Modifieds returned to action with a forty lap feature to cap Saturday night's festivities. Outside polesitter Cody McCue overpowered Mike Davis to take the early lead while the pack jockeyed for position behind his Impact Motorz, Superior Towing machine. Josh Randolph was first to clear the pack and make it to McCue's back bumper, followed by Alex Duda and Andrew Richardson.
Richardson looked to score maximum NASCAR Regional Rookie of the Year points Saturday, and wasted no time as he carved his way to the lead on lap thirteen. Brendon Fries followed Richardson forward, intent on scoring Regional championship points of his own.
Fries wheeled his ATS Inland Northwest, Horizon Credit Union racer hard to track down Richardson, but didn't have enough to catch the leader's Renegade Race Fuel, Quickcar Racing Products entry as Richardson crossed the Caleb's Chop Shop Victory Strip first.
The Trammel Construction Stingers ran door-to-door for the majority of their eighteen lap feature. Alannah Trammel sped to the early lead while Layla Rivas, Ryat Gorringe, and Makayla Trafford battled hard for second, third, and fourth on the Pepsi-Cola scoreboard.
At the race's halfway point Rivas and Trammel had a close call entering turn three which caused Trammel to slide up the track and out of the lead. Rivas was now in the lead, but had her mirrors full of Gorringe's Fast Lane Indoor Karting machine. Gorringe plotted his winning move and waited until the last lap to make it, which he did successfully. Rivas was able to hold off a hard-charging Trafford for second place.
Dylan Caldwell continued his Zamp Pro-Late Model dominance as he surged to the lead in his National Coatings, Hotbox Farms machine after just three laps. Caldwell's title foe Melissa Weaver followed Caldwell around the outside to take her Marv's Tire Service, Sonic Crush racer to second place early in the going.
The battle for third heated up at the race's one-third mark as Ron Hayes worked his Eden Water Technologies, RC Willey entry's nose under Neil Wassmuth's rear bumper and turned him sideways. Wassmuth gathered his Neil Alan Fine Jewelry, Jans Hair Design car and continued, but would go on to be collected by a spinning lapped car with five laps to go.
On the restart Caldwell got the jump on Weaver and never looked back as he cruised to victory.
The Big Daddy's Barbecue Hornets got down and dirty on the back half of the Blue Wrench chicane Saturday night. When the dust settled and the smoke cleared Dale Bolinger claimed the Zamp Night at the Races presented by Horizon Credit Union victory.
Sam Harris borrowed a Project Filter Pro-4 to compete Saturday night, and piloted it to the win over Ryan Bailey, Mackenzie Wells, and Kenny Chandler.
The Speed Tour Super Late Models powered by Pit Stop USA settle their season this Saturday, September 16 at the Speed Tour Super Late Model Championship. The Pepsi Sprintcars, Idaho CDL Training Street Stocks, Boise Bath and Kitchen Company Mini Stocks, and Bandoleros are also scheduled to race for the night's A&E Sharpening hardware. General admission to Saturday's full night of short track action is just $14 for adults, $12 for seniors and military members, $8 for kids 7-11 and free for kids 6 and under. Gates open at 4:45 p.m. with racing at 6:30 p.m. Log on to www.meridianspeedway.com and purchase your advance tickets now. We'll see you under the big, yellow water tower this Saturday, September 16, for the Speed Tour Super Late Model Championship at your NASCAR Home Track, Meridian Speedway.
---
Submitted By: Tyler Schild
Back to News