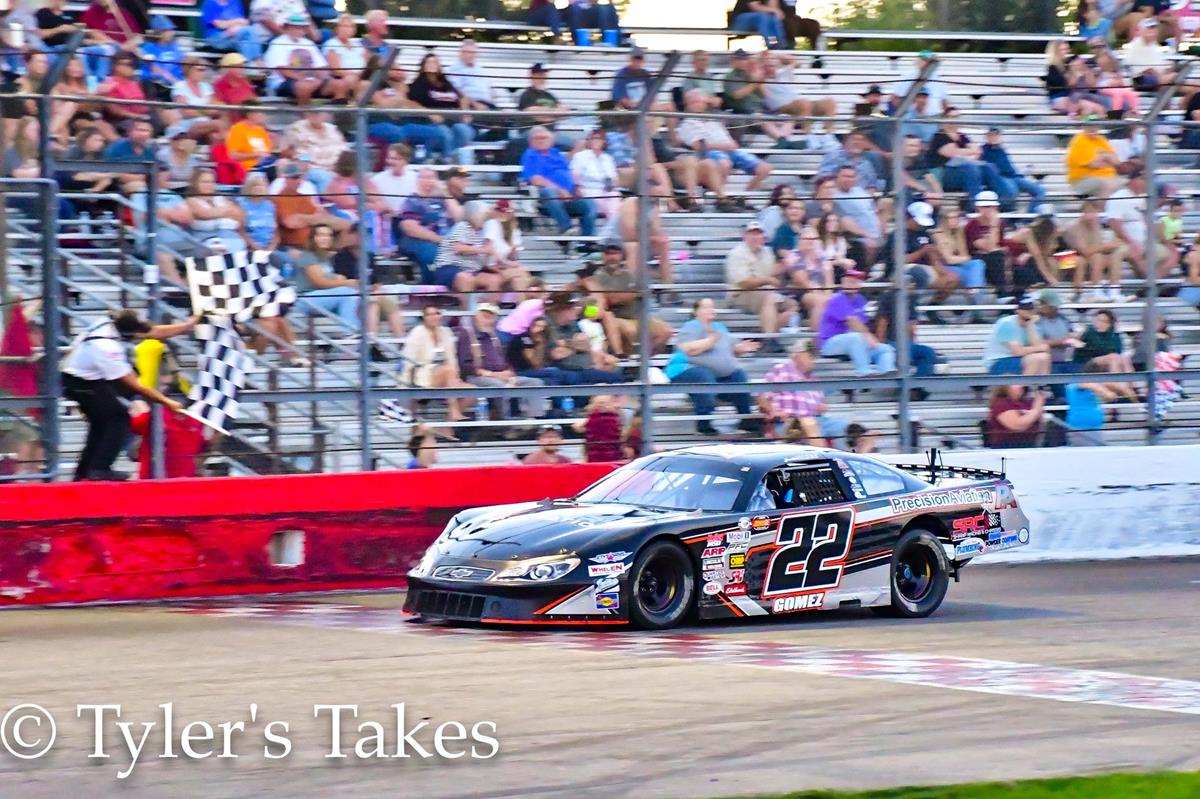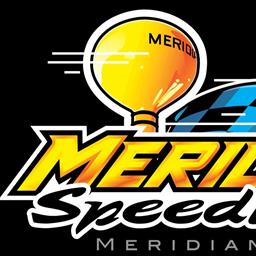 9/18/2023
Meridian Speedway
---
Gomez Tops Speed Tour Super Late Models for Title
Meridian Speedway kicked off championship season on Saturday, September 16, as the quarter-mile asphalt oval hosted the Speed Tour Super Late Model Championship. The Speed Tour Super Late Models powered by Pit Stop USA settled their season, while the Pepsi Sprintcars, Idaho CDL Training Street Stocks, Boise Bath and Kitchen Company Mini Stocks, and Bandoleros battled for crucial late season points.
T. Roy and Ashton Cristiani led the Speed Tour Super Late Models powered by Pit Stop USA to green for a forty-lap sprint race. Cristiani got the better of this battle and took the early lead. But points leader Jonathan Gomez was on the move, and after six circuits the Twin Falls, Idaho driver roared to the lead.
Cristiani wrestled his Gibson Diesel Performance, RMK Apparel racer in a bid to keep pace with Gomez. But Gomez' Western Mountain, Precision Aviation machine was too strong, and Gomez punctuated his championship-winning season with a fourth feature victory.
Rus Ward and Brock Nelson led a strong contingent of Pepsi Sprintcars into a 35-lap feature. Ward got to the gas pedal first and took the early lead, but soon faced an onslaught from Nelson and quick qualifiers Kaleb Johnson and Sierra Jackson.
Nelson juked his way into the top spot as the handling on Ward's sprinter soured, but was quickly dispatched to third as Jackson and Johnson rocketed to first and second on the Pepsi-Cola scoreboard. Jackson wheeled her Jackson Custom Machining, Giesler's Auto Repair entry hard to stay ahead of the hard-charging Johnson. Despite heavy pressure Jackson held on to the lead and parked her sprinter in the Caleb's Chop Shop Winner's Circle.
Ten Idaho CDL Training Street Stocks capped Saturday night's action with a 35-lap feature. Samantha Raymond hooked the inside line and rumbled past Andrew Palmer to take the early lead in her BoiseWindshields.com, Aloha Auto Repair racer. Kendra Occhipinti, T. Roy, and point leader Jesse James Lawson followed suit and soon there were four cars embroiled in a battle for first.
Roy was first to make his way past Raymond, but Lawson followed and in just two laps the point leader was also the race leader. As the laps wound down Lawson's lead only grew and the Caldwell, Idaho racer piloted his Flap Jack Flips, Maverick Car Company machine to victory.
Josh Lucero and Jason Sanders led the Boise Bath and Kitchen Company Mini Stocks to green for their 35-lap feature. Sanders got to the gas pedal first and put his Valley Property Management, Excel Concrete Construction machine up front early. Soon, however, championship leaders Travis Pavlacky, Don Trafford, and Ryan McCaul were quick to catch Sanders and take over the top spots for themselves.
Pavlacky hustled his familiar Modern Auto Service, FVC Construction pickup to fend off Trafford's American Tire, Quality Alignment entry. As the laps wound down McCaul's Performance Signs and Grahics, Healing Heart Counseling car came into its own and he blasted around the outside of first Trafford, then Pavlacky to take over the lead. Once out front McCaul set his cruise control and sailed to victory. Pavlacky held off Trafford to finish second.
Eight Bandoleros took the green flag for their fifteen-lap feature. Mason Martin made the most of his front row starting spot Saturday as the young Eagle, Idaho driver motored around Bristol Monroe to put his The TI Company, Hayden Homes machine up front on lap two. From there, Martin never looked back as he zipped to his third win on the season. Alannah Trammel brought her Trammel Construction racer home second with Ryan Barlow in third.
The biggest winged sprintcar show of the season fires off this Friday and Saturday, September 22 and 23, as the Les Schwab Tires Pink Lady Classic takes over Meridian Speedway. The Speed Tour Sprint Cars powered by Pit Stop USA go wheel-to-wheel for a $27,000 payday, alongside the Idaho Vintage Racers, North West Tour Truck Series, Salt Lake City Midgets, Big Daddy's Barbecue Hornets on Friday and Idaho CDL Training Street Stocks on Saturday. General admission for each night of the Pink Lady Classic is just $20 for adults, $18 for seniors and military members, $8 for kids 7-11, and free for kids 6 and under. Purchase your advance tickets while they last at www.meridianspeedway.com and we'll see you under the big, yellow water tower this Friday and Saturday for the Pink Lady Classic at your NASCAR Home Track, Meridian Speedway.
---
Submitted By: Tyler Schild
Back to News