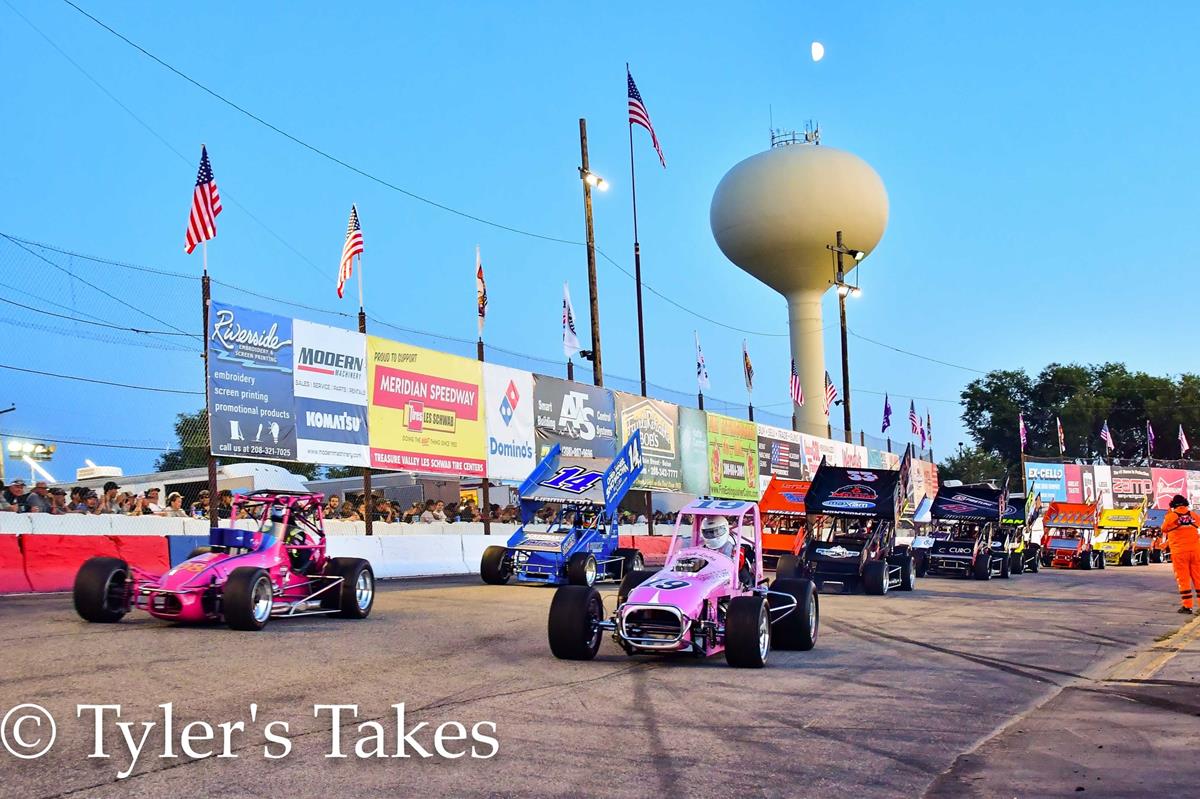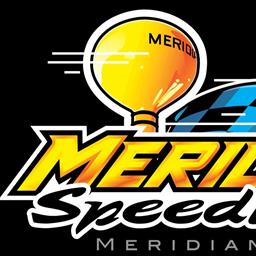 9/26/2023
Meridian Speedway
---
Margeson Masters Restarts, Wins $30K Pink Lady Classic
The wildest event on the Meridian Speedway calendar delivered a jam-packed weekend of thrills and spills Friday and Saturday, September 22 and 23, as the Les Schwab Tires Pink Lady Classic thundered to life for the ninth time. Friday featured the Speed Tour Sprint Cars powered by Pit Stop USA contest the Elliott Sportsman Classic alongside the North West Tour Truck Series, Idaho Vintage Racers, Salt Lake City Midgets, and Big Daddy's Barbecue Hornets. Saturday saw the same lineup, but with the Idaho CDL Training Street Stocks subbed in for the Hornets.
Jeff Montgomery and Davey Hamilton, Jr. Led a field of 25 Speed Tour Sprint Cars powered by Pit Stop USA to green for the 100-lap Les Schwab Tires Pink Lady Classic Saturday night. Montgomery got to the gas pedal first and rocketed to the top spot in his sprinter, but Hamilton, Jr kept pace as the leaders entered lapped traffic after just six quarter-mile circuits.
Behind Montgomery and Hamilton, Jr, the racing was intense as drivers jockeyed for position. By the 38-lap segment's halfway point Willison, Tyler Roahrig, and Casey Tillman emerged from the chaos to round out the top-five.
Behind the top five, two and three-wide racing, wheel-to-wheel contact, and banzai dives were the order of the day. The most remarkable drive of segment one was that of Tacoma, Washington's Evan Margeson, who marched from nineteenth on the starting grid to eighth by the final lap.
The intensity picked up in segment two as drivers fought hard to make their way into the top-10. Segment one winner Montgomery pulled an 8-pill, which inverted the first four rows and put Kyle Alberding and Margeson out front for the restart.
Margeson made the most of this opportunity and blasted around Alberding's Holte Drilling Tools racer to take a commanding lead. Behind Margeson, Colorado wheelman Bryan Gossel got caught on the wrong side of the open-wheel maelstrom and pounded the front stretch wall. Trapped mid-pack with significant suspension damage Gossel wrestled to maintain control of his BG Automotive, Al Parker Engines machine, but couldn't avoid contact with Troy DeCaire.
DeCaire's Busch Light, Carbon Custom Designs sprinter was catapulted hard into the turn three water barrels before it came to rest vertically in the catch fence. Despite the vicious impact DeCaire wriggled out of his battered machine under his own power but was later transported to an area hospital for further observation.
With the track cleared racing resumed but was slowed once again just four laps later as contact sent three-time Pink Lady Classic winner Nelson spinning in front of track record holder Willison, who piled into Nelson, caromed off and sheared the nose wing from Hamilton, Jr's car. Despite the damage all three drivers continued, though Willison would retire his Tri-X Group, The Keg Restaurant car a few laps later when a three-wide pass on the restart resulted in hard wall contact for the Canadian.
The top-five continued to be the most dangerous place on the racetrack as just a handful of laps later second and third place runners Kyle Tellstrom and Alberding got together as they flew into turn three. Alberding backed his sprinter hard into the wall while Tellstrom spun to the infield.
Calamity wasn't done with the second segment quite yet, though, as just laps after the ensuing restart rookie sprint car racer Jason Quale of Twin Falls, Idaho, hopped a wheel, vaulted the wall, then slammed into one of the catch fence uprights before he fell back to earth. Quale walked away from what was left of his demolished sprinter.
Alongside the carnage, the other story of segment two was Margeson's dominance on restarts. Every time the yellow flag flew Margeson would line up on the outside of the front row and wheel his Westlake Commercial Properties, Frankie's Pizza sprinter back to the lead on the green flag. This trend continued through the rest of segment two, and allowed Margeson to finish first going away, with Hamilton, Jr, Bryan Warf, Tillman, Mike Murgoitio, Ryan Burdett, Riley Rogers, Nelson, Montgomery, and Roahrig all advancing to the third segment.
As soon as the green flag flew over segment three Margeson got to the gas pedal and again bolted to the top of the Pepsi-Cola scoreboard. Hamilton, Jr wheeled his sprinter hard to keep pace, but could not keep up with Margeson, who motored across the Caleb's Chop Shop Victory Stripe. Warf outdueled Tillman to take home third place honors.
"This is insane," Margeson said in disbelief. "We rolled out nineteenth in that first segment and I was just trying to survive."
"Starts are everything," Margeson continued. "You get out in clean air and it's huge. Trying to win those restarts every time; that was critical."
Friday night saw two preliminary features take the green flag, the Conciliation feature and the night's headlining Elliott Sportsman Classic. Drew Crenshaw raced his way into the Pink Lady Classic with a Conciliation feature win, while Murgoitio scored the Elliott Sportsman Classic win. John Grice was presented with the Elliott Sportsman Award pre-race for his extensive contributions to sprint car racing.
Natalie Waters sped to the victory in Saturday's Last Chance Qualifier, while runner up Aaron McPeak was awarded the race's provisional twenty-fifth and final starting spot.
The Salt Lake City Midgets settled their season with a pair or races honoring the late Chaz Groat. Chuck Groat, Chaz's father, took home Friday night's feature after a spirited duel with young AJ Luttmer.
Ashlyn Powell dominated the Salt Lake City Midgets' Saturday night Chaz Groat Memorial feature. Powell took the lead on lap eight and never looked back as she piloted her Black Rifle Coffee Company, Schmidt Body and Paint machine to the victory over Devin Westover, AJ Luttmer, Tyler West, and Chuck Groat.
"This race really has touched my heart," Powell said as she collected the night's Walking Sombrero Taco Truck feature flag. "I'm lost for words."
North West Tour Truck Series battled through a double-header on Friday night. Jenna Quale outdueled John Wong to park her Quale's Electronics, Custom Auto Repair truck in the Caleb's Chop Shop Winner's Circle first. Later, points leader Drew Reitsma put his Reitsma Holsteins, Fields 66 pickup out front early and held off Quale late to claim the night's second Trammel Construction Feature Flag.
Saturday's feature was cut short due to time constraints, but saw Andrew Prince race his Picabo Angler, Highline Powersports truck to the top of the Pepsi-Cola scoreboard and score his first North West Tour Truck Series win of the season.
A strong field of Idaho Vintage Racers rumbled to green both Friday and Saturday nights. Friday saw Johnny Giesler roar to a commanding lead before he was swept up in an accident and pounded the turn three wall. This left the lead to Dean Waltman, who held off Kenny Hamilton and the Pink Lady to take home the victory. Stan Going and Don Kithcart both scored feature wins Saturday night.
T. Roy tore through the Idaho CDL Training Street Stock ranks to park his Flight Standards, A&E Sharpening racer in the Caleb's Chop Shop Winner's Circle Saturday. Behind Roy, Kendra Occhipinti beat Jesse James Lawson to the line after a race-long battle for the runner up spot. Nick Britton navigated his way through traffic to take home Friday's Big Daddy's Barbecue Hornets feature.
The short track action continues this Saturday, September 30, with the Double Nickle 55's. The Pepsi Sprintcars and Boise Bath and Kitchen Company Mini Stocks are both slated for 55-lap features Saturday, while the Project Filter Pro-4s and Trammel Construction Stingers go wheel-to-wheel for the night's TKO Handyman Services Feature Flags. General admission to Saturday's full night of racing action is just $14 for adults, $12 for seniors and military members, $8 for kids 7-11, and free for kids 6 and under. Gates open at 4:45 p.m. Saturday with the first green flag at 6:30 p.m. Log on to www.meridianspeedway.com for your advance tickets, and text 'meridianspeed' to 84483 to receive exclusive updates through our text club. We'll see you under the big, yellow water tower this Saturday, September 30, for the Double Nickle 55's at your NASCAR Home Track, Meridian Speedway.
---
Submitted By: Tyler Schild
Back to News