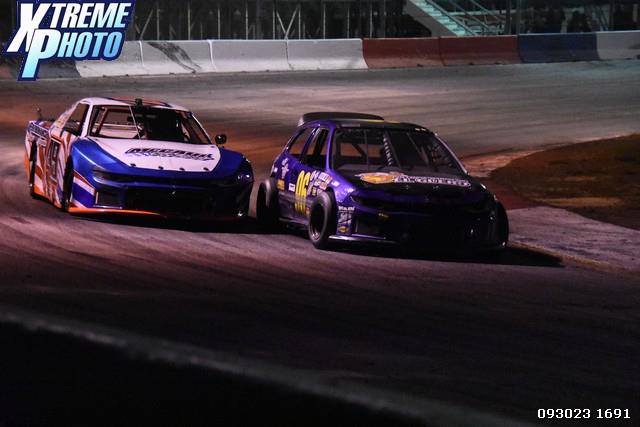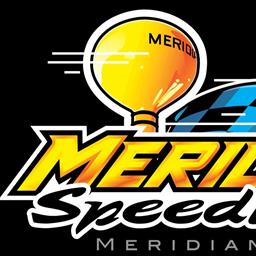 10/2/2023
Meridian Speedway
---
Trafford, McCaul Duel for Double Nickle W
The heartiest Meridian Speedway fans braved an unseasonably chilly night Saturday, September 30, as they enjoyed the thrills and spills of the Double Nickle 55's. The Pepsi Sprintcars and Boise Bath and Kitchen Company Mini Stocks each ran a 55-lap feature Saturday, while the Project Filter Pro-4s and Trammel Construction Stingers did battle for the night's TKO Handyman Services trophies.
Ryan Bailey and Niko Heinzel led the Project Filter Pro-4s to green for their 25-lap feature Saturday. Heinzel roared past Bailey to the early lead followed by Kenny Chandler and Jordan Harris. Harris dispatched Chandler to take the runner up spot and set his sights on Heinzel.
Harris gained slowly on Heinzel through the race's middle portion before a Chandler spin with nine laps left on the Pepsi-Cola scoreboard closed the field up for a restart. Once the green flag flew again Harris powered around Heinzel to take the lead and, two short miles later, park his Allan Marsh RV and Marine Center, H&H Auto Sales machine in the Caleb's Chop Shop Winner's Circle.
Makayla Trafford and Coleman Green led the Trammel Construction Stingers to green. Green sped around the outside line to take the early lead in his HazTech Drilling, Daily Fit Body entry while Trafford worked to find a way to the lead.
Trafford committed to the inside line and whipped past Green but was followed by championship rival Ryan Gorringe. Though Gorringe kept the pressure on Trafford as the laps wound down, he couldn't mount a challenge for the lead and Trafford took the victory.
Brock Nelson overpowered fellow front row starter Carson Ackerland to take the early Pepsi Sprintcar lead. But Kaleb Johnson was on a mission, and quickly dispatched the rookie open-wheeler to take the lead for himself. This dropped Nelson into a hard-fought battle with Jamo Stephenson and Carson's father Tony Ackerland for the runner up spot.
This battle raged until lap 21 when Stephenson clipped Nelson's rear bumper on corner exit and spun Nelson into the infield. This caution flag bunched the field and brought Tony Ackerland even with Johnson and his YMC Mechanical, Giesler Auto Repair sprinter for the restart.
The green flag flew and Johnson shot back to the lead, but had the elder Ackerland right on his tail tank. Move-for-move the pair ducked in and out of traffic as they dueled for the top spot. Only a caution flag could calm this clash, and with a dozen laps left Nate Little's Absolute Construction and Consulting, A to Z Pool Supplies machine expired in turn four to slow the field once again.
Ackerland got to the gas pedal quick, but Johnson was quicker and the points leader again edged ahead in turn two. This would prove to be the winning pass as Johnson held off Ackerland's advances to take home the TKO Handyman Services hardware.
Eleven Boise Bath and Kitchen Company Mini Stocks took the green flag for a 55-lap feature. Jason Hammond made the most of his front row starting spot and rocketed to the early lead in his TKO Handyman Services, G-B Redi-Mix machine. This opened the door for heavy hitters Don Trafford and Jason Sanders to take over the top two spots. As soon as Trafford found clear racetrack for his American Tire, Quality Alignment racer, he set sail and was only slowed by a caution flag brought out by early leader Hammond's engine explosion.
With the backstretch cleaned up the race resumed and Trafford again flew to the lead while Travis Pavlacky and Ryan McCaul battled some four seconds behind him for the runner up spot. McCaul would get the better of this battle in his Performance Signs and Graphics, David's Racing Products car and set his sights on Trafford, who found himself mired in double-file lapped traffic. Even after Trafford cleared the lapped cars McCaul kept coming, and with fifteen laps left he took up residence in Trafford's rearview mirror.
Trafford used lapped traffic to hold off McCaul for a handful of laps, but soon found himself a sitting duck in the middle of empty track. McCaul pounced and motored around the outside of Trafford with four laps to go. Trafford ran out of time to mount a comeback and could only watch as McCaul sped across the Caleb's Chop Shop Victory Stripe first. Pavlacky finished a distant third, followed by Sanders and Keith Ostic.
"I can't believe it," McCaul said of his third-straight feature win. "This is just unreal."
Next Saturday, October 7, Meridian Speedway satisfies your craving for carnage for the final time in 2023 with the Boat Race of Destruction presented by Academy Mortgage by Ryan Shelby. Before the watercraft wrecking, the Bud Light NASCAR Modifieds, Zamp Pro-Late Models, Domino's Legends, Big Daddy's Barbecue Hornets, and Firehouse Pub and Grill Bombers take their final checkered flags of the season, while the Idaho CDL Training Street Stocks gear up for their triple 33's on October 28. General admission for Saturday's Boat Race of Destruction presented by Academy Mortgage by Ryan Shelby is just $14 for adults, $12 for seniors and military members, $8 for kids 7-11, and free for kids 6 and under. Gates open at 4:45 p.m. Saturday, with racing action starting at 6:30 p.m. Tickets are going fast! Log on to www.meridianspeedway.com and purchase yours while they last. We'll see you under the big, yellow water tower this Saturday, October 7, for the year's final Boat Race of Destruction at your NASCAR Home Track, Meridian Speedway.
---
Submitted By: Tyler Schild
Back to News