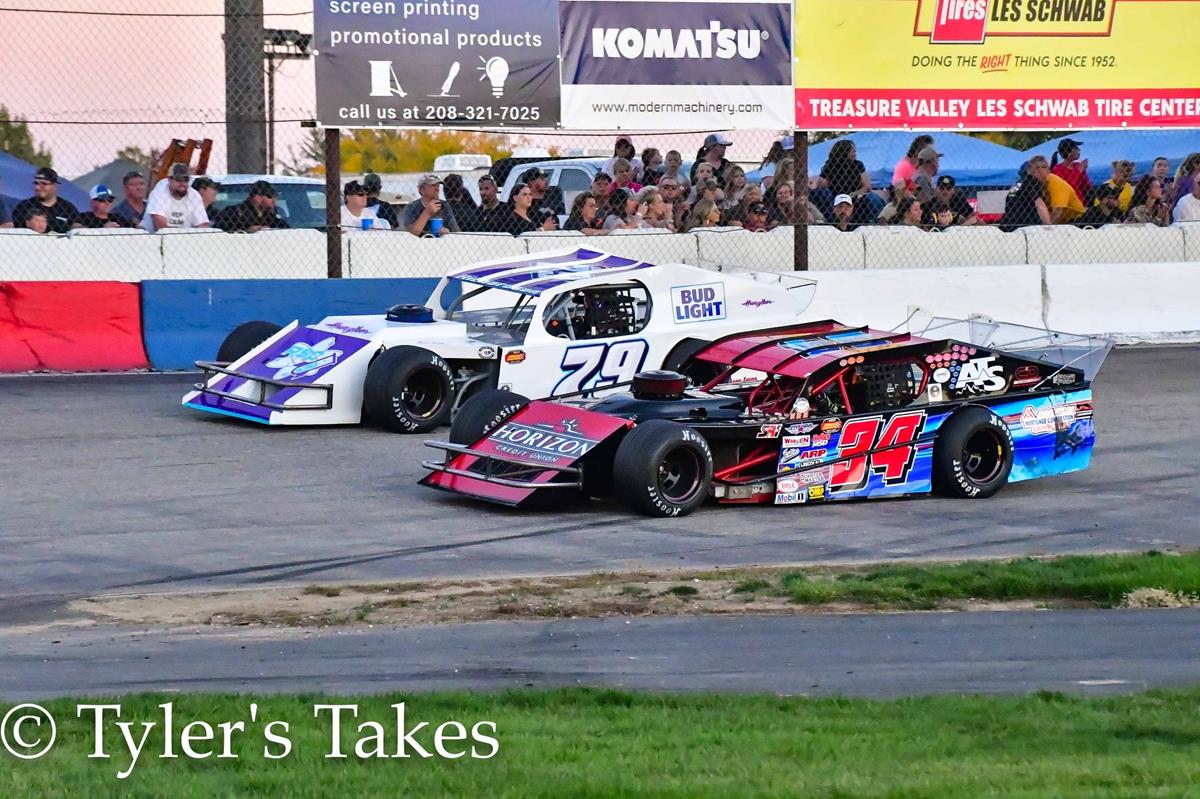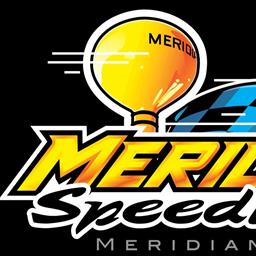 10/12/2023
Meridian Speedway
---
Fries, Richardson Duel for Season Title on MHAAT 50 Night
Fans packed the grandstands at Meridian Speedway on Saturday, October 7, as the quarter-mile asphalt oval hosted the Boat Race of Destruction presented by Academy Mortgage by Ryan Shelby. Five classes including the Bud Light NASCAR Modifieds, Zamp Pro-Late Models, Domino's Legends, Big Daddy's Barbecue Hornets, and Firehouse Pub and Grill Bombers settled their season championships Saturday, while the Idaho CDL Training Street Stocks chased the night's YMC Mechanical Feature Flags as one last warm up for their season-ending triple thirty-threes.
The Bud Light NASCAR Modifieds battled to win the 2023 Mike Hasson At A Track 50 title. Honoring long-time Neil Alan Fine Jewelry Safety Crew member Mike Hasson, the 2023 running of the MHAAT 50 featured a pair of $5,000 to win 50-lap main events, with the night's highest point earner crowned the event champion. These double dashes also capped the division's season-long title fight.
The first 50-lap feature had wildly different outcomes for the season's three championship contenders. Second-place point runner Kyle Latham saw his title hopes and his Impact Motorz, Conrad and Bischoff modified take a hit early as wheel-to-wheel contact shot him into the air before he crashed back to earth in turn one. Latham kept his car off the barriers, but significant suspension damage sidelined him for the night.
The chaos didn't stop there as with twelve laps left contact sent Zach Webster sideways in turn four. Before Webster could get a handle on his Idaho Powder Coating and Sandblasting, Advanced Maintenance machine he collected Rus Ward, who slammed headlong into the front stretch wall. Ward's destroyed Boise Spring Works, Tackle Tom's racer spun off the wall and collected Chris Fenton's Durbin Towing, Mountain Metal mount before it slid to a halt. All three drivers were okay after the crash, but all three cars were taken out of contention for the race.
Andrew Richardson entered Saturday's action third in the standings with an outside shot at stealing the title. Richardson needed to score maximum points in his Renegade Race Fuel, Pit Stop USA racer, and did just that as he took the night's first YMC Mechanical Feature Flag. Point leader Brendon Fries carved a methodical path through the field to finish second ahead of Caity Miller, Chuck Youngblood, and Tommy Harrod.
"Do those fit in the ATM," Richardson joked as he collected his novelty-sized $5,000 check in the Caleb's Chop Shop Winner's Circle.
The second 50-lap feature saw Larry Hull jump to the lead with Fries and Richardson in second and third on the Pepsi-Cola scoreboard. The top three remained in this formation until a caution flag flew with seventeen laps to go.
On the restart Richardson got around Fries, whose ATS Inland Northwest, Academy Mortgage car suddenly lost power a handful of laps later. This left Richardson and Hull up front for the restart. The green flag waved and Hull rocketed to the lead with Richardson in tow. This series of events would repeat three more times as minor skirmishes and spins slowed the action. But it all happened behind Hull, who piloted his Diversified Carpet and Upholstery, Shake 'N Bake Racing modified to the checkers and the $5,000 main event check.
Top point earner across both features was Richardson, who took home the custom MHAAT 50 fire extinguisher trophy. But in the title chase Richardson still came up short of Fries, who claimed the 2023 Bud Light NASCAR Modified season championship.
"We kicked some ass this year," Fries said. "We crashed a lot of [stuff]. We've done it all."
Tensions ran high in the Zamp Pro-Late Model division as Dylan Caldwell and Melissa Weaver sought to take home the season championship. But both had to contend with Magic Valley Speedway Pro-Late Model champ Dan Root, Jr. Root, Jr fought his way past polesitter Neil Wassmuth to put his DT Root Motorsports, Castro Sports Apparel machine atop the Pepsi-Cola scoreboard and once there he worked to make his car as wide as possible as Caldwell pulled forward to challenge for the lead.
Caldwell tried Root, Jr high and low in his National Coatings, Hotbox Farms machine, but each time Root, Jr was there to slam the door. After a handful of aggressive blocks Caldwell made contact and shot Root, Jr sideways through turn four, then the entire South end of the speedway. After two laps Caldwell's siege paid off and he was able to muscle his way to the lead.
This dropped Root, Jr into the clutches of the hard-charging Tyler Brown. Brown got a heavy dose of defensive driving from Root, Jr, and with three laps left he pitched the Magic Valley Speedway champion sideways to make the pass for second. But it all happened behind Caldwell, who took the checkers then immediately pulled to a stop in front of the fire truck as a chunk of rubber had caught light under his car. With the fire extinguished Caldwell was pushed into the Caleb's Chop Shop Winner's Circle.
"We wanted to leave no doubt tonight," Caldwell said post race. "We had to shovel them around a little bit there. Some guys weren't giving us much room."
Thirteen Domino's Legends crowded the quarter-mile Saturday night for their final feature of the season. Action started early as lap three saw Andrew Tuttle lose the handle on his Coastline Equipment, Gearhead Coffee machine and spin in front of the pack. Canyon Ashley and point leader Leon Tridle III were collected in the crash, with Tridle forced to retire his Lamoure Trucking, Knife River entry from the race.
When the green flag waved once again Austin Murphy zipped to the top spot. No one could catch Murphy in the race's middle and closing stages as he cruised across the Caleb's Chop Shop Victory Stripe.
Despite being swept up in an early crash Saturday, Leon Tridle III still claimed the 2023 Domino's Legends championship.
The Firehouse Pub and Grill Bombers ran their final feature of the season on Boat Race of Destruction presented by Academy Mortgage by Ryan Shelby Saturday. Points leader Morgan Trammel needed only to start the feature to take home the title, but the Meridian, Idaho racer went a step further and controlled much of the race alongside Timber Haskins. But it was Keith Gonzales who worked his way to the front and sped across the line first for the feature win.
The Big Daddy's Barbecue Hornet division swarmed the Concrete Jungle for their final slugfest of the year. Chaos ensued as the green flag waved over eighteen competitors, with car-to-car contact and three-wide racing being the norm for the first five laps.
While the field jockeyed behind him, Stefan Meeks took the early lead with Karyssa Wilson in hot pursuit. Wilson reeled Meeks in until her Oberdorf Racing, Brandt's Automotive car broke loose in turn three and she pounded the barriers in front of the Independence Indoor Shooting North End bleachers. Wilson was okay after the hit but would retire from the race.
On the restart Blaine Waller outdueled Meeks to take over the top spot. Meeks battled back on the high side of the track, but Waller's Two Idaho Moms Boutique, American Staffing mount was too strong down low, and he claimed the feature victory.
With a fifth-place finish Cris Endicott clinched the 2023 Big Daddy's Barbecue Hornet division championship.
Tony Baker and Samantha Raymond led the Idaho CDL Training Street Stock division to green for their 25-lap feature Saturday. Raymond got the drop on Baker and piloted her BoiseWindshields.com, ABC Grounds Care racer to the top spot, but soon came under fire from Taylor Occhipinti and his Marv's Tire Service, Sonic Crush entry.
Occhipinti dispatched Raymond in short order, which dropped her into the clutches of T. Roy and his Flight Standards, A&E Sharpening machine. Roy muscled Raymond out of line and set to work on Occhipinti. Roy was strong on the inside, and with seven circuits left he edged ahead of Occhipinti. A late restart allowed Occhipinti to take one last shot at the top spot, but Roy was too strong, and he motored to the victory. Point leader Jesse James Lawson got past Occhipinti for second place, with Lee Hackney fourth and Scott Groom fifth.
Saturday's Boat Race of Destruction was a savage affair that saw multiple drivers leave the ground and one even found himself upside down. When the smoke cleared Corbin Black, Timber Haskins, and Morgan Trammel all stood atop their battered but running machines. When put to a crowd vote Haskins and Trammel both received a raucous ovation, and both were awarded co-winners. Master of Disaster was awarded to the high-flying Titus Clancy who, at the controls of the Batman and Joker-themed car, racked up more airtime than any other boat racer.
The Meridian Speedway season wraps up on Saturday, October 28, with the annual Trunk or Treat event. Join us in the pit area from noon to 1:00 p.m. in your spookiest costume for the Trunk or Treat, and stay for a full night of championship races which go green at 3:00 p.m. General admission grandstand tickets are just $14 for adults, $12 for seniors and military members, $8 for kids 7-11, and free for kids 6 and under. Grandstand gates open at 2:45 p.m. on Saturday, October 28. We'll see you under the big, yellow water tower on Saturday, October 28, for Trunk or Treat and championship races at your NASCAR Home Track, Meridian Speedway.
---
Submitted By: Tyler Schild
Back to News