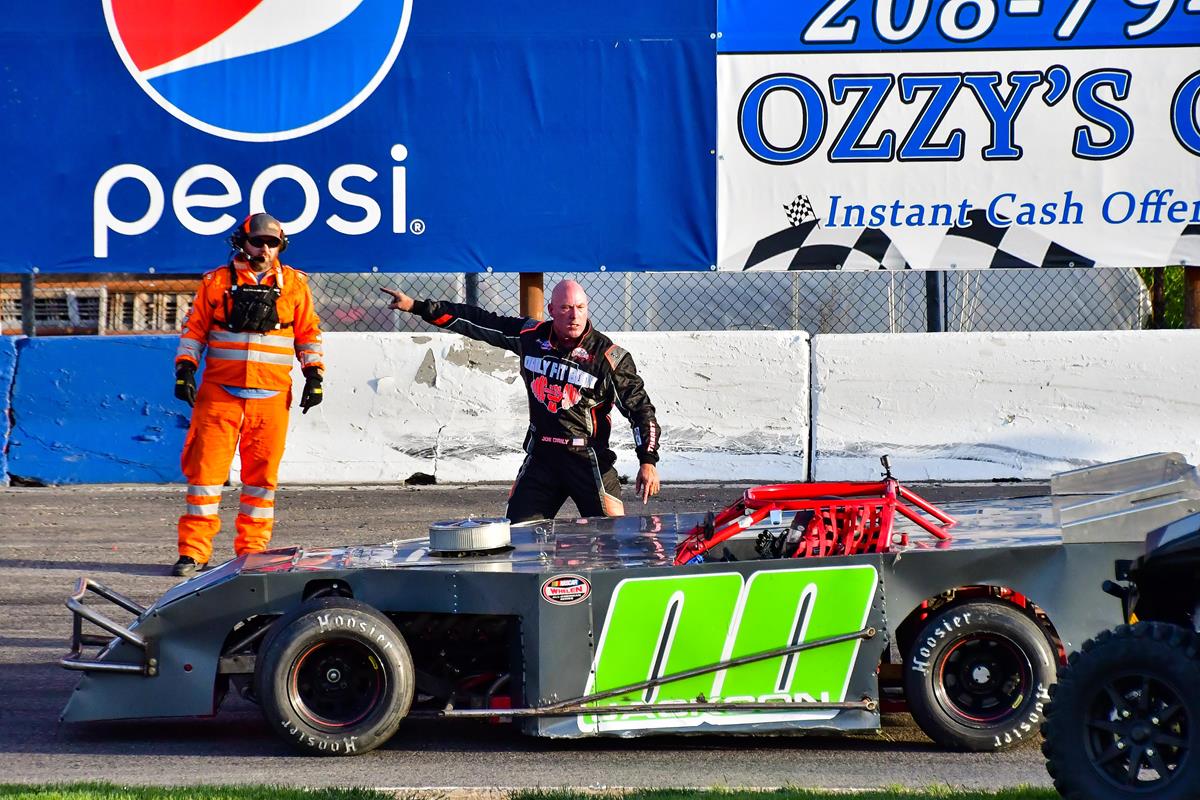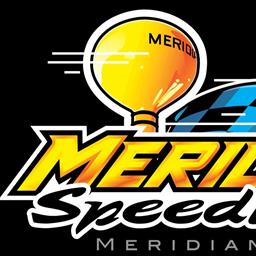 5/17/2022
Meridian Speedway
---
NASCAR Modifieds Rumble in the Concrete Jungle
The hits came early and often Saturday, May 14, as Meridian Speedway hosted a surprisingly physical Grace Assisted Living Night. The Bud Light NASCAR Modifieds wrecked their way through three feature races, while the Pepsi Sprintcars, Touchdown Automotive Street Stocks, Domino's Legends, and Trammel Construction Stingers battled wheel-to-wheel for the night's A&E Sharpening Feature Flags.
Tylor Newman led the Bud Light NASCAR Modified field to green for a twenty-lap dash to kick off Saturday night's racing. Tylor Newman led the feature's first three laps, but broke loose and spun in front of the pack in turn one.
Calamity ensued, and when the smoke cleared nine vehicles sat piled up. The biggest damage was sustained by Colton Nelson, whose Bud Light, YMC Mechanical modified was run first into the wall, then another car, and finally driven over and parked on top of. Nelson would retire from the feature as his and other crews thrashed to make repairs.
The caution flag would wave four times over the race's final 17 laps, including a hard crash that destroyed Mike Davis' Haz Tech Drilling, American Tire of Nampa modified and badly damaged Brendon Fries' ATS Inland Northwest, Horizon Credit Union machine. But it all happened behind Neal Latham, who piloted his Impact Motorz, Conrad and Bischoff entry to victory.
A collection of fifteen wounded Bud Light NASCAR Modifieds rolled to green for the night's second feature. Once again, the race got off to a halting start as Tylor Newman's AC to Z Mechanical racer pounded the turn two concrete on lap three.
On the restart, third place runner Darrell Dolling was spun around, causing another jam up that damaged Latham, Hyde, and Youngblood. On the restart Latham muscled his way past Alex Duda to take the lead while mid-pack, Jackson and Joe Daily battled hard to work their way forward. This fight went wrong with nine laps left when contact cut Daily's left front tire, which sent his Iron Body Fitness, Major Tire and Hitch machine headlong into the turn one wall.
Daily hopped out of his wrecked racer and shared some choice words for Jackson as he circulated under yellow. Also under this caution, Latham was assessed a one position penalty for his contact with Duda.
Despite the drama, Jackson restarted with the lead, and wasted no time piloting his Jackson Built Racecars, Jackson Enterprises, LLC racer to a healthy advantage over Latham. A series of late cautions allowed Latham to pull even with Jackson, but the Nampa, Idaho driver jumped to the lead every time en route to the Caleb's Chop Shop Winner's Circle.
"Whether they like me or not, I try to put on a show," Jackson said as he collected the A&E Sharpening Feature Flag. He went on to explain his contact with Daily was accidental.
"I feel like junk about that," Jackson said.
Eleven modifieds took the green flag on Grace Assisted Living Night's final feature. On the green Fries and Nelson, their cars in varying states of deconstruction, jumped to the front of the pack. Nelson's modified was better off, and he took the lead as Fries fought to control his wreck. Fries would lose this fight on lap five and spin into the infield on the front stretch.
The only other caution of the final feature was a harmless spin as the beleaguered Bud Light NASCAR Modified competitors took the checkers behind Nelson.
"At one point somebody told me it looked like an ant hill," Nelson said of the night's repairs in victory lane. "I've got parts from like eight different pits on this car right now."
Bent sheet metal continued to be the theme of Grace Assisted Living Night as the Touchdown Automotive Street Stocks beat and banged through a 25-lap feature. Kane Thomasson held a commanding lead in his Gem State Metals, Burn the Boats Tattoo machine with two laps to go, but a crash in turn one brought out a caution and re-racked the field with Tyler Marston to his outside.
On the restart Thomasson and Marston raced each other hard into turn three, made contact, and spun in front of the pack. The incident collected eight additional competitors, and left Skip Taylor and Pat Tully out front for the restart. The green flag dropped and Tully piloted his Pinnacle Appraisal, Allan Marsh Travel Center machine to the victory.
Andrew Tuttle took command of the Domino's Legends main event early, but lost the handle on lap thirteen. As the field scattered, Ken Frickey hopped wheels with Cameron Battles and barrel rolled into the pit area. Frickey would climb from his righted Snake River Legends, Les Schwab of Nampa machine under his own power.
On the restart Jerry Davis overpowered Roxali Kamper, in a backup car after a flip of her own in the division's opening event, to take the lead. Once out front, Davis cruised to the win in his GCAT, Interstate Batteries entry.
After mechanical problems sidelined him in practice on opening weekend, Bryan Warf rebounded to take home the Pepsi Sprintcar victory in his Allan Marsh RV and Marine, CF Floor Covering open-wheeler. Division rookie Daytona Wurtz brought her sprinter home second, ahead of third-place Ryan Newman.
Niko Heinzel's reign of Trammel Construction Stinger division domination continued Saturday as the Nampa, Idaho racer wheeled his Idaho Laser and Design racer to victory.
The excitement continues this Saturday, May 21, with the Project Filter Twin 25's on Military Appreciation Night. All military members and their families get in free with their military ID for a night full of features from the Zamp Pro-Late Models, Project Filter Pro-4s, Boise Bath and Kitchen Company Mini Stocks, Firehouse Pub and Grill Bombers, and the All-Star Club Series. General admission to the Project Filter Twin 25's is $14 for adults, $12 for seniors 60 and up, $8 for kids 7-11, and free for kids 6 and under. Gates open at 4:45 p.m. Saturday, with qualifying around 6 p.m. and racing at 6:30 p.m. We'll see you this Saturday, May 21, for the Project Filter Twin 25's on Military Appreciation Night under the big yellow water tower in downtown Meridian, Idaho at your NASCAR Home Track, Meridian Speedway.
---
Submitted By: Tyler Schild
Back to News